Design Cleaning + Organizing Culture + Lifestyle DIY Garden Home Decor Home Interiors Cook Cooking 101 Food + Drinks Kitchen Gadgets Recipes Love Anniversaries Relationships Sex Tips Engagement Ideas by The Knot Trying to Conceive by The Bump Travel Destinations Party Entertaining Halloween Father's Day Memorial Day Christmas St. Patrick's Day Golden Globes Hanukkah Oscars Olympics Mother's Day Labor Day Passover 4th of July New Year's Eve Thanksgiving Kentucky Derby Mardi Gras Super Bowl Easter Valentine's Day Fall Winter Summer Spring Money Career Advice Credit + Debt Insurance Investing Mortgages + Remodeling Saving Spending Less Taxes Real Estate + Finance Health Diet + Nutrition Fitness + Well Being Healthy Living Pets Birds Cats Dogs Fish Pet Lifestyle Search About Us Privacy Policy Terms of Use Contact Us ©1997-2016 XO Group Inc.
With a schedule, diligence and lots of praise, your family addition will learn that potty time takes place outside, not on the Berber carpet.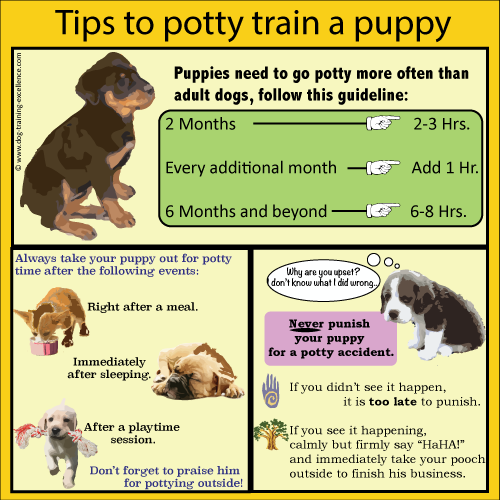 If he doesn't potty, take him back to the crate, wait 10 minutes and take him back out again.
Take him out every one to two hours throughout the day when you bring him home, then extend the time between breaks gradually. If you are playing with him on the floor and he starts to look for a place to potty, pick him up without hesitation and take him outside.
If he has trouble sleeping during those first nights, wrap a wind-up clock in a towel and place it in the crate with him.