We have the honor of owning two pairs of these adorable potty-training pants by Kara at Little Acorn Designs, and they are dearly loved.
From the folks that brought you the deliciously wonderful Rumparooz cloth diapers come Ecoposh Recycled Organic Training Pants (Kanga Care, $16). Available in 5 attractive colors, these trainers are trim and easy to pull off and on, and super absorbent.
Charlie Banana's line of reusable products for babies doesn't stop at their impossibly adorable diapers -- they also have a full line of reusable cloth training pants (Charlie Banana, $13)  that -- wait for it -- double as swim diapers.
Available in a bevy of bright, attractive colors as well as super fun prints, they feature a waterproof layer of PUL on the outside and a soft organic cotton interior.
Blueberry is a household name for many cloth diapering families, and their adorable designs are featured on these training pants (Blueberry, $16) as well as their famous diapers. The inner lining is a super-soft cotton velour and they feature a hidden layer of waterproof PUL to help catch small accidents.
With plenty of prints and a variety of colors suitable for both boys and girls, these trim trainers are a favorite of many moms.
If you loved your BumGenius or Flip cloth diapers, you'll likely love the Flip Potty Trainer Kit (Cotton Babies, $30). The organic soakers are very thirsty and feel wet against your child's skin -- so she knows she's wet.
The stretchy side panels make them easy to pull up and down and they also snap off in case of accidents. I have just started the potty training process with my toddler and I have been told that rewarding her with stickers can be a huge help.
Buy training pants and PeaPod Mats soaker pads (to protect the mattress) online at Hip Baby here. I found this simple chia recipe on the Oh My Veggies blog and it quickly became a family favourite! All you  have to do is take a look in the Hip Baby window and know that Spring is here! When you think about the ongoing financial and environmental cost of pull-ups, that's a great investment! In order to post comments, please make sure JavaScript and Cookies are enabled, and reload the page. Featuring bamboo, organic cotton and recycled water bottles, they also boast a layer of biodegradable TPU -- a waterproof layer that will contain an accident if your little one doesn't make it to the potty in time.
They require washing (and drying) 5 times to reach maximum absorbency, but when they do, watch out -- they will hold more than most cloth trainers. They come in four sizes, from extra small suitable for young babies to extra large that will fit a larger toddler.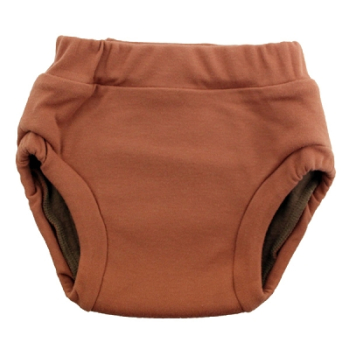 Extremely trim and perfect for a non-trained kiddo at the pool, they are also easy to use for those who are getting accustomed to the potty.
The waist and legs feature soft, stretchy elastic that won't leave marks on your little one's skin.
A two-piece system, it consists of organic cotton soaker pads that attach to a waterproof outer shell.
The outer shell is totally waterproof, so with a good fit, you can feel confident in using these trainers whenever.
Trim and cute, this is a nice way to continue your love of the BumGenius line of products when your child is potty training. They don't claim to be completely waterproof, however, so if your child is wetting during nap time or bed time, you might want to use something else for sleeping situations. This system is unique as it is a one-size trainer and can be adjusted to fit a child from 20 pounds to 50. Simply click on the links below to download the free PDFs, print on 8.5 x 11 inch card stock, purchase some stickers that your child loves and you're ready to go!