It prevents you from cleaning out an itty bitty potty and in my non-professional opinion, it works better and faster. If they are supposed to learn to use the potty instead of their diapers, why would you give them underwear they're allowed to poop in?
Be specific and explain to them that they are now bigger and that they need to use the potty and not pee or poop in their underwear.
Tell them to let you know when they need to pee and if they do, they will earn a jellybean. Tell them ahead of time that you will be potty training that week, so that they are prepared.
The little seat will teach your child to use a real toilet without falling in and not think of it as a toy.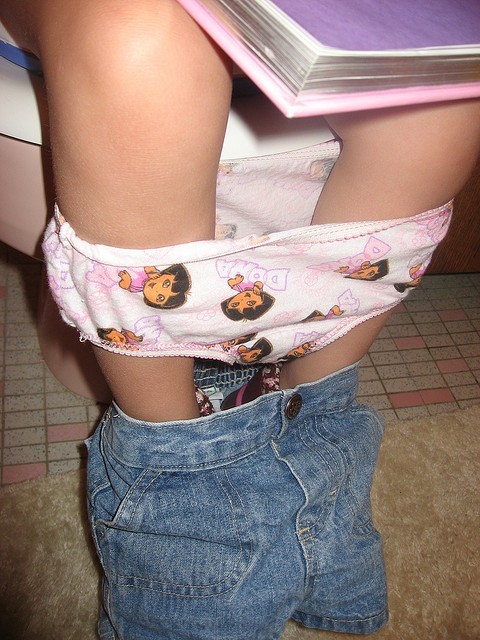 Show them the bag of jellybeans, as they need to see the prize to really understand that you mean it.
She now rarely asks for them; she just knows that pee and poop go in the potty and move on with her day. Just remember you have to be willing to give them a jellybean every single time, including first thing in the morning. After you change your child, make them sit on the potty again, even though you know they won't do anything. Took 3 days of messes constantly (we chose the "naked" method for those 3 days), but improved every day!
Two is important, because they are probably two years old at this point and understand that the number two is important.
If you have a willful child, you will have a hard time getting them in a diaper for sleeping. Either put the underwear over it or really go cold turkey and put a plastic sheet under their bed sheets.