Features removable durable, cotton slip cover for easy and convienent cleaning; see washing instructions on cover. Perfect Fit!By Shopper (Miramar, FL) - July 19, 2015We got this chair as a finishing touch for our little one's library corner in her bedroom. My daughter LOVES it!!!!!By Shopper (MIDLOTHIAN, VA) - February 20, 2012Thank you for such a wonderful product. We reserve the right to limit or exclude certain items from promotion at our sole discretion. Imagine the excitement when your child sees his or her name embroidered in white block letters across the front!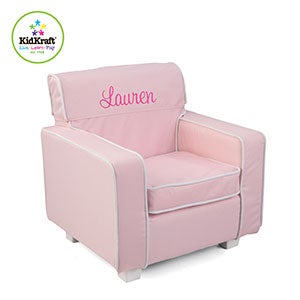 This rectangular upholstered headboard is made with a sturdy pine wood frame covered in solid duck fabric.
Inside the headboard, polyurethane padding offers extra comfort for leaning back while reading or relaxing. Clean solid colors provide an attractive background for the name, while adding vibrant style to your child's bedroom. Bolt-on bed rails will be necessary when attaching the headboard to a bed (rails not included).Once you determine which size and color will complement your child's bedroom, type the desired name in the box provided. Remember, whatever you type is exactly what will appear on your headboard, so please spell the name carefully.
After more than 50 years, this family-run business is still designing and manufacturing unique products that meet the ever-changing demands of the modern home furnishing industry.
Located in the south suburbs of Chicago, the company produces a wide variety of innovative products for the home, including chairs, headboards, benches, and coffee tables.