Help your little one go from diapers to the toilet with the easy-to-use Chummie Non-Slip, Contoured Potty Training Ladder Step Up Seat. Includes Colorful Magnetic Chart, 30 Positive-Reinforcement Stars, Potty Training Book, Achievement Certificate, and Training Tips for Parents. Your child will feel safe and secure on mom & dad's big toilet, and may even potty train faster!
The Chummie potty is perfect for your little one's comfort, safety and confidence and works with every toilet!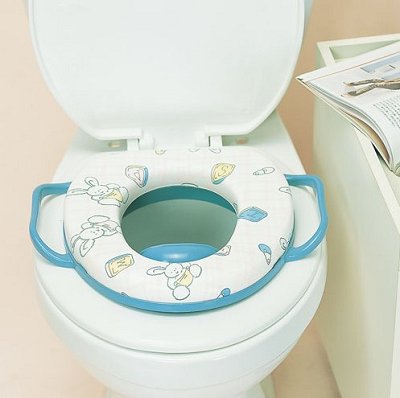 Parents love the safety and simplicity, while children love the bright colors, design and ease of use.
The built-in step ladder height can be adjusted and is specially designed to reinforce your toddlers' confidence to be independent at potty time.
The secure handles will help your child climb the step and provide support when they are seated. The potty's unique space-saving design allows you to fold it flat for storage when not in use and then put together in seconds for immediate reuse.