Julie says she and her husband, Nathan, have tried everything from potty training movies and books to time-out, and they feel like they're at their wits' end.
We have one of those Toilet Seat Potty Seat combo things on our toilet so both kids just use the big one. I also went straight for the smaller potty seat onto of the big potty to train the 2nd kid, there was something about cleaning out the little bucket that made me gag more than cleaning a bad poop diaper. We got one of those toilet seat locks, and since my husband was supposed to put it on but never seemed to get around to it, I did it one day while he was at work. I have a BUNCH of pictures of our daughter running around in her pink cowboy (oh, sorry, cowGIRL) boots waving a flag!!! My little potty training lady wears her pink owely rain boots as often as she can find them.
The first time my son had diarrhea after he was potty trained, he didn't know what was going on. Amen, with our second we kept putting it off until he was three and he potty-trained in no time! My daughter will be 3 in October and potty training is my worst nightmare come to life …is it worth my while to purchase? If the kid has learned to poop standing up (as my nephew did) then sitting down would be a new habit to learn. As far as I can tell, when a kid is developed enough to know when they are going to poo or pee, then they can decide whether they want to keep using nappies, or the commode. Poop water is classic, but "Go to the kitchen and make me some privacy" just about made me have an accident of my own! Before I answer, let me pause to mention that by this point all three boys were well into some belligerent sick boy mood after having thrown up several times each in the previous few days.
Luckily (or not?) the second Poop Boy announced fairly quickly that he was done, too, and then dashed around the room screaming "Man! Phil displays the items Julie and Nathan have used to motivate their son to go to the bathroom.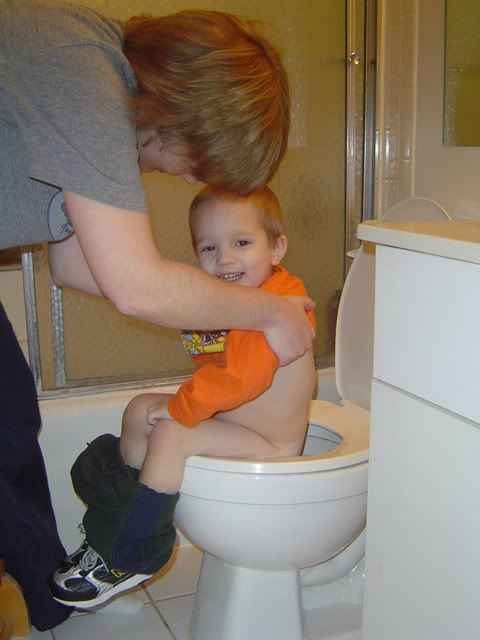 Phil mentions that the couple has ruled out any medical dilemmas for their son's inability to potty train. Phil explains the Premack Principle: Children will perform an undesirable act in order to have access to a more desirable behavior. Combining your two thoughts means that I can carry a tiny commode in the car wherever I go, and never have to enter gas station restrooms. And my son looks a lot looks a lot like your's most days, crazy hair and green froggy rain boots included. Instead he finds peeing on the front proch, my bedroom floor, and anywhere else that's not allowed to be too much fun. I found Jayme's book through the blog as well and my 19 month old was fully trained in less than a week (and really excited about it).
I told my mom the weirdest thing had happened, I'd peed out of my bottom and it smelled bad. She also has (what is now) a moderated discussion board for exchanging ideas and just venting. I made my son put them on correctly for preschool though, I was afraid they would think I didn't know how to dress my child. I wrote it a few months ago, but haven't had a chance (or maybe the guts?) to post it. The sudden crowd around the potty seat meant I had to shove and push and elbow to keep myself from being squeezed out.
People keep saying I should be TT, and I make a half-hearted attempt to do the toilet thing most days, but she just likes to hang out on the toilet and chat!
We're trying a new trick the speech therapist taught us about explaining it in steps with photos so hopefully that will help! He also insists that I leave for when he poos, although I have to stay close by to prevent him doing a naked, unwiped runner! And that it made Daddy sorry for my huge mistake, too, for at that moment he was also wishing pretty strongly that I had bought that football helmet and pads.
My oldest wanted to sit on hers while watching TV, learning to poop in the family room is a bad idea! Only problem is, in the back of my mind I am constantly worried they will turn into little pee-pee catchers when she has an accident.
Maybe it's the lazy heavily pregnant side of me, but I'm inclined to just wait at least 4 more months until the weather is hot and the new babe is settled in! In a burst of new activity, the youngest boy began pulling off his clothes, demanding to sit on the very same potty as his brother. But it was my job to keep control of this budding riot, so I gritted my teeth and fought for my place. I trace it back to a few weekends before when I came downstairs after sleeping in and found Daddy and sons sitting at the table, eating oatmeal, with Daddy chanting deeply, "We're MEN eating OATMEAL! Because it turns out that like everything else, potty training takes on a new, physically punishing, dimension when it stars triplet boys. As I was also simultaneously encouraging the pooping boy and keeping his brothers from stomping the funky diaper I'd dropped in my hurry to seat the pooper, it was a tough moment in my life. Luckily, the pooper was pooped out and relinquished his seat for a victory lap around the room. It didn't help that my youngest son (by about thirty seconds) kept pushing Poop Boy up to check the pot . It works too well actually, this post would be much better if I could complain about how hard potty training is. With a new boy on the pot, there was nothing I could do but let the runner run and hope that he wouldn't decide to sit his man-self down on the carpet.