When potty-training isn't going well, is there ever a point where you should just pack it in and go back to diapers? So once again, oh seasoned veteran parent of boys and collective brilliance of the internet, please fix my kid's issue.
I mean, when I've dealt with the halfway-there kiddos, we were dealing with one poop incident a DAY.
Amy also documented her second pregnancy (with Ezra) in our wildly popular Weekly Pregnancy Calendar, Zero to Forty.
Sign up for the web's most entertaining (while informative) weekly newsletter on your pregnancy!
I don't have twins, but two of my boys are 10 months apart, which is not exactly the same thing but there are similarities. Really there is no reason for them to be up and trashing their room during nap time and using the carpet as a toilet. For a period if time my daughter would only poop during nap time and would take her diaper off. Now that she knows the rules I can go about my business (cleaning, phone calls, etc) and she barely even notices. My youngest son is 2.5 years old and up until 2 weeks ago I thought we had cracked potty training, but then he started to pee. Affiliate RelationshipsWe have affiliate revenue relationships with Amazon, and with other retailers that are handled by third parties like Skimlinks, RewardStyle, Commission Junction and Linkshare. My darling kiddos never did stop taking off their diapers at naptime so we decided in January to go cold turkey and potty train. Kid One quickly filled his sticker chart and got to go to Target with Daddy (By himself!) and pick out a toy. Who went through an extended potty training regression after the birth of my third child, especially when it came to poop. You have a kid consistently having multiple accidents a day, every day, with or without diapers, standing in front of the toilet and making no effort.
He obviously gets a good amount of the process, but something just hasn't finished connecting all the dots.
Since he's doing great on the pee front, you could do pull-ups that let him hold on to that bit of independence.
We did two solid weeks of cold-turkey, reward-linked training over the xmas holidays and she only went in the potty twice. It IS shaming to say that and it will feel like a failure on his part, especially if his brother is having zero problems with PT.
And are you SURE he is going into the bathroom, then pooping, not pooping, then going in the bathroom? He has apraxia of speech which caused many delays as well as sensory issues but now he seems to be a happy little boy and mostly caught upto his peers. Kid Two totally covets the Cookie Monster toy his brother picked out, and keeps talking about how he is going to get Elmo as his treat. I brought it up to our pediatrician, having tried everything I could think of, including stickers, rewards, bribes, praise, ignoring, you name it.
It saved my sanity (I did have that pesky newborn at the time, after all) to not be fighting the poop battle or cleaning up accidents, and it turned out the happiness over the diapers was incredibly short-lived. So prepping him with the rules and using the silent treatment and return to bed method really worked for us. He is in JK and recently his teacher sent all his pull-ups and diapers home saying he hasn't had any accidents at school in 4 months! However, rest assured that our affiliate relationships do not guide our product recommendations, at all. Kid Two, however, did great the first two weeks, then about 3 weeks ago started pooping in his pants. Except he has earned exactly ZERO stickers because he has not made a single poopy in the potty. I mean, if you had a kid who could poop on the potty but peed his pants the rest of the time, you'd have him in some good absorbent pants, right? However, I think one of the reasons that phrase worked for Ezra is that he actually had a baby in the house whom he was jealous of, and he was actively trying to reassert his role as mama's baby by crapping his pants.
We finally figured out that he just wanted to be alone when he poops, so we set him on the little potty and closed the door down to just a crack, then sat outside the bathroom with our backs to the door. Meanwhile, the sticker thing is motivating Kid One like crazy and he's 1 sticker away from his 2nd treat in a week. And would have no motivation to finish training, now that accidents were off the table, etc.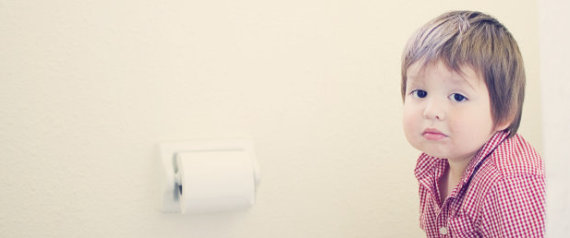 Either way, your priority now should be to stop the accidents happening in underwear, rather than pushing him to go on the potty. We have tried to go back to the bootcamp, following him around without his pants, rushing him to the potty when needed. He decided that he was not a baby after all and was tired of being treated like one, and that was that. And while your son shows some signs of being ready, none of them are quite as compelling as the whole HALF A DOZEN POOP ACCIDENTS EVERY SINGLE DAY thing. I would suggest going with the above suggestion to tell him that he may not be ready for underwear.
He pooped on the potty one day and refused to even consider anything but his big-boy pants the next.
But I can tell you that continuing to drive yourselves collectively crazy with HALF A DOZEN POOP ACCIDENTS ON A DAILY BASIS is not going to solve anything. I would also consider keeping your other son in a pull-up at night, since his issue with wetting the bed is likely due to being a deeper sleeper than his brother or simply lacking muscle control. But I agree with the others – put him back in diapers but keep taking him to the potty on a routine, and make a HUGE deal if the diaper is dry and even more so if he goes. They both did great for the first two weeks, we were able to discontinue M&Ms after about 4 days and the cheering and high-fives were enough incentive. It is actually quite normal for kids to stay in pull-ups at night for awhile after they are fully potty trained in the daytime. He even says "big boys need to use the toilet and babies use the potty and im a big boy" but he still Continies to pee himself all day at home! And how Buzz, and Woody and Elmo and Captain America and whomever else I can think of at the time all go poopy in the potty so he should too.
He will go into the bathroom, stand in front of the potty, and poop his pants without making so much as a tiny effort to go into the potty. I am out of ideas, but I am exhausted with changing his pants a dozen times a day, the laundry, oh the laundry, and I am dreading going into public because he is a ticking time bomb.