We're guessing you've already discovered this, but four and five year-olds are very bribable! You may need to experiment with different rewards to see what's most exciting for your child. Older children crave control, so many Circle of Moms members strongly recommend making your child feel in charge of her bathroom habits. Giving your child control over using the toilet isn't the same as giving free reign to play on mommy's couch in wet underwear.
Since kids love copying other children (especially older ones!), putting your child be in the company of other potty-trained children can encourage their curiosity and motivation. Note: Instead of vocally bragging about the other child's bathroom habits, try to let your child's curiosity be naturally piqued.
In keeping with the last point, try to avoid shaming your older child into using the toilet. From all the comments & from my own experience, it's clear that this is a normal thing.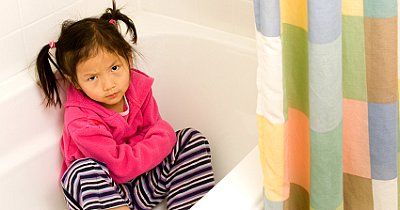 We've set a timer for every 45 minutes and now when it goes off Little man knows that he needs to stop what he's doing and use the bathroom.
While skipping pull-ups and transitioning to "big kid" underwear may be great tips for any age, potty training is certainly different at 22 months and 4 years! Since children may not notice the urge (or notice but not want to stop playing), having an adult offering casual reminders every 1-2 hours helps the child view interrupting activities to use the toilet as a more normal part of the daily routine. Stickers, candy, or small toys for each successful bathroom trip or accident-free day may work. We started PT shortly after Thanksgiving-I just told him we weren't going to use diapers anymore and we "threw them away". If you're working on potty training a pre-K kid, consider these tips from Circle of Moms members on strategies that worked for their older children. For example, an older child can get changed into dry clothes on her own after an accident and let you know she's put dirty clothes in the laundry room. Don't mention it, give her the option if she wants, make the potty available and relinquish control.
We have had a quite a few fights and accidents along the way, especially once little sis was born. But I have found that he will pee on his own but the poop he is more likely to ignore the urge. So he pooped in the toilet for about 10 days, but as soon as school started he started pooping his pants again - but only at home!
So I did, and while he was agonizing on the floor, crying because he had to go so bad but he knew he couldn't have his diaper, I was agonizing too. I made sure the potty was right there for him and I suggested to him that maybe he'd like to use it, and after about an hour, he went!