Test-fit the rafters using a 2 ? 8 spacer block, then cut the remaining twelve common rafters.
Draw the rafter layout (shed plans blueprints) onto the top plates and ridge board, using 16″ on-center spacing. Reinforce the rafter-wall connection with metal anchors—install them on all but the outer common rafters.4.
Position each tie next to a pair of rafters as shown in the shed blueprints 8×12 FRAMING ELEVATIONS.
Facenail each tie end to the rafter with three 10d nails, then toenail each tie end to the top wall plate with two 8d nails.5. If desired, install roof vents.Install the plywood roof sheathing after installing the fascia.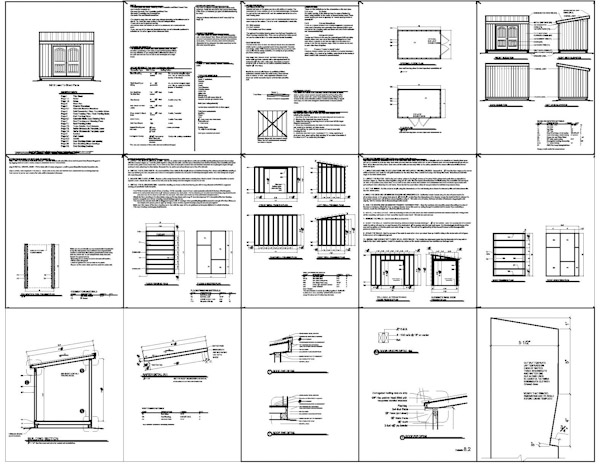 Cut twelve 2 ? 2 nailers to fit between the rafters, as shown in the shed blueprints 8×12 EAVE DETAIL. Cut holes for four soffit vents: locate one vent in each of the two outer rafter bays, along the eave, on both sides of the building. Install the hinges and hang the door, using shims to set the gaps at the bottom and top of each door of the shed.8. Install flashing above the door, nail-off the siding, then install the 1 ? 4 door trim, using 8d galv. Install each window frame in its rough opening, using shims and a level to make sure the frame is plumb and level and the jambs are straight. Install the glass and outer stops, applying glazing tape to the stops on both sides of the glass.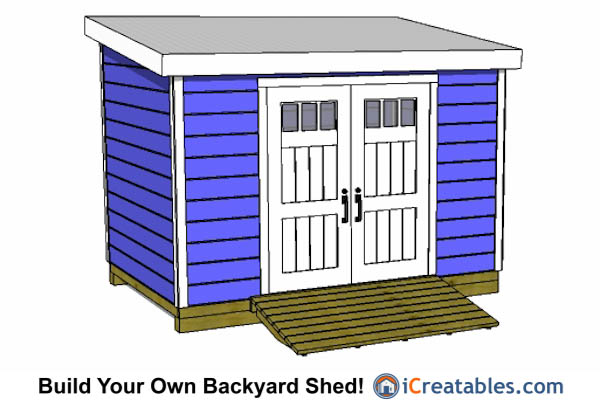 Install the 1 ? 4 corner trim so that it butts against the horizontal trim and extends to the bottom edges of the siding.7. Determine the best slope for the ramp using boards or plywood set on the ground and the shed floor.
Cut 2 ? 4s for the ramp decking—the number needed depends on the length of the sloping sides of the stringers.