October 15, 2010 by CustomMade Today while chatting at Wood Talk Online, I came across the Panofish Blog. The next time I need to cut bricks… I'll get a diamond blade.  It sure took me a long time to cut them with an abrasive disc.
Can I inset the block a bit 'inside' the floor framing so that all you'd see from the perimeter is the edge boards? Yes it will make a difference for the same reason that outriggers on boom trucks stick out and to the side. I think realistically you COULD move them inside the outside edge of the wall, but do not rely on your flooring to hold the weight of the structure.
I remember a few months ago on another shed build where there was some concern on the framing, but I think that was where the wall framing didn't come in direct alignment with any flooring structure. My concern is exactly as you've described above - that there will be weight coming down the walls and redirected (hopefully) to the blocks.
If you had a couple of 4 x 4 bearers running under the joists at 90 degrees and set in 6 inches or so, you could then put your blocks under them and set them in a bit from the ends. If you built the base out of the better treated lumber you could just let it sit on the ground. To further clarify your plans can you tell us more about the site such as: what soil conditions you have, what is your frost penetration depth (if any), and is the shed going to reside on level ground? I would just double the load bearing sill(I think that is the right name, someone will if it is not) and use half the blocks.
Must be put on a post and pier foundation using locally available precast pavers sitting on a gravel footing with precast deck blocks supporting the 4x4 posts under the beam since i cant paur concrete. As i said it must be movable so that way when i either buy or build a house i can move this there and add it to a garage as an office. If you are putting it close to the ground, design in either pockets in the floor so you can get underneath the joists or large angle iron brackets on the exterior corners so that you can fit four $9.99 harbor freight bottle jacks on the corners. This motorcycle is simply too goddamn fast to ride at speed in any kind of normal road traffic unless you're ready to go straight down the centerline with your nuts on fire and a silent scream in your throat. I recently converted the 3D deck & shed plans into sketchup so that others can benefit.
It was a lot of fun figuring out how to lift that heavy, wet, pressure-treated beam onto the posts all by myself. The posts weren't small either, when you consider they are almost 6 feet underground! Another month or so would pass before I could finish my custom shed doors, but I'm happy with the result. For longevity did you use an ice and water shield or rubber under the aluminum to protect the OSB?
Many many thanks again for doing this I can't imagine how many homeowners you have inspired by the articulate details provided here.
I am interest to know how the aluminum flashing was attached to the house so there would be no leaking. I'm trying to understand how you managed to concrete the floor of your shed with the two posts already installed.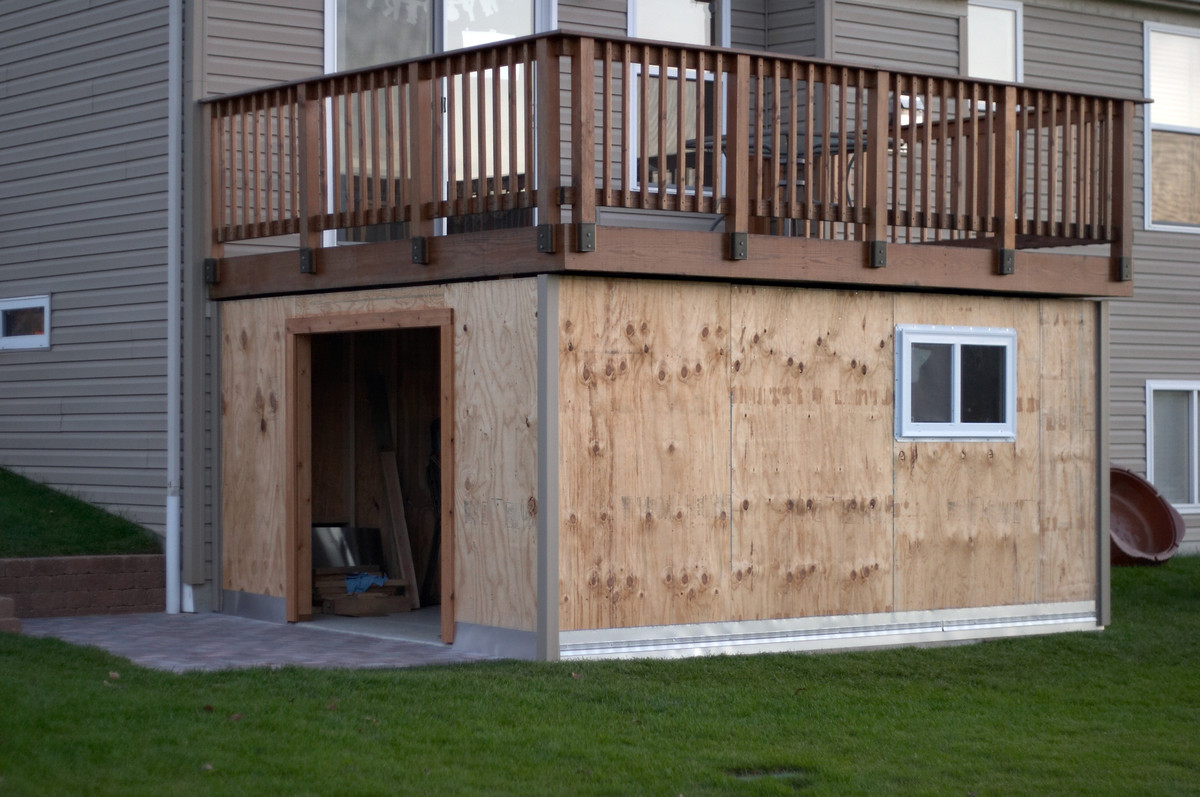 I assume for the inside plywood wall closest to the house you prebuilt the wall with the plywood and lifted it into place. I was hoping to find a flexible material that could be used between the bottom of the deck and the top of the shed for both esthetic reasons and to keep things from moving in.
The deck is attached to the house and the post supporting the deck have attached to footings below the frost line. It started out pretty wobbly, but after the first course of pallets was it was pretty solid. The walls were tied together and secured with the metal plates you see in the picture and a bunch of deck screws and 16d spikes. The top 3 pieces were constructed from some old 2x4's i had laying around and leftover pallet pieces. Let me set the scene: I want to build a SMALL composite deck, unattached to any structure.
The most obvious reason not to do it the way you suggest is if you need a permit, and your method does not qualify.
Your building inspector (if you have one) would know if you have sensitive clay soil in your area.
As for fabricating off site, this could certainly work if you have the abililty to transport the structure to the site on a trailer or similar. As for transporting, I thought it was clear that it would be moved from garage along the house - trucking would not be involved.
One on each corner for about half the distance, then flip it perpendicular for through the gate and the last span.
Deck will be far stronger if it's not built in sections and also would require less lumber. How you going to bolt the sections together unless there's going to be 2, 2X's butted together, if there butted then there's no way to use those silly deck blocks.
2x's are not supposed to be in direct ground contact, and composite decking needs air flow on all sides or it will mold up. Even that picture looks wrong to me The blocks need to be supporting the rim joint not individual floor joist.
And it would be good practice to have a wider rim joist then the floor joist to reduce flexing.
You are currently viewing our boards as a guest which gives you limited access to view most discussions and access our other features.
If you are asking can you set block inside so the material on the outside of your building covers the block then yes. If you don't want to see the block sticking out then bury it and raise the floor joist of the shed with a cinder block resting on the dek block. My worry is whether this would make the walls unsupported and therefore weaken the overall structure. Underneath the shed I'm planning on throwing down some landscape fabric to keep weeds down.
I'm leaning towards keeping it more conventional and then think of creative ideas to hide the gap.
Anyone see any issues or as others have said, should I just put the blocks under the exterior joist and do something creative to hide them? I'm in Vancouver so we don't have a frost issue to consider and the ground as it sits now is fairly level. I actually have a similar one to the traditional roof, that I stor lawn and garden stuff in, as well as boxes with stuff my wife wants to keep. The following youtube video covers some important factors to consider when building such a deck. I wanted my shed to look as nice as I could make it… so I wrapped it in matching vinyl siding. I live in central NC and I'm considering doing the same thing under my screened in porch. First off, if you live in a seismic zone, structures tend to fall off piers in an earthquake.
By joining our free community you will have access to post topics, communicate privately with other members (PM), respond to polls, upload content and access many other special features. I was thinking the block product would have a larger footprint (more like a patio stone) in the advice I was giving above. This would also help with leveling later down the road in the case that i need to swap out piers for the ground settleing. My trailer-lift project may have been my most gratifying project, but my shed has been the most useful.
For building a shed under a deck, you can screw sheets of corrugated metal or fibreglass roofing to the furring strips. But perhaps you live in an area with no building codes, or maybe the codes don't apply to a deck. Also, if you live in an area of sensitive clay, piers can sink into sensitive clay soils if the soil becomes seasonally wet.
There is nothing inherently wrong with pier and beam foundations if the piers are large enough, and the beams are properly attached to the piers, and you have suitable soil conditions, and you don't live in a seismic zone. I decided to put my shed entry on the left side of the deck, so I had to dig the hillside down and create a patio for the doorway.
Good thing I allowed space for the concrete to heave in winter… because it did just that!
If you have any problems with the registration process or your account login, please contact contact us.
You can cut and install wood lattice around the deck foundation, so as to hide the storage area from view.
I am currently looking for someone to build me one like this so I can park the motorcycles during the winter clearing the garage for the cars!. For this purpose thicker lattice should be used, as it holds up better than the thinner lattice.