admin 14.01.2014
The Home Machinist!A site dedicated to enthusiasts of all skill levels and disciplines of the metalworking hobby. Do not expect any logic to the way this section is laid out - I'll be adding examples as and when I find them! Peter Stedman of the Malden & District Society of Model Engineers has built this 7?" gauge model of "William Francis".
Moors Valley Railway 7?" gauge 2-4-0+0-4-2 "William Rufus" in action (Moors Valley Railway). The End of the World Railway, Tierra del Fuego, had this 500mm gauge "miniature K1" built in Argentina. A freelance 5" gauge 4-6-4+4-6-4 built by Bob Brown of Adelaide, South Australia (3100 hours work between 1973 and 1985) (John Lyas photo via Trevor Heath). 2½" gauge K1 homebuilt but now owned by the West Riding Small Locomotives Society near Leeds UK.
One of the two 10?" gauge Garratts originally built in 1938 by Kitsons - this was 4012 - for the Surrey Border & Camberley Railway. A 7.25" gauge 0-6-0+0-6-0 seen at the 7.25 Gauge Society AGM 2006 in North Wales - based on the Buthidaung-Maungdaw Tramway type, anyone know any more?
South Africa jointly by Les Wood and Fred Sarne of Johannesburg, South Africa over 13 years 1978-1991.
7.25" gauge Leopoldina Railway 2-4-2+2-4-2 at the Wagga Wagga Society of Model Engineers track in Australia.
A 7.25" gauge Garratt, based on the "Tinkerbell" design - shows what can be done with imagination. 3.5" gauge Rhodesia Railways 15A 4-6-4+4-6-4 built by Norman Matthews of Wigan- the only thing noticably missing is the works plate(Lee Worthington).
This particularly well made example is for sale in good condition with an attractive patina.
This high quality miniature loco is GNR inspired, of Henry Greenly design, and constructed in the authentic 1930's manner with fully rivetted copper boiler, a well detailed footplate and later tender.
Apparently very well made, with a pofessional boiler and for sale with current certification. This handsome miniature loco was model engineer built to a very high standard and includes a superheated copper boiler and twin outside cylinders with Walschaert's valve gear. Northamptonshire brickworks,four years before the Metropolitan Railway assumed control of the line.
Railway on Norman Bozzard Day 2007 but with the name of the Royal Navy submarine on which owner Brian Mallinson served.
I have see that you have build the Garratt K1, I'm also interest in to start to built this type of locomotive, in gauge 5".Do you have drawings?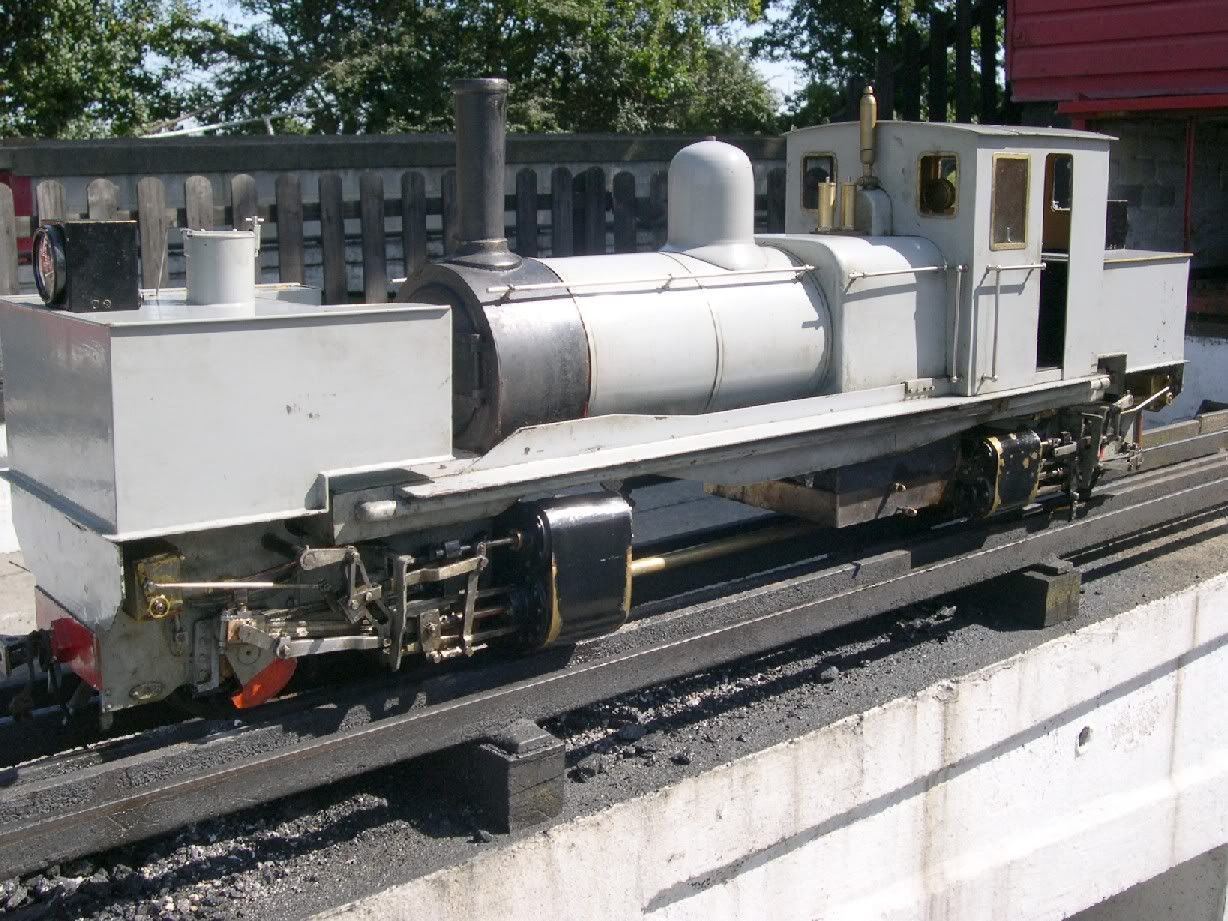 The power bogies are based on Thomas 2 chassis and on test at our track (The Orchid Line at the Wildlife Park,Isle of Man) it proved to be a very powerful beast.
Unfortunately I didn't originally collect them for use so I have little or no information about "who", "what" or "where". I understand that one of them remains unsold at 25,000 GBP which may seem expensive but you get a lot of Beyer for your buck! This model is currently in production in all variations including HOn3 , HOm and HOb ( I call it HO broad , 18.2mm ). I hope eventually to be able to fill in the missing details and give credit to the relevant parties. Update, I've heard from the new owner - hopefully there'll be some more pictures in the not too distant future.
The K1s were the only Garretts that had the cylinders on the inside end of the power trucks (I think).
Go back to the photos of Bruce Wards standard gauge Garrett to see what a small one with the cylinders on the outside end would look like.