admin 28.08.2014
She has 10 acres of gardens, waterfalls, lakes, trestles, bridges, and replica towns and pastoral scenes, her Gloree & Tryumfant Garden Railway in North Barrington, Illinois, it's no wonder they call her the Train Lady. Her work with trains has been seen in the Nieman Marcus Christmas book, in the lobby of Chicago's Hancock Center, and in Tiffany & Co. The half-inch G-scale trains ply a Japanese water garden with waterfalls, a pond garden, rose gardens, a Snoopy topiary built especially for Silets' grandsons, and other floral landscapes.
A series of decking patios, laid with Balau hardwood boards, are linked by decked walkways to create seating areas in different parts of the garden. This garden design features a series of levels and distinct areas, linked by a sinuous path. This design utilises large sweeping curves to complement the shape of an existing Breeze House. This design features a decking walkway over a sunken water rill, with block raised bed, planted with black grass, upon which a railway sleeper bench seat is fixed.
The design divides the garden into several distinct areas, helping to impart the illusion of space and create a sense of intrigue. This design utilises a series of decking walkways and platforms to create a multi-use, family oriented space.
This design takes its inspiration from traditional Victorian courtyard gardens to create a structured space with a strong sense of privacy and enclosure. Terraced raised beds are utilised in this design to create several levels in this sloping garden. This design seeks to create a semi-rustic feel, using sturdy railway sleepers to create high raised beds, and natural slate, timber and gravel to create an informal flooring pattern. This is fluid design, featuring a series of interconnected circular areas of hard flooring to provide ample room for seating and relaxation while maximising the available planting space. The garden is sculpted with rendered white raised beds laid around its edge, and offset with a contemporary planting palette of plum, claret and lilac. Vivid orange or blue, to accomodate the client's love of strong colour, are the hallmark of this design.
This design features a random lay sandstone patio enclosed within a steel rod and A142 mesh pergola. This design divides this long thin sub-urban garden, to create a multi-functional space suitable for alfresco dining, entertaining, relaxation and play. This design transforms the garden into a simple yet stylish outdoor room, splitting the space into several distinct areas with an emphasis on entertainment, play and relaxation.A large Travertine patio is bordered by a raised bed constructed from sturdy railway sleepers.
The patio adjoining the house is laid with elegant Travertine tiles a formal grid pattern while the area to the left of the conservatory will feature a large patio laid with attractive and durable Yellow Balau hardwood timber boards.
The design features deep beds packed with hardy shrubs and perennials to provide year round interest. This design concentrates principally on the bottom half of this unusual garden, using multiple materials to create an enclosed social area. The space is laid with elegant Iroko hardwood decking, and also recycles the existing Yorkstone slabs. This design uses a series of circles and curves to unify this long, thin, multi-level space, creating a garden that is both aesthetically pleasing and suitable for small-scale entertaining and al-fresco dining and relaxation. Designed for a young couple, this low maintenance garden provides a contemporary space for the clients to enjoy.
Using rustic railway sleepers, this sloping site has been terraced to provide two level lawn areas making the garden a more useable space.
Having inherited this garden from an elderly couple, the clients wanted to revamp and update their outdoor space and add their own personal touch! Element s included a new circular cobble circle with a bird bath as a central focal feature, a woodland garden with bark mulch pathways and rustic railway sleeper steps, a gravel garden highlighting an existing lime tree and a large circular patio area. The final result incorporated a large formal lawn area with timber pergola to one side over existing patio a€¦. The English Garden: steps lead up from the lower terrace to a large circular lawn area with a circular patio completed in granite sets and enclosed by a beech hedge to one side.
The Retreat: set off from the main lawn is a smaller circular lawn with a bench set under the shade of an existing Magnolia Tree a€¦ the perfect spot to escape with the Sunday papers and enjoy a quiet cup of coffee! The Parterre Garden: The front garden has been designed as a formal Knot Garden planted into gravel using a mix of Box, Lonicera and Santolina hedging, clipped topiary box balls and a new Yew hedge planted along the boundary a€¦ a perfect compliment to the style of this property!
This property was in the final stages of construction when we first visited and the 'garden' was a building site! The final garden comprises of a number of very different elements, including a formal parterre garden with clipped box hedging and gravel pathways, a traditional English cottage garden with a large lawn and traditional planting, and a more informal area with a 'board-walk' style pathway leading through lush planting to a raised seating area. This is a garden that we have maintained for over 10yrs, whilst also completing different planting and landscaping projects as required. In order to keep the water moving a stream was constructed so that it emerged from the back of the planted border and down into the pond.
It has become a home to an abundance of wildlife and with the delicate sound of bubbling water in the background, it is a great spot to relax and unwind after a busy day! The client was in the process of converting an old stable building and needed the old yard transformed into a garden. Approaching their retirement, the clients wanted to give their garden a fresh new look, providing a space that required minimal maintenance which they could enjoy with their grandchildren. In the side garden, the pathway was re-laid incorporating a circular brick circle and pergola walkway adorned with selection of fragrant climbers.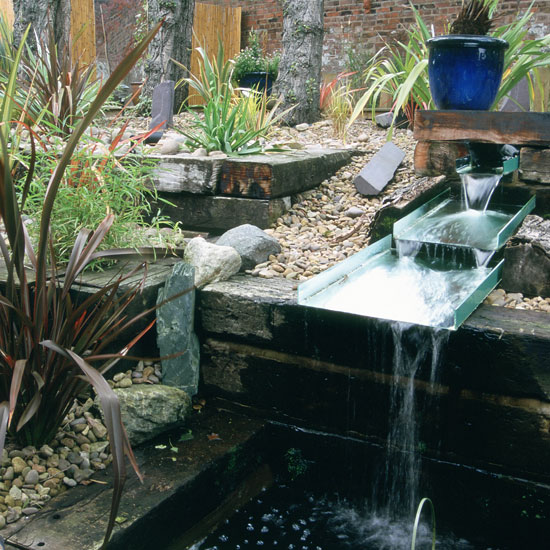 A new garden shed with a patio area to one side completes this area of the garden and provides a wonderful space for relaxing with a glass of wine when all the hard work has been done!
This area of the clienta€™s garden was one of the sunniest in their garden but, except for the greenhouse which had been ideally sited; it was hardly used and enjoyed! In turn, this provided a wider access into the main garden and opened up the view giving a greater sense of space.
The borders in this garden had begun to look tired and past their best a€¦ time for a makeover!!
This was further enhanced by an abundance of bright colourful flowering perennials including Helenium 'Moerheim Beauty, 'Penstemon 'Raven', Monarda Panorama Mix, and Achillea 'Terracotta'. To soften and harmonise, Salvia x syvestris 'Blue Queen', Nepeta 'Six Hills Giant', Echinops ritro 'Veitchs Blue' and Polemonium caeruleum 'Sky Blue' provided a delicate a€?splatteringa€™ of blue running through the border.
Planting in the other borders around the garden was re-vamped using a mix of classic perennials including Astrantia major, Digitalis a€?Thapsia€™, Campanula punctata 'Rubiflora', Lupinus 'The Page', Phlox carolina 'Bill Baker' to give an overall feel and look of an English Cottage Garden! With the garden forming an a€?La€™ shape around the house, borders sloping dramatically from front to back and with the poorest soil in the whole of Northamptonshire, this project was a formidable but wonderful challenge!! The result was a series of different gardens, each with its own planting style but unified in the use of hard landscaping materials!
On the corner of the a€?La€™ was the a€?Water Gardena€™ with three separate water pools linked by a connecting stream, water cascaded from top to bottom.
On the third side is the a€?Mediterranean Gardena€™ incorporating a small lawn and terraced borders, overflowing with fragrance and colour. Creating a pond or water feature from railway sleepers adds a whole other dimension to your garden. So, to all of you enjoying these pages, with dreams and schemes in your head, let's see what railway sleeper ponds and water features YOU finally plan, and what YOU manage to create!
An open pergola structure, constructed from Balau timber to match the decking, features removable coloured perspex screens to create a sense of privacy without impeding the view of the rest of the garden. Features include a large, curved, hardwood decking patio, a curved decking path and two circular lawns edged with black granite setts. Cedar panelled walls and black bamboo planting make this a garden packed with natural materials. The garden features natural slate tiles, railway sleeper raised beds and decking to frame two dramatic pools fed with gargoyle water spouts. Several areas of decking help to make the most of the sun throughout the day, with stainless steel planters housing tall bamboo provide additional screening. Hardwood decking areas divide the garden up into lawn, patios and an outdoor gym space, while feature perspex panels help to add year round colour and interest for this young family.
Hardwood decking, and a gabion wall filled with plum slate paddlestones, forms the main dining area, whilst the use of decking to create levels, walkways and tunnels, make for a multi dimensional space. A dark natural slate patio, edged with a twin border of ornate Victorian tiles and 'Barley' natural slate, are in contrast with the rustic railway sleeper raised beds. A large decked area is bounded by raised beds on 3 sides to create a space for family entertaining and dining, giving the space a sense of enclosure. Black limestone setts, hoggin and black limestone paving are used to create multi-textural surfacing. The centre of the space features a crab apple tree and a railway sleeper bridge running over a crescent pond. A dining area, enclosed on three sides by raised bed, and fixed BBQ, adorned with mosaic tiles, is incorporated at the rear of the garden. A large, removable, rectangular sail gives the client the option of shade and shelter even on the hottest of days. A long, L-shaped fixed bench seat, backed by lush planting in raised beds, creates a relaxing social space. Two circular decking platforms joined by steps and a curved decking walkway lead to a semi-circular fixed-bench seat backed by decorative filled wire-mesh gabions.
A winding hoggin pathway snakes around a large elliptical lawn in the middle section of the space.
A raised bed divides the pergola from the lawn, whilst a water blade cascades into a cobbled rill.
The main focal point is a timber pergola with a perspex clad half-roof, supporting a large, deep, timber swing seat.
A decked walkway, rendered block raised bed and a 'floating' bench seat feature in this garden along with a stainless steel water blade. A turf patheway, edged with slate tiles, zig-zags down the centre of the space sending the user on a dynamic journey to the bottom of the garden. This area is large and diverse enough to be suitable for a myriad uses, including sunbathing and lounging, intimate dining, dinner parties, cocktail parties and barbeques. The main focus of the space will be a bespoke water feature bisecting the main garden between the decking patio and the rest of the space. Features include a lawn edged with cobbles, a timber pergola adorned with fragrant climbers, a modern sphere water feature and a selection of architectural and low maintenance planting.
The railway sleepers make an aesthetic and cost effective retaining wall, and have been finished at a height which is perfect to a€?percha€™ on with a glass of wine! The first job was to remove some of the large over-gown leylandi hedges which enclosed and dominated the garden!
Existing plants were recycled and reused where possible and then enhanced with a selection of new shrubs and perennials, using different planting styles to highlight the different areas of the garden.
The borders have been planted with a traditional mix of shrubs and perennials in keeping with a farmhouse of this period.
We have transformed this space into a garden that truly enhances the property and completes the whole building project. With a large property enjoying a wonderful garden and surrounding paddocks, the client was persuaded (by me!) to have a large wildlife pond constructed in one corner of a paddock. The pond was surrounded by a fabulous selection of perennials and marginal aquatic plants which provide a wonderful array of colour and interest during the spring, summer and autumn months. Since the building was listed we had to provide a sympathetic scheme which reused many of the original materials. An existing well was rebuilt at the entrance of the garden, stable doors were used to build a pergola seating area and feeding mangers were transformed into a water feature! A new fence and gate was put up in line with the front of the house to prevent any grandchildren from escaping! In need of a sunny spot for entertaining and relaxing on a summera€™s day, the greenhouse was relocated and the area was transformed into an a€?Outdoor Rooma€™ with a large paved area (completed in natural stone with granite detail) and a contemporary style pergola. Gravel pathways at one side lead round to a new vegetable garden with raised beds constructed out of railway sleepers and enclosed by a beech hedge. Existing shrubs were cut back and any unwanted plants were cleared; borders were then re-shaped and mulched with mushroom compost.
At the side was the a€?Woodland Gardena€™ with a main gravel pathway, smaller bark-mulch paths, rustic railway sleeper steps and a seating area completed in old-fashioned red bricks. To one side is a circular patio area and a rustic wooden bridge takes you over the bottom stream and keeps your feet dry!
A small patio area with timber pergola adorned with selection of fragrant climbers provides the perfect spot to relax and enjoy the garden with family and friends! Silets Memorial museum was built in honor of the Train Lady's husband, a famous attorney who once represented Jimmy Hoffa. This wall features an integrated bench with decking seat, which merges into a curved bed as it travels across the garden. One of the major focal points of the garden is a bespoke curved pool and rill water feature. A focal point of the upper terrace is two raised, slate capped railway sleeper pools with slate 'spouts' which feed two similar pools in the terrace below. Planting includes perennial plants and evergreen shrubs and trees to create a space with year round interest with a principally claret and blue colour palette.
A wild-life oriented planting scheme, featuring hot reds and yellows, provides the finishing touches to the space.
Lawn and a sunken mosaic pool, over which the decking walkway ran, adds extra interest to the design.
A fixed bench seat, constructed from sturdy new railway sleepers, is offset by brushed zinc planters. Planting in the space consisted of strong architectural plants interspersed with feathery grasses nestling alongside long flowering perennials. With extra light flooding in, we divided up the existing space to make a number of separate areas and a€?roomsa€™ within the garden.
To unify the paddock and garden areas and give the feeling of continued a€?grassa€™, the steps leading from the formal lawn area to the paddock were constructed using brick risers with mown grass treads.
The garden has been enclosed by a beech hedge marking the boundary, but with a new 5 bar farm gate installed to maintain views to the fields beyond. Before he could change his mind, we had the diggers in and created a kidney-shaped pond with sloping sides and planting ledges which was then lined with a buytl liner. Many of these plants have either self seeded or spread naturally on their own over the years, or have been divided by us, to give a truly natural backdrop to the pond.
The garden was completed with an abundant selection of cottage garden plants to reflect the period of the property! Areas were then re-planted with a mix of shrubs, perennials and grasses selected to give interest and colour throughout the year. The planting combined a selection of trees under-planted with a mix of shrubs and perennials to give a rambling woodland feel. The area is completed by a wondrous selection of pond-type plants with lush and architectural foliage and colourful flowers. Check out a few of these imaginative and inventive water feature projects using railway sleepers. The museum is a scaled down replica of Greater Chicago that has 16 trains of its own, a drive-in movie theatre, and other transit-related exhibits like elevated trains and subway trains.
A decked circle set into the patio provides a dedicated area for a café-style table and chairs, while a curved pathway constructed from compacted hoggin with granite setts edging, arcs in an s-shape up the garden around two large elliptical lawns. Planting in the space is strong and architectural, and includes bamboo, cordyline and tall grasses to create year round interest. A stainless steel ball water feature, sits within a bed of creeping thyme, whilst flush level planting beds surround the oval lawn.
On the far side of the garden, there was a contrasting gravel garden, with beds overflowing with an abundance of brightly coloured perennials.