admin 05.01.2014
The main reason for skipping the wye is to try to minimize the main taking the diverging route of a turnout. The layout continues to be a work in progress, but so far has provided many hours of enjoyment. Ken, I don't have a track plan, but here are some progress shots with labels on the different industries. The way I operate this little layout, Sliding Hill Tunnel and Long Valley Tunnel are my connections to the rest of the P&WV system. If it weren't for the fact I have extensive HO collected over the years, the hollow core doors in my home might find a better use. Unfortunately I do not have room for another door, but I've been thinking about adding another switch (turnout) that would lead to a small fiddle yard. And as seen here, the reason I wish I would have know about Frog Tape before starting this project. I just recently bought some of the low stick frog tape to try out with some stripes on units I am in the process of painting. The point to this is not to be critical of your modeling but to just let you know there might be 2 color schemes you could use on your locomotives if you wanted to. I am just now working on painting some FMs and adding some stripes with yellow on black units I hope mine turn out as nice as yours. So this is a fun layout I designed and thought some of you might have some ideas or pointers.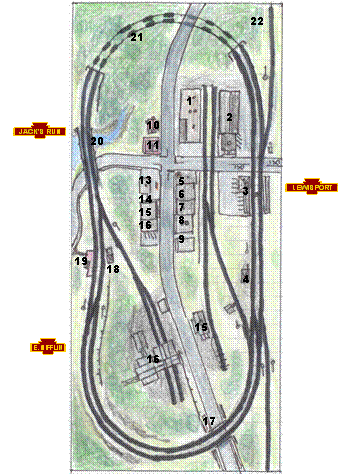 They have some nice plans that they have built and you can see some pictures on what the final product looks like. Tie spacing and tie arrangement at turnouts follows European practice, which is very much different from US-style.
With that said if this is your first layout or you just like the 4x8 layout, that is what it is. As for your question about the trackage, I have always used Atlas and can not help you in that matter. I was thinking of using a method similar to what MR used on both their Virginian and Beer Line layouts. The only thing missing in this photo is, I forgot to touch up the hand rail right behind the cab. The February 2011 edition shows a very well done layout of that size and also has some interesting track plan ideas in it - it´s worth getting a copy!
They are intended for truck mounted couplers, which most of the European rolling stock has, but is not common with US equipment. But when placed in a room of 120 square feet you waste 88 square feet of space when you can be using it for your railroad. You are worrying about the spacing; radii and spacing are depending on the length of your cars or engines. If I had a finished basement or dining area, I would be able to run my trains on the layout and then later on, stand it on end (or side) and put it against the wall (or any other out of the way location) for other uses.
Please can you make a drawing of the room where your layout is placed, with all obstacles like doors. The Fiddle yard would plug into the end of the layout and when not in use could be stored under the layout. In the book H15 44 and H1644 road switchers there is a chapter on the P&WV locomotives and some nice color pictures on page 136.
5x is a good choice if you want cars to couple automatically when you push them together on a curve.
While an around the room layout yields a layout of 88 square feet with a waste of 32 square feet. In the book Fairbanks morse locomotives in color by Jim Boyd page 78 has some pictures of H20-44 and H16-44 and he lists the colors as dazzling black, cream and red livery. You have a space of 6x8 in the middle to operate the railroad from while gaining fifty six feet of usable layout footage. To keep the street up against the tracks, I think maybe the station should be on the opposite side of the tracks from the town (outside edge of the mainline). Pictures for the yellow version show it to be taken in 1962 and the cream version indicates 1951 for the H20-44, and 1961 for the H16-44.