admin 26.04.2015
As we know very well, Massimo Vignelli's version of the NY Subway map is one of the more well known versions. Channels Music Style Pop Culture Sports Sneakers Life Videos Shop Our Sites First We Feast Pigeons & Planes Collider Sole Collector Green Label Ride Channel Pop Culture Pop Culture The NYC Subway Reimagined as D.C.
New York Bound Books is pleased to announce that Silver Connections Volume II by Philip Ashforth Coppola is now back in print in a limited edition! Read a recent article about Philip Ashforth Coppola by David Dunlap in The New York Times here.
To my knowledge, limited as it may be, there has not been a chronicle of the Brooklyn transit like this Volume II prior to its release in 1990. All this is in Volume II: text and maps and illustrated views of Brooklyn's transit system that we are no longer able to see and experience.
In 1978, Phil Copp intended to spend a month working on an article about the art in New York City subway stations that he hoped to sell to a magazine. We are pleased to announce that Copp has now completed the first volume of his Portfolio Series, entitled DUAL CONTRACTS PORTFOLIO:IRT PELHAM BAY LINE. I began my study of New York City subway station interiors in 1978 – at first out of curiosity, to find those tile pictures I'd heard of long ago, and to learn their stories. Since the end of World War II, there have been five complete stations abandoned, in one year or another, plus there are bits and pieces and areas of stations sealed from the public, and others begun but not finished and buried, so that the transit system, besides the travelways obviously active to all commuters, is a maze of mystery and lost spaces beyond and besides. That second goal has enlarged the project's scope to include the persons inseparable from the construction of the system: contractors, engineers, city or state authorities, and the financier of the IRT only, as far as I am aware.
By my count, there are 496 stations in the system – not counting the "new" lines: Parsons Boulevard, Archer Avenue, and the 63rd Street tunnel link.
Filmmaker Jeremy Workman documented my project over a number of years, beginning in the year 2000; his 30-minute film, "One Track Mind," debuted at the 2005 Tribeca Film Festival.
One of the advantages of being on this project for so long is that I've known stations and interiors that are now either changed, or demolished.
One of the disadvantages of not living in New York, though, is that I've still missed a lot, because the system is continually evolving, in one way or another, in one borough or another, along one line this month and another route the next. There is a Volume V, begun about a decade ago, which I had to put aside as I revised Volume I. That takes years of devotion and energy, but time moves right along for all of us, and I'm no longer 29, and my steadiness of hand and sharpness of eyesight are not what they used to be. What this Portfolio series means, though, is that I am not researching the personalities or the manufacturers or the detailed construction of these transit lines. My primary goal is to record station layouts and their decor, as I see them on my field trips, before more is lost. For a general appreciation of where you are, it helps to know who came before you and what was done.  Especially if it helps you now. In 1978, Philip Copp intended to spend a month working on an article about the art in New York City subway stations that he hoped to sell to a magazine.  Today, thirty-four years later, Copp, also known as Philip Ashforth Coppola, a nom de plume of sorts, has probably not spent a day during which he did not work on this "article," now a multi-volume collection of books, some self-published in limited edition and some in manuscript form. As he discovered the artistic riches displayed in each station, Copp was overcome by the need to record what all the engineers, architects, artisans, and artists had done, before their work faded and they were forgotten forever.  The environment underground, vandalism, and, most of all, time is eating away at the intricate mosaic designs that adorn the walls of each and every station, and many are being replaced by plain white tiles that forever erase any trace of what was once there. To watch the film One Track Mind directed by Jeremy Workman on Amazon Instant Video, click here.
This fall will mark the fortieth anniversary of the Vignelli Subway Map.  Used by the Metropolitan Transit Authority (MTA) from 1972 until 1979, this map, designed by Massimo Vignelli, who, along with Bob Noorda, is also responsible for the unified signage design of our subway system.
One key reason that the Vignelli Map did not last in New York City is explained by Michael Beiruit in his article "Mr. In the late-1930's, while Walker Evans and James Agee were collaborating on their groundbreaking work, Let Us Now Praise Famous Men (1941), they were concurrently at work on a lesser-known but equally moving book entitled Many Are Called, a photographic study of New York City subway passengers made with a hidden camera.
For one reason or another, the book was not published until 1966, when it quickly went out of print, and was reprinted by Yale University Press in 2004, the centenary year of the subway system. In this old article by the New York Times, more versions of the maps are discussed: goals, colors, shapes.
I was that kid who had to be in the front car so I could watch the train operator and see the tracks through the front window. Today, thirty-four years later, Copp has probably not spent a day during which he did not work on this "article," now a multi-volume collection of books, some self-published in limited edition and some in manuscript form. His first professionally printed book, this handsome 8×10 volume with full-color cover is 168 pages with numerous illustrations and a bibliography.
But soon I realized that the MTA, at that time, pursued a policy of resurfacing stations with big bland tiles. Now they essentially preserve their heritage and, in some exalted cases, have found an artisan who can replicate 90-year-old mosaic patterns, to repair gaps where necessary. There's a lot of New York – this unique niche of New York – and New York history being lost to the ravages of time. I got caught up in the history of the construction because, learning more as my research progressed, the whole story fascinates me – and I believe those players ought to be recognized.
That 496-station system evolved, in stages, over the years spanning 1900 to the early 1940's; anything after that I consider "new" (even 70+ years later). Through the good graces of a few booksellers of recent memory, the interested public have become ready patrons. They've mostly been New York-based news reporters, but there have been a few others; interviewers from England, Japan, Mexico, and Thailand. Though I used to get in to see the sights and hammer away at the primary source books nearly every weekend, when I began this study, that's barely the case now. Volume V proceeds along the lines of its predecessors, and delivers (will deliver as presently planned) not only the full descriptions and images of the stations of the Centre Street Loop, the Steinway line from 42nd Street to Hunters Point Avenue, and the BRT's Fourth Avenue subway, but also their construction history, the deliberations of the Public Service Commissioners, the fortunes of its Chief Engineers (up to 1914), and a roster of the contractors and the engineers involved. First, to record the art & architecture of the NYC subway stations in word and picture. Vignelli's design is more of a diagram, where the location of what lies above, namely streets and rivers and parks, is of no consequence. The photos, all taken during the winter so that Evans could hide his camera under his coat, provide a portrait of everyday New Yorkers, young and old, rich and poor, as they made their way through the city on the social equalizer that is the New York City subway system. When the series is completed, each portfolio of the series will detail one line of the subway system. Any station which had become inconveniently old, dingy, or pocked, with gaps in its tiles or mosaics, stood in line for an MTA make-over. My purpose for creating this record is focused on two goals: to preserve the design formats and ceramic icons, in text and drawing, of all of the NYC subway stations as they originally appeared when first opened to the public, and to give credit to those who created the formatted designs for those stations – as well as the manufacturers who fashioned those plaques and mosaics from the architects' plans.
Besides, the construction and the design are interrelated, and the story of one leads into the other. So far, through the four volumes I've finished, I have covered transit developments in the New York City region from 1900 to 1908. It's good that recognition has been minimal, though, because, through my solo efforts alone, I can produce only a limited number of copies per volume. Even the MTA Arts for Transit chief contacted me, at one time, for verification of the American Encaustic Tiling Co.
In my school days, I much more favored tromping around in the woods and meadows of the South Mountain Reservation, than sojourning through urban spaces across the river.
Though good, sympathetic people have helped me produce the four volumes of my study, I am essentially a one-man band.
In short, the standard, researched approach which makes Volumes I through IV so voluminous. And so my efforts from here on will depart from the format of the fat volumes that chronicled the years 1900 through 1908 (and up to 1914, if all goes well).
And so I won't tell you what Commissioner Eustis said to Mayor Gaynor, nor the joke which contractor Sam Rosoff played on the bank president. Days do not stop running by, but maybe I can still hit my 2030 target for completing this study after all.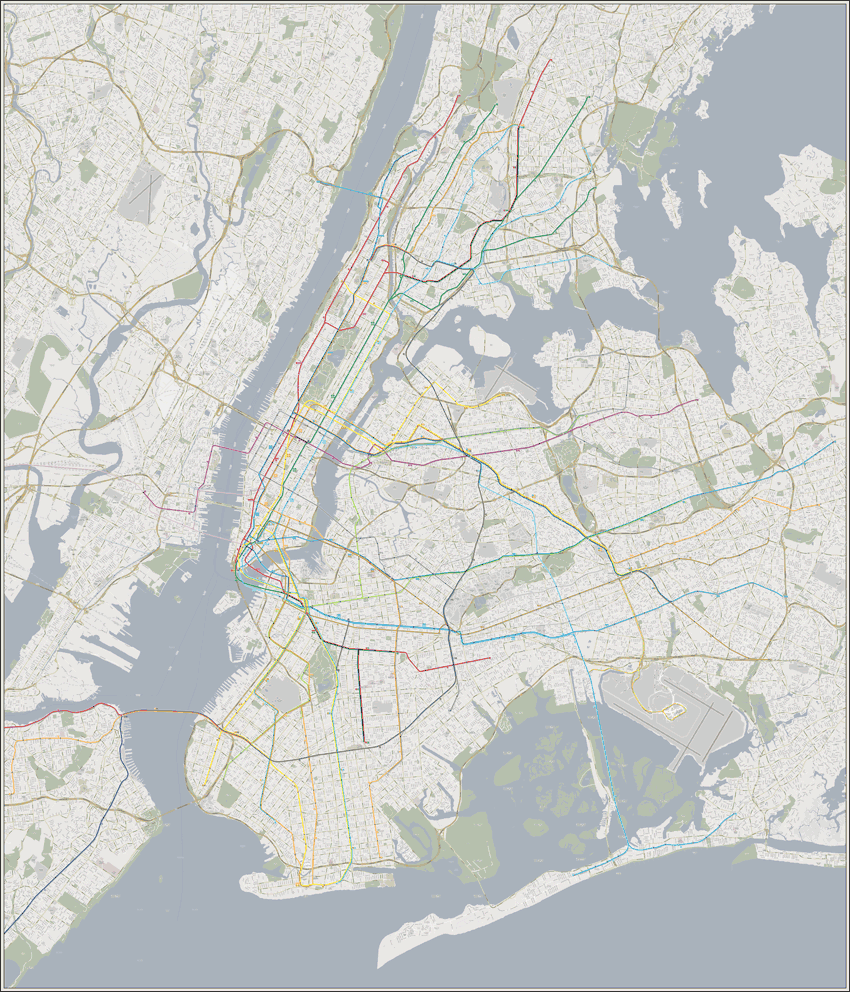 Since 1978, these past 36 years have been rather crowded, and I have only 8 years of events to show for them. And I think PBS shows the movie at odd hours of the day – like at 2 or 3 in the AM, for the insomniac transit crowd. Before 1978, the most NYC history I knew was from Washington Irving's Knickerbocker's History – and that's not exactly historic at all. The passing times have reshuffled my crew, such as it may have been, and I've not produced anything since 1999, except for the few copies of Volumes I and II, scraped together from old & new printed pages, two years ago, and the recent Volume I – Revised text, last year. I figure I can cover one route, within the bounds of one borough in a year's span, as things stand now.
Both subjects of my study were neglected and unheralded (especially in the late 1970's, when I began this undertaking). As a result, the geographical liberties that Vignelli took with the streets of New York were immediately noticeable, and commuters without a taste for graphic poetry cried foul.
Wilcox's labors on the evolution of Brooklyn City's streetcar mazes formed the basis for the first chapter of my look at the BRT empire in Volume II.
Bowling Green got a new red wall, as an "experiment" to see how an old station could be completely modernized from the ground up.
When I hit the Library in 1978, I had absolutely no idea which came first – the elevated trains or the subway system. 2001, and both BMT and IRT Cortlandt Street stations), so I can write them up in future chapters.
Cortland Street got walls of beige bricks – perhaps to give it a sleek finish in the style of the World Trade Center, upstairs.
Likewise, I've been fortunate to know one or two key persons in this drama who have since left the scene. I will start with the Dual Contract routes, of course, because they were the next era of construction after the intermediate tunneling work succeeding Contracts 1 and 2.
But he's had this lifelong obsession with the decor and design of the New York City subway stations.
Nor what happened with the four main subway pioneers, profiled in Volume I, after October 1904. And I saw whole routes gone under: the BMT's Broadway (Manhattan) line, and their Fourth Avenue (Brooklyn) line. If I did that, I would consider all four railroads to Coney Island (Brighton Beach, Culver, West End, and Sea Beach) in my first Portfolio.
All these sidelights are sidelined, thrown into limbo for now, under the present exigencies, because all those details are research, and they comprise the secondary focus of this study. It's like a billion pages and it has literally thousands of amazingly detailed hand-drawn sketches and diagrams. The Authority seemed dismissive of the irreplaceable mosaic intricacies, artistry, and craftsmanship inherited from prior transit authorities of an earlier era, in a different New York City. With the possibility of unending losses like this, the light study I first envisioned developed into a serious journey through the whole system. Considering a timely finish to this record, the IND lines will be more of a breeze to get through – as they are just white-tiled walls with a colored stripe. There is a lost code to their color sequence, by the way, but I think that has been cracked since 1957. As it is, I already examined both the 8th and the 6th Avenue stations in Manhattan at the very beginning of my project, before I realized that they weren't the earliest lines on the subway map.