admin 23.06.2015
Of the various videos I looked at that featured archival footage of the city and the tramway we once had, this one was the least schmaltzy.
There's no better example, in my opinion, of how little control Montreal has over its public transit system than the news of the past weeks and months. Meanwhile, the place-holder pequiste government insists that it wants the Fed to pay for an LRT on the new bridge, that it will spend $28 million to study a financing initiative, that it prefers spending $1 billion to extend the Blue Line east towards Anjou and St-Leonard, and that no money will be available for tramways development for at least five years. And then place-holder Mayor Applebaum says that public transit in Montreal requires tens of billions to sustain operations over the next few decades and that no tram could be operational before 2021, some eight years from now.
I like this notion because, quite frankly, we haven't had a mayor since Drapeau who was determined to lead Montreal, as opposed to letting it be led around by the nose by the often competing interests of Ottawa and Quebec City.
As to the bridge, despite the obscene price tag and arguably obsolete transit concept (i.e. Our city may have better luck negotiating with the PQ, as their minority position and ultra low popularity ratings may be enough to convince them to try and work with their enfant terrible, as opposed to telling Montreal what to do, a losing proposition on any subject.
The Fed prefers cars and bridges, the PQ prefers the Metro and the city is cautiously suggesting a tram system is in order.
Some commuters living in the Greater Montreal region regularly spend anywhere from two to three hours in traffic, every single day and coming from all directions. For one I'd say now is not the time for expansion of the infrastructure of transit, but rather an ideal time to re-imagine, renovate and rehabilitate what we already have. But this brings up two other potential improvements – inter-lining the system and introducing express Metro lines. And then there are the improvements that need to be made to most of the existing stations as is, such as basic aesthetic renovations, introduction of elevators for increased accessibility, anti-vandalism treatments (e.g.
With regards to our commuter rail network, this too would be better off without any more expansion.
Aside from getting this line up and running and finding a solution in which the new train wagons and locomotives could be used, the AMT should prioritize increasing the rate of operation on its network, ideally making all lines run as frequently as the well-used Deux-Montagnes Line (currently the busiest with the highest operational rate of the whole network).
As to the proposed tramways network, there are a lot of good arguments against spending on this kind of public transit at the moment. However, this must go hand-in-hand with legislation and various other political tools designed to get people to use public transit as the primary means for commuting. So all that said, I'd prefer we take a step back from discussing expansion and new trams and instead focus on getting the absolute most value out of what currently stands, knocking down inter-organizational conflict and seeking to make public transit as attractive as possible to all citizens.
Final note – a lot of these projected tram lines closely mirror existing Metro routes. The article is presented in such a fashion that makes it seem the STM only just found out about this and that these renovations may be somehow related to the delay in receiving the new Metro cars, which were initially due last July but now likely won't be in service until the end of this year.
But according to the STM (and mentioned in the JdeM article), they new about the requirement to modify a 200 metre stretch of the Orange Line to accommodate the new trains from day one, and that the work has already been completed and factored into the overall budget. But, with all that in mind, the modification to the tunnels only seems to have involved 200 metres out of a total length of 71 kilometres.
In other words, less than half a percent of the Metro system needed to be modified for these vehicles. This is true about our new Metro cars, about the Train de l'Est project, about double-decker dual-power commuter trains, about fighter jets and maritime helicopters. Every time government appeals to the private sector to work on public projects, they pitch it against an illogical assumption the alternative is to have the state build a factory and assume all related project costs.
Ultimately, this is why we can't have nice things at a reasonable, audited cost on the timeline set by the people. A loyal reader posted this photograph in response to a question about where one can find archival street scenes of Montreal.
Big badass oaks and elms and maples growing taller than most triplexes, and enough of them to make it seem as though some roads disappear off into the woods. I look out my back window onto the alley, a typical Saint Henri alleyway, with trees climbing ever skyward, dwarfing the brownstones below them.
Today there are parts of the city where great trees will likely never grow again, for large buildings stacked too close together block out necessary sunlight. I think we'd be wise to take a long look at these old photos and ask ourselves whether we could afford to be a little greener.
And in response to a week of outright hostility from nearly all quarters of our city, the Premiere, Benevolent Queen Pauline Marois, announced a Metro extension. Wouldn't we save money in the long run if we streamline one big Metro expansion, rather than small, piecemeal extensions? The PQ is projecting a $250 to $300 million cost per kilometre and a total extended length of six kilometres (about the distance from University to the Olympic Stadium along Sherbrooke) with five stations.
The cost to extend the Orange Line to Laval by three stations cost about half that amount per kilometre, and that project was announced in the late 1990s but only completed in 2007. Granted I'm obviously not an economist, but I would like to know why the cost of construction has increased so much in the past decade in particular. And we're not exactly reinventing the wheel either – so how the hell did it suddenly become so expensive to build basic mass transit systems in our city? There's another issue we should consider when thinking about the Blue Line and any potential future extensions. But if we're going to extend the Blue Line's reach, why not also expand its capacity and increase its utility as well? I have a feeling realizing the original plan would have the effect of increasing ridership on the Blue Line to such an extent that the STM upgrades to nine-car trains on the line, thus giving the line the ability to truly operate at full capacity. I don't know what was so different about life in this city back in the 1960s and 1970s that made the people here demand action and quick results for their political support. Today we get flashy press conferences that ultimately only promise more study and preparation for some interminable project whose only purpose seems to be to sap whatever confidence the people have in their elected officials.
I suppose my question is why the PQ isn't coming to us with a plan to actually begin development?
I wish government had the self-respect and restraint to only bother the people with announcements of actual accomplishments.
Commentary, Kondiaronk - My Montreal Experience, Let's make this an election issue, Political commentary, Social commentary, What were they thinking? So apparently the Montreal Police think the public would panic if we knew the Metro's actual crime statistics, as they apparently have been feeding us bullshit for years.
The Gazette filed an access-to-information request a few years back to get the following basic data from the SPVM: what kinds of crimes happen in the Metro? The SPVM said no, that divulging such information could compromise their crime-fighting efforts to such a degree they'd be starting from scratch. The Gazette, by contrast, argues such information would pretty much reinforce what seasoned Metro riders already know – some stations require a bit more vigilance and situational awareness than others. I want to know where crime is happening to see if the cops are doing their jobs, to see what might be facilitating the crime at those specific stations.
As I mentioned earlier, the cops made an effort and provided what they call data, though it didn't quite measure up. To put it bluntly, submitting official SPVM data concerning crime in the Montreal Metro wouldn't pass a CEGEP-level research methods class. And as our recent massive snow-storm has revealed, public transit is absolutely vital when the roads are otherwise impassable, especially the systems we have (such as the Metro and Reso) which allow the city to continue operating regardless of conditions outside. This would be something I'd like to see in the coming years, as it would make public transit not only more effective but efficient as well. Metro expansions would include a five and three-station extension on either side of the Orange Line (west and east respectively) without closing the loop and six stations to the Blue Line towards Anjou. I also like how the tram lines anticipate future on-island densification, and that the West Island requires a comprehensive tram network if we have any hope of cutting back on their car dependency.
Other neat ideas here – a Parc Avenue focused Metro Line linking the city with Brossard and Saint Laurent. It also occurred to me looking at this design that spacing out stops farther away from the city is a neat solution to the problem of population density in transitional residential zones. Our final entry is like the former heavily influenced by contemporary planning and proposals, including a Pie-IX Line going up into Montreal North and RdP, closing the Orange Line loop, and adding a few stations to the ends of the existing lines. Although I desperately want the city, STM and AMT to begin massive expansion of sub and railway service in our city, before extending Metro lines we really ought to bring what we have up to code, a full renovation. Doing all the work in the tunnels would allow us to inspect and retrofit as need be, not to mention facilitate planning the eventual expansion. I wonder just how quickly we could execute a system-wide renovation and upgrade of the Metro, bringing everything up to the same 'starting point' before we launch into system expansion? When you've already BOLTed by bus to Boston and DC, done day hikes in the Hudson River Valley, and made the trek out to the Hamptons, where else can a New Yorker escape to for a (long) weekend? It might seem so far away, being in another country and all, but Montreal is surprisingly close to New York. Train – If you've got more time than money, or if you're a solo traveler, taking the train to Montreal is your best option. Aside from the lofty claim of it being one of the most scenic rides in America, there is little information out there about what this Amtrak train ride is actually like.
Wifi – There is wifi in the cafe car, though it is very spotty the further upstate you get. I can't imagine this route being any more beautiful than it is in October, when fall foliage paints a vibrant layer on top of an already-beautiful scene. If you've got an SLR camera, you'll want to use a zoom lens with a long focal length (>50mm on full frame, >35mm on crop sensor).
Most of the time you won't have a clear view of the scenery because trees, branches, and powerlines pop up constantly. Go to the back of the last car and stand on the little platform between the doors, looking out at the track behind. It's always a crapshoot when you pass through passport control at any airport; sometimes you'll be asked a laundry list of personal questions (*cough* UK *cough), other times the officer won't even say a word to you. I got my American passport stamped when crossing the border from the US into Canada, but I didn't notice any foreigners getting their passports stamped when we crossed the border from Canada into the US. On my train to Montreal, we had to stop for an additional Exit Check just before the border inspection, where a bunch of officers walk through the entire train a few times, checking various things.
I thoroughly enjoyed the Adirondack Train to Montreal and would highly recommend taking it in October to catch the fall foliage in upstate New York. Follow along with Lindsay's travel photography on Facebook and Instagram, and be sure to sign up for the monthly Frugal Frolicker newsletter!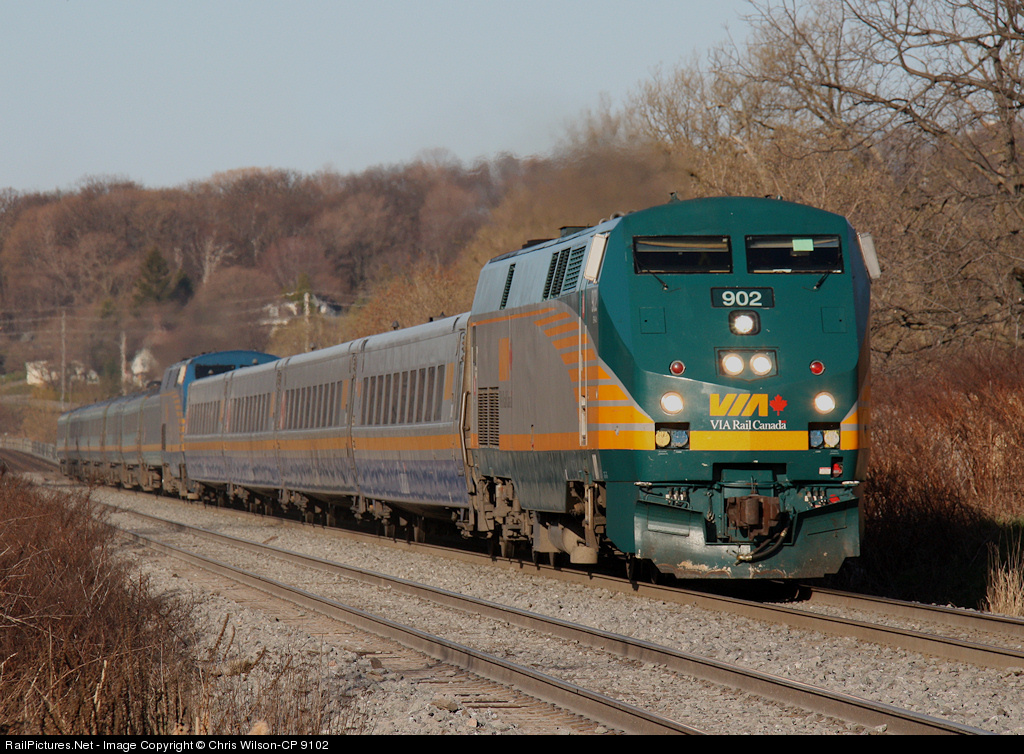 Hm, I don't recall having any issues with the toilets when I was on the train, so I think they were fine! What side of the train would you recommend me to sit on for better views of the scenery if i'm going from NYC to MTL?
Thanks for a great post, I am doing this trip later this month and you have answered all the questions that I have. Since then, I've taken a more active approach to life, living deliberately and slowly figuring out my path. Before we expand our public transit network or implement new systems, let's ask ourselves whether we can do better with what we have.
Any new tram or LRT system built in the city should use a reserved lane and be given absolute right of way.
The Fed wants to invest $5 billion in a new Champlain Bridge, but refuses to use that money for any other public transit purpose. Applebaum won't be mayor as of this November, leaving promises and proposals in his wake, with nothing actually accomplished. The commuter rail network, though valuable, has proven extremely costly to expand with CN and CP generally disinterested in cooperating with the AMT, while the proposed city-to-airport rail link as dead in the water as when they completed the train station in the basement of Trudeau airport's main terminal some time ago. This, more than any other factor, is what's responsible for the degeneration of air quality and the single greatest threat to the long-term viability of sustaining Montreal as a city.
As an example, the Blue Line remains the least used in the whole system, largely (I would argue) as a consequence of the inconvenience of transferring at Jean-Talon station and the line's lack of a direct connection with the downtown (consider the popularity and rate of use of the Parc Avenue and Cote-des-Neiges Road express and articulated buses). The Blue Line's proposed eastern expansion would itself be more useful if it offered a more-or-less direct connection with the city centre. The Train de l'Est project has become a bit of an embarrassment for the AMT, as it is now more than double the initial cost of $300 million and two years behind schedule. Station services need to be improved as well, as almost all are little more than concrete platforms and un-heated glass box shelters; no cafes, no depanneurs, public washrooms or station attendants. Moreover, I firmly believe the city of Montreal will have to take a leadership role in settling disputes between various transit agencies and the rail giants.
I would like to see a tram system one day, and believe that it is an ideal system for the city's urban core, but nonetheless believe we should prioritize making what we already have much better before embarking on new development.
What's destroying our local environment inasmuch as our roadways is primarily the hundreds of thousands of passenger vehicles clogging our roads, all too often going nowhere fast while expelling noxious fumes and carbon dioxide. Our own idiotic governments won't allow electric cars produced here in Quebec to be used on our own roads. If we can secure higher usage rates across the systems and infrastructure we already have, then and only then can we take a serious look at developing new systems or major expansions to existing networks. Implementing a tram system in the urban core would allow buses to be re-positioned in more suburban areas, permitting an expansion of suburban public transit access with vehicles we already have. Yes, the new Bombardier-Alstom Azur Metro trains are heavier and bigger and will even consume more electricity than their predecessors but all of this was expected and understood since day one. It seems to me that, time and again and at various levels of government, contractors working on government-sponsored mega projects are consistently late and chronically appealing for more money.
The interest lies chiefly in that a) government typically continues throwing money at the project and extending deadlines to save face and b) there are no repercussions to the provider, regardless of how late or how over-budget the project is, because they typically arrange to be the sole provider for after the fact maintenance, not to mention the fact that they own type certificates and other key pieces of intellectual capital that will keep whatever's being built working. The McCord Museum has the famed Notman collection, which provides an incredibly fascinating glimpse into the lives of Montrealers, and what their city looked like, around the turn the 20th century. It had a capacity for 1750 people and two balconies, and over time would host a wide variety of performers, including Sergei Rachmaninoff and Paul Robeson. Streets as diverse as Saint Denis, Sherbrooke, Saint Catherine's, the former Dorchester (now Rene-Levesque) boulevards etc. Even on a street as wide as McGill College, the trees planted twenty years ago are all sickly looking; many have been removed outright. Not just for aesthetics, there are practical reasons to want to do this, chief among them to increase the quality of the air we breathe and to provide a bulwark against seasonal flooding.
The Charest government made a similar announcement back in 2009 though nothing came of it, and the idea to extend the Blue Line further east dates back to the mid-1980s when the line was first developed.
There's no question about whether the extension is the right way to go, but we need to be vigilant regarding the estimated cost. The tunnel is now owned and operated by the Agence Metropolitain de Transport and is in need of upgrading to support new dual-power locomotives inasmuch as some kind of emergency exit at some point in between the tunnel entrances. I'd even argue prioritizing this element of the original design before any eastern extension.
The people are so incredibly disengaged and cynical we don't expect anything from our supposed leaders at all. For one, they only provided limited information about each of the lines on average, grouping the interchange stations (like Lionel-Groulx, Snowdon, Berri-UQAM etc.) together with the Yellow Line to create some kind of an equilibrium, this despite having highly detailed information for every station at all hours of the day and night.
We need to transition off of our over-reliance on automobiles, cut down considerably on local pollution, gridlock and the endless cycles of roadway destruction. It's a strong argument for why we need to expand the Metro system and Reso concurrently, and seek to include as much direct access to residential and office buildings as possible.
That said, even if we use diverse modes, there should be a single agency running the show for the whole of the metropolitan region. Greater public transit integration and efficiency passes the savings back to tax-payer in better service while allowing more revenue to be generated on the whole. If the city gets out ahead of this issue and plans for a massive transition we can start reaping the benefits sooner, and we'll be better off the earlier we start. This one's novel because it presents a modest Metro expansion plan along with the development of an integrated LRT system. These are very likely developments given population growth in Saint-Laurent, Petite-Patrie, Rosemont, Saint-Leonard and Anjou.
It's an effective way of providing a higher capacity alternative to a bus while spending less on infrastructure.
I think buses have outlived their utility, and reserved-lane LRTs could serve the area much better. A lot of this based on other plans touted about for years, such as extending both ends of the Blue and Green Lines, having part of the Yellow Line twinned with the Green Line in the downtown, using the Metro to connect to Trudeau Airport and closing the Orange Line to form a loop. Also, many more two-line access stations and a Metro linked directly to the Montreal General Hospital and Rockcliffe Apartments over Cote-des-Neiges road. One of the many arguments against Metro expansion is that many think it would require stops as frequent as we currently have, which in turn would make the commute very long indeed. I find this plan a bit underwhelming and think too many stations have been added to the Orange Line in Laval. If we truly want our city to grow we're going to have to start thinking big about public transit in Montreal. Providing an efficient and comprehensive alternative throughout the metropolitan region by extension transfers a considerable amount of disposable income back into the pockets of the citizenry.
We could also finally decide how to improve air-circulation, ventilation and internal climate control. New public washrooms should be built, in addition to elevators for the mobility-impaired amongst us.
I fear expansion without improvement will only wind up expanding on something which may be operationally obsolete. If we set a three-shift schedule, knowing we have to return the system to full operations as quickly as possible, would we discuss this renovation in terms of years, or months, weeks even? With two weeks to kill before starting a new job and aiming to not further deplete my savings, I wanted to take an affordable trip to Montreal at the last minute. Each seat has generous legroom – at least as much as you get when sitting in the exit row of a plane.
In fact, Amtrak adds a dome car to the front of the train from Montreal to Albany on select days during October: with 2 levels of seating with massive windows, it's perfect for maximum foliage enjoyment. Between that and the movement of the train, you're inevitably going to end up with lots of shots with blurred branches in the foreground – gross!
If you live in the Northeast especially, you should take advantage and book a trip on the Adirondack Train. Any profits I make through your purchases go directly into covering the ever-increasing cost of running this site at no extra cost to you! Be sure to book your tickets at least 2 days in advance – even earlier if you plan on traveling on a Friday or Sunday. She's a New Yorker currently based in Sydney, Australia, documenting outdoor travel experiences Down Under and beyond.
At the border going northbound, do you have to get off the train, or do the customs agents walk up and down the train? I sat on the left side heading up to MTL – you'll get great views across the Hudson on this side!
I couldn't find much information anywhere but your description and pictures have definately made up my mind to use this train to travel back from Montreal to NYC when I visit in early October this year. Not too long ago, I found myself on the Corporate American conveyor belt: an ivy league education, followed by massive student loan debt and an investment banking job in NYC. Currently living in Australia, I blog about outdoor adventures in beautiful places around the world that don't cost a lot of money.
It appears as though the STM's choice of narrator certainly has no beef peppering his orations with English loan-words and anglicisms. Trams and LRTs have been proposed (or are being proposed) to connect Brossard and the Sud-Ouest district with the downtown, to connect the city to the airport, to replace the near totally unused 715 bus route, to run on Cote-des-Neiges Road, Parc Avenue (replacing the high-capacity articulated and express buses), Boul. If trams are getting bogged down in vehicular traffic (as they do in Toronto), they're not really helping anyone at all.
I'd even go so far as to argue trams would be best used to completely supplement buses in the most densely populated parts of the city, allowing buses to be re-directed to suburban routes. They also insist that this money could not be used to construct an LRT system on the new bridge to serve South Shore commuters, that tolls are the only way to pay for it and that the original Champlain Bridge would have to be destroyed afterwards. Montreal needs to provide the public transit that best suits its citizens and the citizens in its periphery of influence. If we want our money better spent we should throw our political support behind either of the two local prime-ministerial candidates in 2015 and hope the oilmen who have taken hold of our nation's government get swept under by their own operational mismanagement and economic incompetence. Aeroports de Montreal was most recently suggesting a monorail, doubtless with its own billion dollar price tag.
As long as we continue to grow, something which I would hope is inevitable, we have to expand public transit service to mitigate the environmental damage caused by so many hundreds of thousands of cars on our roads.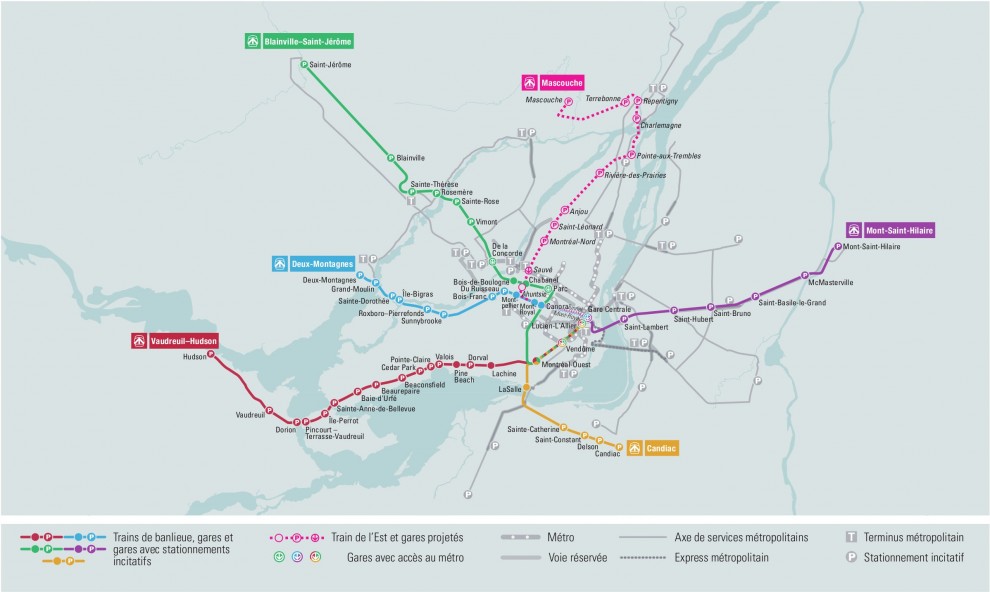 It just so happens that the Blue Line was originally supposed to intersect the Mount Royal Tunnel at the Universite-de-Montreal Metro station. On top of it all, there's an on-going dispute between the AMT and CN as to the new dual-power locomotives and double-decker train wagons procured by the AMT, something which may delay the opening of this train line even further.
The AMT also has to work out a solution with ADM, CN and CP to establish a rail link to the airport once and for all. We have one of the most comprehensive rail networks of any North American city, but our commuter rail service doesn't have access to most of the system. Perhaps I'm being optimistic in thinking government could institute proactive environmental legislation when the inflated bureaucracy we deal with has such a long and inglorious history of dragging its feet on such vital issues. But if people are disinclined from using the bus and Metro, for whatever reason, whatever initial interest there is in trams will likely quickly evaporate. On the other hand, if we were planning a major renovation of the Metro network, a surface tram that mirrors the Metro somewhat might not be a terrible idea. Instead of building a tram on Rene-Levesque, an urban boulevard specifically designed with cars in mind, why not install it on St-Catherine's, which was designed with trams in mind, and close that street to cars entirely?
The STM knew this and made the decision to modify a portion of the tunnel rather than scrap the project and go back to the drawing board. If a government upsets the private firm, they have very little recourse and will likely pay dearly at the polls. His Majesty's Theatre was demolished in 1963, around the same time pretty much everything else up Guy was ripped up as Boul. In summer I can't see further than the end of my building, for everything else is masked in green.
Of note, Charest's 2009 plan called for closing the Orange Line loop, as well as extensions in both directions of the Yellow Line, in addition to the Blue Line extension, as you can see in the above image.
I would argue strongly in favour of developing a connection between the Metro and the Mount Royal Tunnel as a means to transfer passengers on the Blue Line to Gare Centrale.
If this connection were made, transferring at Edouard-Montpetit would give Blue Line passengers access to the Orange and Green lines via the Gare Centrale and Place Ville-Marie portion of the Underground City.
I know many people suggest Expo and Olympics being the sole motivating factors, but surely this can't be the case. Wouldn't they have some kind of an idea about the crimes that are taking place in the Metro system too?
Roads require constant renovations because of the massive quantities of corrosive salt we need to pour on them every year just to keep the roadway passable in the winter months, and this in turn means every year your tax-dollars are being wasted repeating the same work. What's fascinating here is the idea that the airport ought to be served by a new Metro line which in this case would follow part of the once-proposed western extension of the Blue Line and link it up with Bonaventure and Peel stations (and Gare Centrale by extension) with an apparent stop somewhere very close to the Mountain. By stretching the average distance between stations Metro trains could conceivably reach higher speeds. I'm also not crazy about having a y-shaped Metro Line even if part of it is attached to the airport. The bigger and more useful the system, the more we all save in car-related expenses we no longer have.
Our Metro lacks both heating and air-conditioning, public washrooms, decent services, elevators etc. If we're to ever have 24-hour service we need to either construct by-pass tunnels or develop new tunnel cleaning methods. While there's no issue keeping the stations warm in winter, its getting them cool in summer which is perennially problematic. Much of our system was designed and built for the Montreal of the 1960s (including some parts completed in the 1980s!) but the operational tempo and demands placed on the system by its users have changed dramatically in fifty years. When you're on the train for 11+ hours, it really goes make a huge difference in your comfort level being able to change positions throughout the ride. Between the Hudson River Valley and the lakes and farms north of Albany, the entire ride through New York state is picturesque. Best bet is to set your camera on burst mode and snap like 10 shots in a row, then just keep the ones that are clear.
Listen to the officer questioning others nearby and have your answers prepped for when it's your turn.
It stops for about an hour just before the border, and the agents walk through the train checking documents. Once you get to the top of NY state I believe there are some lakes on the right side worth peeking at. I didn't know what I wanted to do with my life, but I knew this wasn't it - so one day I summoned the courage to quit. I wonder if this was done on purpose to attract a wider audience or reflect the French as it is all too often spoken in Montreal. Rene-Levesque, Pie-IX and Peel Street (etc.) and even as a potential replacement for express buses running to and from suburban bus depots conveniently co-located at major area shopping malls.
And though residential expansion off-island has exploded in the last decade, provisions for better STM service in these suburban areas is currently non-existant.
Under ideal circumstances, at some point in the future public transit will be the preferred and most convenient method of getting around the metropolitan region.
This could facilitate the introduction of myriad new lines, such as a circular route using the Orange and Blue Lines, or diagonal lines aimed at connecting the first ring urban suburbs and industrial zones directly, as opposed to funnelling everyone through the city core. Again, an investment in routing and switching technology could help us better optimize what's already built. A re-developed, pedestrian and tram-centric St-Catherine's Street could optimize tramway efficiency simply because it would have no cars to compete with. It's not terribly expedient for a politician to campaign on keeping government contractors in check. Parc Avenue was apparently so well forested the great limbs intertwined over the street to provide a kind of canopy that could protect you from even the most torrential of downpours. Today's announcement mentioned that a Yellow Line extension would be contemplated once the Blue Line project is completed. The combination of these factors have made driving a bit of a hassle in a city which is lovely to drive in – a shame. A single agency with a single transit police, single fare, single union, single collective bargaining agreement and most importantly, a single (massive) pension fund and planning department. Based on the map I wonder if the idea isn't to dig out a Metro tunnel alongside the existing Mount Royal Tunnel.
A Violet Line connects Papineau station, crosses the bridge and on to Saint-Hubert Airport, a Blue Line LRT runs from a proposed intermodal station at the Universite de Montreal through Cote-des-Neiges, Saint-Laurent and Laval onto Mirabel Airport.
The Red Line in this example would connect Griffintown, PSC, Goose Village and Nun's Island to the CBD in addition to the Plateau and McGill Ghetto. This plan also utilizes trams, but does so as if to build bridges between Metro lines almost as if to bypass them.
Not having to plunk down anywhere from $15,000-45,000 every ten-to-twelve years would mean a lot more money in your pocket. While the latter may be cheaper the former permits inter-lining, which in turn could revolutionize public transit in our city by permitting all trains to operate on all lines throughout the soon to be expanding system. We might also want to see if we can correct periodic flooding in the tunnels while we're at it. If you stay overnight, definitely check out the Beekman Arms – a very historic and atmospheric inn. I remember the train not being full when I rode it, so it was easy to shift from side to side depending on the scenery :) Have a great trip! If we ever do get around to building any of this, we really should look to build as much of it as quickly as possible and using the same vehicles to streamline efficiency.
Doing so will not only help us breathe easier and do immeasurable good for the quality of the local environment, but would further serve to allow our roadways longer lifespans and permit vehicle owners to significantly expand the lifespans of their cars. Moreover, the Deux-Montagnes commuter rail line would benefit from an exit at the tunnel's half-way point and many more potential users. I can imagine a better distribution of riders this way (which alone could all of a sudden make the while system more useful). City-owned multi-level parking garages at major suburban train stations is another initiative that could maximize the number of commuters, in addition to providing another means of paying for public transit improvements, if not future development.
They will have a different layout and, perhaps most importantly, will permit transit users to move between Metro cars while the train is in motion. People respond much better to hearing how much a politician intends on spending rather than how they plan on saving money.
We elected, and kept electing, a visionary mayor, who paid us back by giving us a truly global city to live, love and play in. If we had a public transit system so well developed personal automobiles were used far more sparingly, not only would the value of the car increase while its associated costs decrease, we'd also be able to potentially cut back on costs associated with road maintenance as well. A true North-South Line is a very novel proposal indeed, and would seek to link to separate but nonetheless iconic neighbourhoods. Final point on this one, utilizing the Mount Royal Tunnel for a Metro Line is one thing, but this makes it seem as if a Metro Line would be built under the CN track and AMT's Deux-Montagnes Line all the way to Pierrefonds. Then there are the foul smells, the dripping calcium stalactites at Guy-Concordia, the dim lighting, the underused public spaces, busted up benches and TV screens and the graffiti. In addition, this would further permit the use of express routes, all of which may be worth considering given current and future usage growth rates. It means savings for the consumer and tax-payer alike over the long-term, something we'd be wise to consider. Commuter rail is probably the single best way to get large numbers of people to and from the ever-expanding suburbs, but only if the investment is made to maximize efficiency and convenience.
The downside is such massive re-working of the rail network would require either the entire network being shut down or large portions at a time.
All the public transit improvement schemes I've seen thus far are limited in scope and can only be considered band-aid solutions to far more complex problems.