admin 15.02.2016
The Toronto Transit Commission (TTC) is a public transport authority that operates buses, streetcars, subways, and rapid transit lines in Toronto, Ontario, Canada.
The TTC operates the third most heavily-used urban mass transit system in North America (after the New York City Transit Authority and the Mexico City Metro). The Toronto Star says the TTC will be adding trains to its rush hour service after the Thanksgiving weekend. The plan is to give riders more space on subway platforms during peak hours and to cut travel times in off-peak hours. The plan will see 2 new trains added to the each of the Yonge-University and Bloor-Danforth Lines during rush hour. Each train carries about 1,200 riders, meaning there should be more space on the platforms. The TTC's new deputy COO, Mike Palmer has also tweaked the train and crew scheduling to help reduce overtime costs.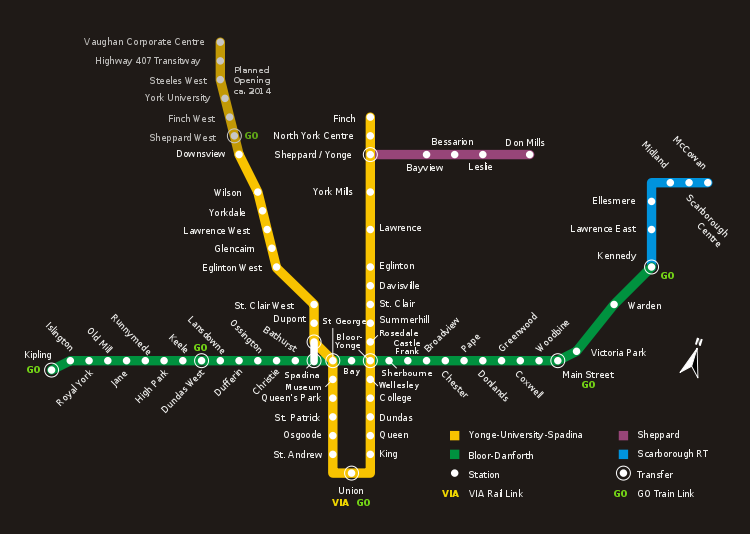 The Sporting Life 10k run is Sunday morning and will travel through Toronto's downtown core.
To retrieve your password, enter your email address below and your password will be sent to you. Subway service has resumed along the Bloor-Danforth line hours after flooding made the line inoperable between Ossington and Keele Stations. Service was suspended after water and silt seeped onto the tracks at Dundas West Station just before 8 a.m. On Tuesday morning, TTC deputy chief operating officer Mike Palmer said silt was covering between six and nine metres of the track, and would have obstructed the subway train wheels if service had continued through the morning rush hour. Tweets from frustrated commuters show the subway station platforms on the Bloor-Danforth line overflowing with passengers waiting for a train. Regular Toronto Transit Commission subway service on Line 1 has resumed after a power issue at Finch Station disrupted service for hours.
A spokesperson for the TTC said in a tweet sent Friday night that the delay has been cleared. Established in 1954, the TTC has grown to comprise three subway lines and an elevated rapid transit line with a total of 69 stations, as well as 149 connecting surface routes (buses and streetcars) of which 148 routes make 243 connections with a subway or rapid transit station during weekday rush hours. Earlier in the day, trains were turning back at Sheppard Station and shuttle buses were operating between Finch and Sheppard Stations.