This year's Vice series, Tattoo Age featurd one of my favorite tattooers, the infamous, Grime.
Tattoo Age's Grime series puts the tattooer's unique and revered style in perspective while exploring his life, background, and evolution into one of the most accomplished tattooers in the world. I personally appreciate that the Tattoo Age series, has taken a non-sensationalized look at the ART and discipline of tattooing. Though I have not written about his work (yet!), I have mentioned him in previous features. If you'd like to own a complete compendium of his work, including detailed sketches and process photos, you are in luck.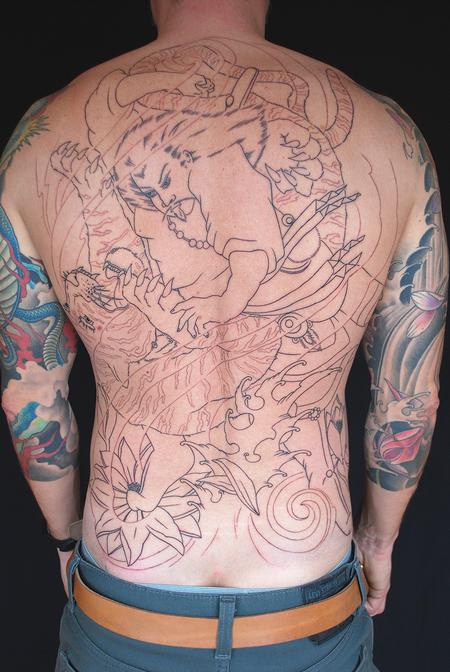 This blog is a Wunderkammer filled with heartfelt outpourings for those whom I deeply admire. He is best known for his highly unique style that combines fluid compositions, extraordinary detail, an abundance of intense, layered colors, all married within aggressive imagery that is unlike anyone else's. The series takes a personal look at Grime through childhood stories, self-published memoirs, and artwork, and features tattoo luminaries Civ and Chris O'Donnell, as well as the other artists of Grime's shop, Skull and Sword, based in San Francisco. It has been a pleasure to watch Grime work in person – his skills and work ethic are exceptional. I shared an endearing personal observation about Grime's kindness in a feature on Henry Lewis and I included a striking portrait of Grime that was painted by Shawn Barber.
He has created an impressive oversized coffee-table book, Iron Will that you may purchase from him directly. Grim does the same he gives people hope and tell them Don't let one bad thing stop you from all the good things you can do in this world.
Any images from sources other than the featured artists are used under commonly understood guidelines of Fair Use.