On most days, Kim Leach goes to work at her Liverpool tattoo shop wearing a black soldier cap, a black T-shirt that says, "It's All About the Pain," and shorts that show off her lavishly tattooed legs.
But one Friday a month, Leach is at a Fayetteville plastic surgery suite wearing blue medical scrubs that hide her tattoos and a nurse's caring demeanor. Leach, 36, is a former nurse with an unusual and rewarding job as tattooist for Central New York's breast cancer community.
In her work with patients at two of the four breast reconstruction practices in the Syracuse area, she sees women who have been through scary and painful ordeals -- breast cancer treatment and breast reconstruction -- that often involve years of treatment and multiple surgeries. Her job is to put the finishing touches of pigment on their rebuilt breasts after their cancer is treated and their scars are healed.
Leach has scars of her own, including some from lymphoma treatment, that she covered with tattoos.
She describes herself as a rebel who grew up with a pencil in her hand and experimented with tattooing her own legs as a teenager. She worked as an RN at Crouse Hospital for eight years before opening her tattoo shop at Sweetheart Corners in 2003. Her artistic ability and creativity with a tattoo gun have earned her respect and accolades. The first cancer patient she ever tattooed presented the biggest challenge: a woman who had serious complications that left her with no breasts and a heavily scarred chest.
The woman mentioned Leach to plastic surgeons Gregory Baum and Anthony Deboni of CNY Cosmetic and Reconstructive Surgery. Cherie Mullen, 40, of New Haven, never thought of herself as "the tattoo type." Then breast cancer came along and changed her. In 2005, when she was 35, she found a lump in her left breast on her daughter's sixth birthday. In January 2007 she had a TRAM flap reconstruction, in which surgeons take skin and fatty tissue from the lower abdomen and use it to make new breasts. Leach walked into the waiting room with a big smile and her standard introduction: "Hi, I'm Kim! In an exam room, Leach used a marker to draw circles on Mullen's chest, mixed her inks and told her how the tattoo gun works like a dentist's drill with a tiny needle that vibrates at 1,200 rotations per minute. Mullen had two scars that bothered her: a small, football shaped scar from her chemo port just below her right collarbone and a long, raised mastectomy scar that snaked around her left breast and up her chest. At the shop, Leach traced Mullen's scar and made a drawing of ivy in carbon pencil that she transferred to Mullen's skin "like a rub-on." Then she tattooed over the drawing. Sutherland's mother had died of pancreatic cancer in 2007, so she asked Leach to add two butterflies to her tattoo, one with a purple ribbon for pancreatic cancer and the other a pink ribbon for breast cancer.
Sutherland, a mother of three, made the difficult decision to have both breasts removed and reconstructed. Sutherland's surgery lasted 13 hours due to complications from a previous abdominal surgery. Over the next year she had three more procedures to make her breasts even and create nipples.
She said the Kim she met at the office hardly resembled the biker chick who tattooed her at the shop. While they were at it, they also could hide the ropey scar curving around Sutherland's left breast with a leafy vine. According to San Antonio CBS affiliate KENS, Rooster is a tattoo artist who lives in San Antonio. The Breast Cancer Site is a place where supporters and survivors come together to help fight breast cancer. More people than you realize have some condition that makes their physical bodies different from the majority.
Something tells me that this tattoo of a shark on what's left of this man's arm was inspired by the shape of the stump rather than the reason for the amputation.
A motorcycle accident in 1997 left Alan Macias with a non-functional arm which he eventually had amputated. After mastectomies due to breast cancer, some women opt not to undergo reconstruction surgery. Tattoo artist Pat Fish posted some examples of women who had nipples tattooed on after surgery in lieu of reconstruction, including Beth who loved the nipple tattoo so much that she had her entire breasts adorned eventually. The alternative is to use your sense of humor to embrace the growing bald spot, as in this classic image. Many of Mr Myers' clients see his nipple tattoo treatment, which costs $400, and takes around two hours to complete, as an alternative to reconstructive surgery. Penny Kurek, 53, from Bel Air, Marylandm who underwent a double mastectomy, said she visited Mr Myers because she wanted to 'feel like a woman again'.
Mr Myers added: 'A little more than a year ago, my younger sister was diagnosed with stage IIA breast cancer. The views expressed in the contents above are those of our users and do not necessarily reflect the views of MailOnline. New York NYC Crime Bronx Brooklyn Manhattan Queens Education Obituaries Sports Yankees Mets Giants Jets Knicks Nets Rangers Islanders Football Basketball Baseball Hockey Soccer College High School The Score News Crime U.S. In his shop in a modest strip mall in Finksburg, a half-hour drive from Baltimore, Myers specializes in tattooing nipples and areolas onto women who have undergone breast cancer surgery.
Using precisely mixed pigments, he creates a perfect 3-D illusion of the real thing -- and in doing so, enables women who have undergone mastectomies to feel fully like women once again.
He has treated around 3,000 breast cancer survivors so far, including many referred to him by surgeons at Baltimore's prestigious Johns Hopkins medical center and other hospitals around the United States.
Myers, a Baltimore native, discovered tattooing when he was a US army medic in South Korea in the 1980s. On average, it takes Myers two hours to complete his work, during which he will determine the color and size of the areolas of each patient. When he is not in Fricksburg, Myers is often on the road, treating women in New York, Philadelphia, Charleston in South Carolina and the Saint Charles surgical hospital in New Orleans. Myers reckoned that only a handful of his fellow tattoo artists do what he does, and in order to meet a growing demand, he has already trained two others in the secrets of his unique craft. It helps, Myers said, that his tattoo shop is just that -- a tattoo shop, not a medical clinic.
After her breast reconstruction, Mullen, shown with her daughter, Desiree, 11, had Leach cover scars from her treatment. Here, she tattoos a special group of clients, women who in most cases are getting their first tattoos in a place they never dreamed of -- on their reconstructed breasts. Many women who meet Leach in the plastic surgeon's office end up at her shop, Phoenix Rising Tattoo, to have her cover scars from their cancer treatment with vines, butterflies, breast cancer ribbons and other symbols of their experience.
Her first tattoo -- a tree frog on her left thigh -- strikes her as rudimentary, but shows her early talent. She said she burned out on nursing because she got so attached to her patients that she worried about them all the time. She won 10 of the 22 awards offered at the annual Am-Jam Tattoo Expo her first year in business.
This tattoo was based on a drawing by Mullen's uncle, which had many personal elements, including daisies, vines, and breast cancer ribbons. They were looking for an artist to tattoo areolas and nipples on their patients' breasts after reconstruction.
She underwent chemotherapy, a mastectomy, a second round of chemo "that just about killed me" and 33 days of radiation.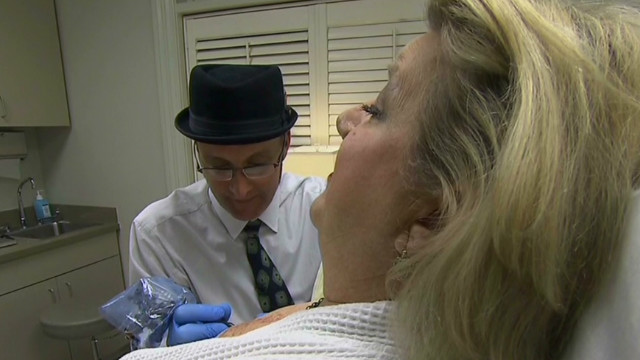 Plastic surgeons describe the TRAM, which stands for transverse rectus abdominus myocutaneous, as "a boob job and a tummy tuck at the same time." Which is to say, several major operations at once.
The vine spells out "Life" and the daffodils honor the American Cancer Society, which sells daffodils to raise money for cancer research. Sutherland, 43, of Pompey, had a small, unfinished tattoo of a hummingbird on her back when she was diagnosed with breast cancer last year. She asked, "What can we do about this?" Leach thought the scarring was shaped like a butterfly.
Sutherland had joined an American Cancer Society support group and helped with the annual Daffodil Days fundraiser. His aunt went through breast cancer and her struggle inspired him to give back to other women. In addition to sharing personal stories of hope, shopping for the cause, and signing petitions, visitors can take just a moment each day to click on a pink button to provide free mammograms for women in need.
Many try to hide those differences out of self-consciousness, even though the anomaly might be something you'd never notice anyway. It takes a certain amount of self-confidence to accentuate a body anomaly instead of hiding it, but the rewards include respect -- and smiles!
She is also the managing editor at Neatorama and keeps a small humor blog called Miss Cellania. In 2001, a friend asked him if he might tattoo some patients who had undergone breast reconstruction. It makes you feel prettier," she told AFP the other day as Myers pulled on a pair of blue latex gloves and prepared to work is magic. Half of them require breast reconstruction, even if surgeons using the latest techniques try to retain as much of the nipple area as possible. The butterfly covers her scar from her chemotherapy port and the vine covers a mastectomy scar. After a year of wearing a bra with a heavy rubber prosthetic, she also wanted both breasts reconstructed. In the last one, the doctor made small incisions in her breasts and pulled out tissue to form nipples. In discussing reconstruction, she learned about Leach and went to her to finish the tattoo.
She wanted to ensure she'd be around for her daughter, so she opted to have a mastectomy. Then there are some who celebrate their differences with a clever tattoo that provokes smiles and puts people at ease.
The British company HiStyl uses tattooing as a way to disguise baldness, Tattooed hair follicles will make you look like your head is recently shaved instead of hairless.
In her spare time, she is raising a frightening number of children in a small Kentucky town. Doctors can fold skin to create an artificial one, but such procedures don't create the color and texture of an actual nipple. This conundrum has created a new industry for tattoo artists who now use their abilities to return what many breast cancer survivors have lost: the look of a natural breast.