HodgePodge wrote on Tue, 04 September 2007 20:04Would those happen to be of your own design Blue?
I'm sure I'll make plenty more, will experiment with other parts of the body's tattoo's as well. Mmn i wish Fable didnt have a resolution loss between me bitmaps and what acually shows up in game, but eres a couple i made when i was bored. Is it me, or is that tat creating an illusion that one eye is bigger then an other, and it's not just that the camera is slightly turned (I think). Note that this has been requested by moi on ProjectEgo as well, so if you decide to fulfill this request please check here first, in case someone else has already done it so as to not waste your time.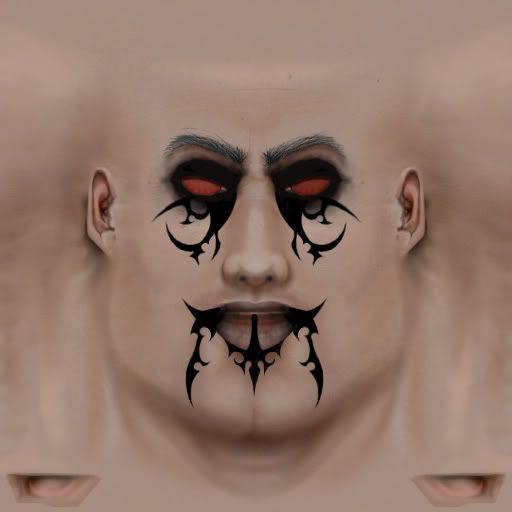 Here is a few juggalo tattoos Shaggy 2 Dopes and Violent J's face paint took a little while but it works in the game and looks good.
I made a tattoo of the hollow mask,its pretty cool in the game,will go well with my black sharingan eyes. If you made a new texture and imported it into FE, you would need to create a new tattoo item and add it to the tattooists' inventories. I have one other idea, but it's a bit of a stretch, it more than likely won't apply to this scenario, and someone somewhere is going to say something stupid about it, regardless of whether they are for or against my point, so I'll just not mention it unless this idea doesn't work. Lord Mason wrote on Sat, 04 October 2008 22:15Be sure that the tattoo that you want is named either face, back, chest, legs, or arms.
LOL!I saw this topic and became instantly interested in this so I made a couple of custom tats.