The answers to the test appeared on a website for the English test supplier Pearson on Monday night and remained in a password-protected area for several hours before being removed. Unlike the key stage 1 test, we have no evidence to suggest this was leaked into the public domain by the time schools began to administer it.
It is the second such incident to happen in recent weeks after a Sats spelling test was accidentally published online in April. A "rogue marker" was to blame for the attempted leak of a test paper due to be taken by 11-year-olds across England, according to the Department for Education (DfE). SATs tests for 11-year-olds are being sabotaged in an "active campaign" by individuals opposed to Government reforms, it has been suggested. Mrs Thom, who works at Bucklebury Primary in Reading in Berkshire, made a list of fun things for her Year 6 pupils to take their minds off the exams, and it has proved popular on social media.
The list was posted on Twitter by the school and on the Early Years Foundation Stage Facebook page where it has now been shared over 63,000 times. Other schools across England have also been sending out similar letters to parents and children offering comforting words ahead of the exams.
The Egyptian military has published footage of items found in the search for the crashed EgyptAir jet, including an unused life jacket, as well as the search itself.
Nine people on board a stricken hot air balloon have been rescued by a passing motor boat in the Australian state of Victoria. Karen Harding misses her cue to sing the national anthem ahead of the FA Cup final between Crystal Palace and Manchester United.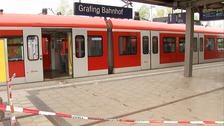 Facts and figures on Harmony of the Seas - the world's biggest cruise ship - which departs for its maiden cruise on Sunday.
In the second in a series of reports looking at alternative models to Britain's trading with Europe, Europe Editor James Mates heads to Greenland.
A couple of years ago I made a (disastrous) appearance on Christmas Celebrity University Challenge. So what lessons are there for the UK, currently debating whether to double the number of EU refuseniks? But it is interesting nevertheless, that even for them, unpicking EU membership was a long and laborious process. The EU still provides substantial funds in return for access to some of Greenland's fishing grounds and to restructure its fishing fleet.
The harbour in the capital Nuuk is now home to some very modern trawlers that can make their owners spectacular sums when the prawn catch is good and the Greenland halibut, that we call Turbot, are plentiful. So much so, in fact, that some now complain that the lack of EU membership is hurting their ability to get much needed investment to develop and expand. The other major downside is that leaving the control of Brussels did not free them from what the 'Leave' campaign call the dead-hand of Brussels regulation. They are no longer at the table when fisheries are discussed, but if they are to sell into the single-market - which they must - then every rule applies to them as much as it does to us.
The only real debate in Nuuk at the moment is whether to break free from Denmark itself, but they know in their heart of hearts that the loss of financial support would be economic suicide.
The integrity of the test has not been compromised and schools should and must deliver it as planned. To that end, we endeavour to nurture fully rounded children balanced in mind, body and spirit. Greenland, not even part of Europe but ruled by Denmark, had joined the EU at the same time as the UK, but voted a decade later to get out.
Greenland's trawlermen were already under pressure from foreign boats using their rights under the Common Fisheries Policy, and the giant fleets of Spain and Portugal were about to join in the free-for-all, so 53% of Greenlanders voted that enough was enough. Greenland is a country of 56,000 people with an economy dominated (90%) by a single industry, fishing. It took three years or so, even when there was just one industry involved, and one product whose access to the European market had to be negotiated. We met an ice-cream maker in Nuuk who sells his (delicious) product to Denmark and beyond, but must battle constantly to apply each and every production and hygiene rule, however onerous.
The idea that breaking free from Brussels wins you any sort of freedom from their rules is, he tells us, ludicrous.
I pushed vigorously on the buzzer, only to the see that - to my horror - a little white panel saying 'LITTLE' was already alight.