Chicano money tattoo
How to Use: Print, cut and distribute these cards among your guests along with a pen or pencil and ask them to share a piece of advice for the newly weds.
We worked round the clock to make sure every order went out on time and well, after the last orders has gone, we were pretty knackered! We'll be thinking of all the lovely people who have ordered from us on Valentine's Day!
A deliciously different card for Valentine's Day with a personalised heart-shaped treat on the front.
Give some love to the person that has stolen your heart with this beautiful card, which can be personalised with any text you like at the bottom of the card. For more, see HERE.
One of our bestsellers and still a favourite, this unique card is ideal for telling someone why you love them vis the three secret love messages on the front of the card. For more, see HERE. Since then, we've done some serious redecorating and had 6 lovely new people join our production team. Thinking back to March, a big highlight last year was being mentioned by our local MP Mary Macleod as an example of inspiring women-owned businesses in the House of Commons on International Women's Day!
We were so excited in 2015 to be featured in several National publications such as The Telegraph, Perfect Wedding, Wedding Ideas and Wedding magazine, but our absolute favourite was when my morning routing was featured in Stylist magazine's cover story in November. Now it's our last day today and we are having our own little Christmas party… do you like our hats?!
We are off after today to take a little break and start to think about our own Christmases! To celebrate Small Business Saturday we have 20% off on our website all weekend using the code SMALLBIZSAT and LOTS more planned. Then, yesterday I was invited to a special event at The Treasury attended by the Chancellor of the Exchequer, George Osborne. 3. We have profiled fellow small businesses on our blog over the last few weeks, you can find out more about them and get special offers for today HERE. So, what are you waiting for?! We hope we have inspired you to support us or another small business today! Theo runs a weekly ?#?SBS? small business award on Twitter and he chose us to re-tweet to his half a million followers! Today Sunday 29 November is our Small Biz 100 Day! We are so excited to be chosen as one of the hundred top small businesses in the UK to be celebrated by Small Business Saturday, the dedicated day for the UK's five million small businesses, taking place this year on Saturday 5th December. To celebrate, until midnight on Monday you can get 25% off site wide with the code TREAT25, and we also thought we'd take some time to tell you about our small business by answering the same questions we have been posing fellow small businesses in our Spotlight on Small series. Many of our most popular products are based on things Mr LGI and I have actually given each other. Thank you for stopping by. Do pop back on Small Business Saturday to see the whole team and what we are up to. You must have JavaScript enabled in your browser to utilize the functionality of this website.
Details:A special gift for the Bride To Be to offer her some 'words of wisdom' or bits of advice before her wedding.
A personal, funny or sentimental gift for the Bride To Be as she embarks on married life.
Perfect as a hen party activity where the little 'words of wisdom' note cards can be completed by the 'hens' to present to the bride.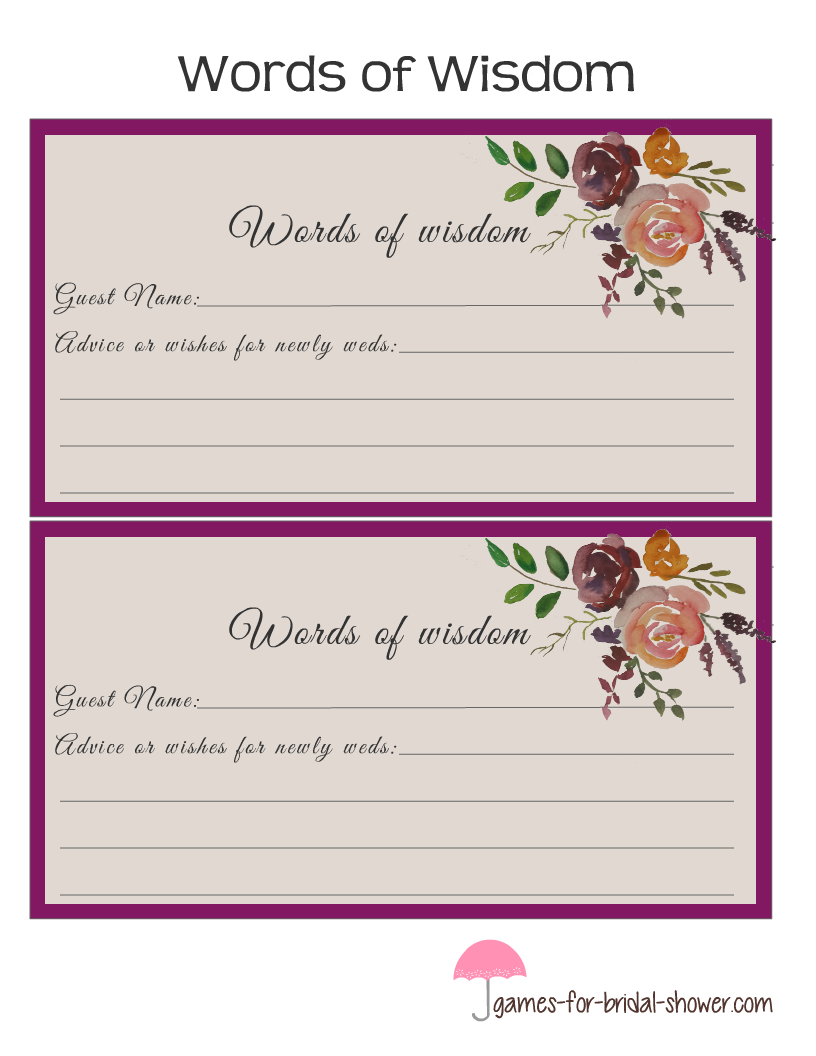 Option to add a special 'Words of Wisdom' pen - this fits inside the box and then can be expanded to full size for use. If you are getting your messages printed, please make sure you double check any personalised text including spelling before ordering.
Creator of delightfully illustrated personalised stationery, greeting cards and gifts from original hand-drawn and painted artwork.
A special gift for the Bride To Be to offer her some personal, funny or sentimental 'words of wisdom' as she embarks on married life. The little wisdom note cards are the perfect size for the Bride's 'hens' to complete at a hen party and give to her at an opportune moment.
The guests will share their opinion, wisdom, and knowledge with the newly weds using these cards. Love Give Ink shall select one winner only at our discretion who we believe posts the best or most original photo or personal message about why they love their Mum. The winner will chosen and contacted by direct message through the social media channel they have posted on. Packing moved into the kitchen and we roped in all sorts of lovely friends and family to help.
The print is available in a range of sizes, and an optional white or gorgeous grey frame can be added with our professional framing service. With different colour ways, size and framing options, this wonderful keepsake gift is sure to be treasured. For more, see HERE. We'll be back in January, but in the meantime thank you so much to everyone who has supported us this year. It is all about supporting, inspiring and promoting small businesses, which is something we are particularly passionate about!
Read on to find out how we have been involved in the campaign and what we have planned for you today.
This has meant we have been more involved in the campaign than ever before, and the last couple of weeks things have really heated up! We will be hosting a caption competition on Facebook and another competition on Twitter – follow us to find out more! We have received a business boost from Retail Entrepreneur Theo Paphitis, (below) who you may know best from the BBC programme Dragon's Den. He proposed to me with a treasure hunt that took me round a hotel in Cornwall and ended up not just in a marriage, but the start of us trying to out-do each other with creative, romantic and occasionally soppy gifts.
But in 2013 I decided to take the plunge and just a little over two years ago I launched Love Give Ink from my spare bedroom in our house in Chiswick, West London.
It has gone from being just me to now having a little production team who are all as passionate about creating beautiful products as me.
One of the key factors is how busy we are with orders; at the moment we are gearing up for Christmas so it is pretty busy and I have a team of eight who arrive at 9am to help with production! The  'Reasons Why I Love You' box I gave him on our first anniversary has become our Boxes of Love range, and we have versions for your other half, Mum, Dad etc. To countdown, we have been profiling other small businesses on this blog with our Spotlight on Small series, and we are going to be collaborating with them on Small Business Saturday itself to run an Instagram loop giveaway.
In the meantime, don't forget you can get 25% off our lovingly inventive gifts and stationery today with the code TREAT25! Alternatively, all the note cards can be completed in advance and given by friends or family as a thoughtful pre-big day gift.
As these cards will be kept with the bride for a long time, I personally recommend that you use high quality paper. Your address and any other personal details that you provide will not be used or processed for any other purpose by Love Give Ink, unless you have provided those details separately to Love Give Ink as customer details, in which case they will be stored and processed in accordance with our privacy policy. We know that sometimes you just want to find that special personalised card for your other half, and that's what we're here to help you with!
It has been so much busier than we could have possibly imagined and somehow our little team has made more than 3500 personalised gifts. Today is the day to think about how you can support as many small businesses as possible – be it local independent shops on your high street, other enterprises in your community, or indeed small online businesses like us! Gifts such as the 'Reasons Why I Love You' box I gave him on our first wedding anniversary. Our absolute favourite thing is delighting our customers, so we take great care to make every product and package it beautifully. I am a morning person so I usually get up well before they arrive to work on designing new products, planning our social media, marketing or PR. We are still based out of my house in Chiswick. Follow us on Instagram to keep updated. We will also have a competition on Twitter and lots more across our social media pages, as well as running a pop up at a local event to talk to local people in West London about what we do.
In order to save the image, click on the image on the left and then right click and save the bigger image.
We will contact the winner by 5:00pm on 7th March 2016 and post the prize by first class post the following day.
Before I can go forwards I find it is helpful to look back at what we have achieved and set new targets, new goals, come up with a new plan. And that was where the idea came to me of creating 'lovingly inventive' gifts – ways to help others say 'I love you' or show they care. Most of our products are personalised and we love being part of such personal moments. We also love coming up with new ideas.
Each printable yields two words of wisdom cards so keep number of your party guests in mind while taking the print outs. This Competition is in no way sponsored, endorsed or administered by Twitter, Instagram or Facebook, nor is Twitter, Instagram or Facebook associated with this Competition in any way. We regularly introduce new products and ranges that aim to help our customers bring thought and imagination to special occasions. The dream is to move into a studio next year… and we also have lots more exciting things planned then!
Any questions or comments regarding the Competition must be directed to Love Give Ink, and not to Twitter, Instagram or Facebook. Each entrant fully indemnifies and holds harmless Twitter, Instagram, Facebook and Love Give Ink from any claims in connection with the Competition. Oh and we also have a treasure hunt that is based on how Mr LGI proposed to me all those years ago!