While Kat has lived most of her life in Los Angeles, she was born March 8, 1982, in Nuevo Leon, Mexico. Kat is close with both her parents and her siblings, however; it was her paternal grandmother, a professional pianist in Germany, who turned Kat onto the arts. As Kat became a teenager, she was exposed to punk rock music and became immersed in its culture. Hers is a life of freedom: she sets her own schedule, picks her clients, sleeps late and parties all night. Pushing Kat to take piano lessons, her grandmother introduced her to some of the great composers, including Beethoven, whose work Kat immediately fell in love with.
At age 14 she got her first tattoo, an old English "J" on her ankle, a memento of a love gone-by.
A few years later Kat was at True Tattoo in Hollywood, working alongside notable artists like Clay Decker and Chris Garver - who brought her down to Miami Ink.
Whether she's partying at the hottest bars and clubs or checking out bands, Kat is constantly finding interesting ideas for her art.
Her father and mother were born in Argentina, though her father's family origins were German and her mother's was Spanish-Italian. This encounter in turn led Kat on a never-ending journey to discover other composers, painters and sculptors from that time period. There, she further honed her signature style, developed her hard-core following and came into her own as an artist.
Through her active lifestyle she's forged close friendships with and often tattoos several of the actors, athletes and rockers who live in L.A.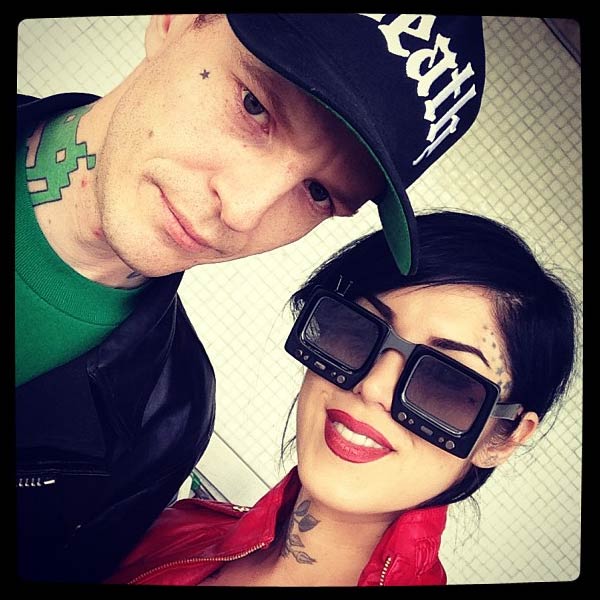 She tattooed a Misfits skull, representing one of her favorite bands, onto one of her friends. Ironically, she ended up tattooing one of the original members of the Misfits a few years later. Ink centers on High Voltage Tattoo, the new tattoo shop Kat opened in West Hollywood, Calif.