27 years in prison for resisting apartheid, Nelson Mandela became the first black president of South Africa and a Nobel Peace Prize laureate.
Words are superfluous to describe what this remarkable man did for our country and I'll be surprised to find someone who doesn't hold a special place for him in their heart.
He touched many lives with his wisdom and love and we are thankful to have such a fantastic role model to look up to. As Popdust previously reported, Madiba—the tribal birth name by which he is affectionately known in his homeland of South Africa—passed away on December 5, 2013, age 95. Mandela Day was created by the United Nations in 2009 to honor the statesman's great legacy of peace, tolerance, forgiveness and unity—with the aim of encouraging people to volunteer and perform community service. To mark the day Popdust has compiled a selection of Mandela's greatest quotes—all of which remain as pertinent as ever, given the never ending tensions, frictions, conflict and violence around the world.
When I walked out of prison, that was my mission, to liberate the oppressed and the oppressor both. The truth is that we are not yet free; we have merely achieved the freedom to be free, the right not to be oppressed.
For to be free is not merely to cast off one's chains, but to live in a way that respects and enhances the freedom of others.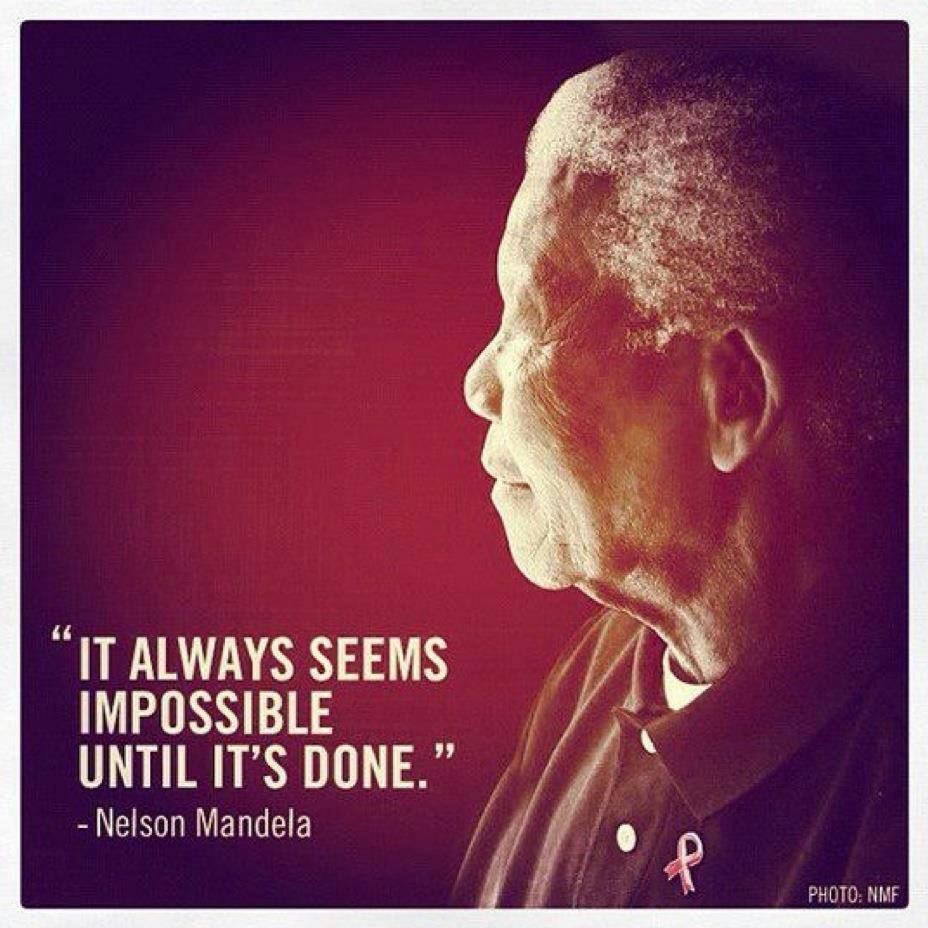 If our expectations, if our fondest prayers and dreams, are not realized then we should all bear in mind that the greatest glory of living lies not in never falling but in rising every time you fall. No one is born hating another person because of the color of his skin or his background or his religion. I was made, by the law, a criminal, not because of what I had done, but because of what I stood for, because of what I thought, because of my conscience… If I had my time over I would do the same again. I have cherished the ideal of a democratic and free society in which all persons live together in harmony with equal opportunities. Never, never and never again shall it be that this beautiful land will again experience the oppression of one by another and suffer the indignity of being the skunk of the world. Celebrate the legacy left behind by Mandela this heritage month and, if you find yourself in Cape Town, pay a visit to Robben Island or at least bask in its presence from the deck of a sunset boat cruise.
We have not taken the final step of our journey, but the first step on a longer and even more difficult road. It is what difference we have made to the lives of others that will determine the significance of the life we lead.
No axe is sharp enough to cut the soul of a sinner who keeps on trying, one armed with the hope that he will rise even in the end.
It was the puffy-eyed, nose-blowing, this-mascara-is-supposed-to-be-waterproof kind of crying. What freedom am I being offered to live my life as a family with my dear wife who remains in banishment in Brandfort? Herman Toivo ja Toivo, when freed, never gave any undertaking, nor was he called upon to do so. I was gallivanting around Australia with my mother at the time and the amount of coverage the news got on the radio, television and in newspaper was astounding. I cannot and will not give any undertaking at a time when I and you, the people, are not free.Your freedom and mine cannot be separated. Wherever I went I was surrounded by the words of a great man that had reached and inspired people all over the world. Seeing as it's heritage month, I thought I'd share some of my favourite Mandela quotes with you.