The account of Jesus calming the storm provides a starting place for many people who need assurance of God's control over forces that seem out of their own control.
Jesus' suggestion to go to the other side of the Sea of Galilee sounds to us like a simple procedure.
Note that Jesus and his followers weren't all in one boat, though that is a common perception. The disciples' terrified response is understandable when we consider God's power and purity in light of our own weakness and imperfection. Oil and Water—Gather a 12-ounce clear plastic cup and two small paper or foam cups for every four children.
Say: Jesus has proven himself to be faithful and true, someone we can always trust for every need.
God wants to take away those scared and worried looks and give you calm and peaceful faces. Pray: Dear God, thank you for being a safe place to go when our fears and worries seem so much bigger than we are.
Have children form two separate groups with enough space between them that you or another leader can pass between the groups. Group A (the sea)—Kids will sit and rock from side to side, chanting, "Swoosh, swoosh, swoosh." Their chanting should gradually grow in intensity and then stop abruptly on cue.
Group B (the disciples)—Kids will put their hands on their cheeks and cry out, "Oh me, oh my! Say: When I give you the signal by pointing to your group, you will act out your part of the story. One night after a long day of preaching to the people, Jesus decided to get into a fishing boat with his disciples and go across a sea to the other side.
Say: What an exciting day that must have been for the disciples—first to be caught in that terrible storm and then to see Jesus take control of the weather and change it with only his words.
In this activity, the kids will be mixing materials to create a harmless chemical reaction. Say: Let's try this experiment to see what happens when we let Jesus take care of our fears. Say: We've seen from the things Jesus said and did for his disciples on the boat that he desires to protect us from fearful situations. Say: Jesus has the power to destroy our fears just as a pin can destroy an inflated balloon.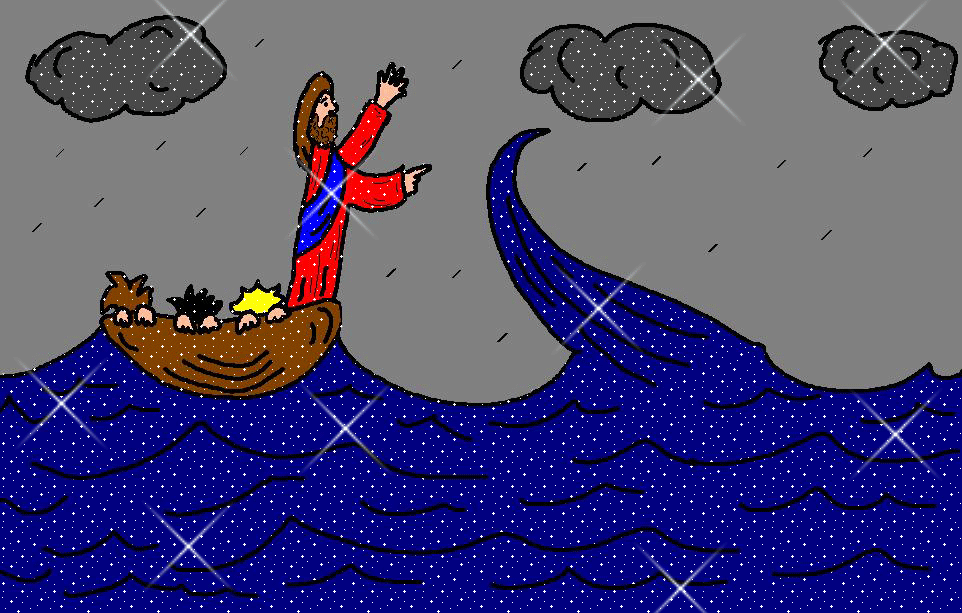 One by one, we'll each call out a fear; you can use one word or a whole sentence if you want. Children's Ministry Magazine is the most read magazine for people who minister to children from birth through sixth grade. Hands-On Bible Curriculum is a quarterly, age-graded curriculum for toddlers through 6th graders. Buzz Sunday school is designed to work best in churches that divide kids into age-graded classrooms with 10 or less kids per class. But the disciples came to learn that no matter how bad a situation seemed, the first thing they needed to do was turn to Jesus. Put 2 inches of white vinegar in each clear cup, 1 tablespoon of baking soda in one of the small cups for each group, and 1 tablespoon of cooking oil in the other small cup for each group. On a table, place a felt marker and a piece of cardboard through which you've pushed a few straight pins. Help us to remember that you are creator of the universe and that nothing is too big or too hard for you. As I tell you this story, one group will help by making the sounds of the sea as a giant storm comes through.
After everyone has experienced the fizz of the baking soda and vinegar and the calming effect of the oil, invite volunteers to share their reactions. Distribute permanent markers, and have the children carefully write their names on the balloons. The two-year scope & sequence guides kids through the Bible, as they learn and understand Biblical truths and develop a deeper, thriving relationship with Jesus.
Each grade level (preschool through 6th) has a unique theme every quarter that teaches a mix of classic and uncommon Bible stories that kids haven't heard before–which impacts their faith and changes their lives.
It's packed with practical, authentic ministry ideas to help you become even better at what you do best—lead kids to Jesus. But when Jesus so quickly calmed the storm, their fears were quickly replaced with awe and worship. Many of us—especially children—carry the burden of fear, perhaps not realizing that we can run to Jesus for safety. Even today, with our advanced technology, we don't have any control over the weather and can't always forecast it very accurately. After all they had seen, they hadn't fully grasped who Jesus was or what he was capable of. As we sing this next song, praise God with all your heart because there is nothing too big for Jesus to handle.
The Bible tells us that God wants to protect us and keep us safe even when we're scared and anxious, which is another way of saying worried or afraid. When a fear seems to take hold of us, we can call out to Jesus in prayer and know that he hears us just as he heard the disciples' cries for help.
When each balloon has been labeled, show children the piece of cardboard with the straight pins.
Explain that, all together, children will thank God for releasing them from fear and will then release their balloons. You'll get sound advice and encouragement from today's children's ministry experts, plus hundreds of ideas that'll have kids begging to come back!
But Psalm 91 tells us that a person "who dwells in the shelter of the Most High…will not fear the terror of night, nor the arrow that flies by day." As we present our fears to our heavenly Father in prayer, we, too, can be assured of the comfort that comes from trusting the one who loves us and who has the power to protect us in all circumstances. That side was inhabited mostly by non-Jews who worshipped a variety of gods, which naturally made God-fearing Jews uncomfortable.
But now they had seen something so powerful, so awesome, that they were terrified to think about who Jesus really was.
And you can look that way by believing that God will never leave you—even when things are scary. The Bible has something for everyone, but it's important to take the time to sit down, read it, and think about what we've read. Lead the children in thanking God for releasing them from fear, and let children release their balloons.
The fact that they turned to Jesus for help likely meant that they were at the end of their means—they had tried everything they knew to combat the storm and had failed.
They were not intended for traversing the middle of the lake, which was 14 miles long by 8 miles wide.
He had demonstrated his power in healing people, but never before had he done anything of this magnitude. And finally, the geography surrounding the lake made it susceptible to sudden storms that could turn a calm lake into a violent sea. That's why he gives us the Bible. God's love for you and me goes deeper than any ocean or lake.