Turning Safe Search OFF may display content intended for mature audiences.You must be at least 18 years old to continue. Please enter at least one email addressYou are trying to send out more invites than you have remaining. Yes, I know boys eventually pee standing up but I'm so NOT ready for the aiming mess that will inevitably follow that & I don't have the "right parts" to show him exactly how to do it.
Anyway, I read a lot of blogs, articles, books on "how to potty train boys" since I only had girl experience before. My intention was for each row to be for a day (I didn't put days of the week because I didn't know if I'd actually start on a Sunday - in reality we started mid-week and it probably would have confused him to put stickers half way down on the chart at the beginning). I started those first 4 days with taking him to the potty every hour (during the day) asking him to "try" to pee or poo. On day 6, he started telling ME that he felt pee or poo coming (for example, he'd run up to me and yell "MOMMY MOMMY MOMMY PEE PEE COMING!"). Yesterday was the end of the first week and he kept the SAME pants dry ALL day (naptime included)! As if I couldn't be any prouder of him, he FINALLY told me yesterday afternoon that he felt POO coming!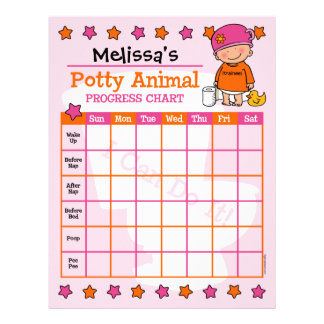 This morning, I got the best "potty training present" yet when he woke me up to tell me he had to pee and his pullup was still DRY! Army Wife & Mom of 4 (infant-11 yrs) interested in household, cleaning, education & children's products! MOMentarily Distracted by Virginia (Ginny) Daniel is licensed under a Creative Commons Attribution-NonCommercial-NoDerivs 3.0 Unported License.
I say "hard-core" because we had put him on a baby potty and even on the big potty with the seat before and he went, but we didn't push it because he wasn't really all that interested. The doctors have also told us he is "gifted" with his "boy bits" so the baby potty never really worked for us because that LITTLE lip they put on to keep boys from peeing on the floor wasn't big enough. He likes it because he got to pick it out at the store - it has Disney Cars characters on it. To me, I didn't think it should really be any different, but I know boys & girls learn differently so I did my research. I also took him after each meal & before nap & bedtimes - regardless of how long it had been since the last time he "tried" or actually went. I pray this success continues in the coming weeks because it would be REALLY nice to only have 2 in diapers when our new little boy comes in just 6 short weeks!
I like it because it has a larger lip on the front to keep the pee going where it needs to be & not on my bathroom floor! I figure we'll figure it out sitting down first and if he gets that down well enough, we can try standing up when we are out in public (since public potties are just gross). I'll eventually be creating a Disney Princess one for our little girl when she's ready to start using the potty and will add a link here when that EVENTUALLY happens (she's only 14 months old right now so it'll be a little while yet). Days 2 & 3 it was a "full pee" that soaked his underwear & pants, but on day 4, he caught himself "mid-pee" and finished on the potty so just his underwear got a LITTLE wet.
Starting on day 5, I began asking if he felt pee or poo coming and he would answer "yes" or "not yet". I'm hoping that little princess will get some use out of it in the not-too-distant future so I'm hanging onto it. By day 4 we had also phased out getting a sticker for just sitting on the potty - he now only got them when he went pee or poo.