Now that meals and snacks have become more purposeful (and the sole source of his nutrients since he is no longer breastfeeding — more on that in a future post), I feel a greater responsibility to offer wholesome, healthy options and make each meal a balanced one.
He now gets whole milk with every meal, though he usually doesn't take more than a few sips. Check out the Munchkin Meals linkup from A Healthy Slice of Life for more food ideas for one-year-olds! This post is so helpful and I LOVE the picture of Sammy stirring up whatever is in that bowl with you. My son will not drink milk with a meal but if I fill a cup and leave it out while he plays he will drink the whole thing in less than 30 minutes. As for milk, we make sure he gets a sippy in the morning and before brushing his teeth for bed. I don't have tricks but I just make sure even if she is done with the meal and we are off playing, that the cup is always right by her, therefore she takes drinks when she sees it. When we switched our lil guy over to start drinking whole milk from breast milk we also had some trouble.
Hi, love your meal ideas but I was wondering how old your son was when he started eating good? Add a PostTo post images to Juxtapost is easy, but you'll need to install our bookmarklet which will allow you to post images from any website to your organized postboards. Meal time with a toddler could be described as any one of the following: tough, challenging, messy, frustrating, humbling, patience-testing and on rare occasions, delightful.
I will say that since she has turned two (about two months ago) her overall consumption has improved. 1) Toddler meals should be looked at on a week by week or day by day basis not meal by meal. The other difficult thing about toddler meal time is coming up with meals that garner enough interest to actually be consumed. Also on the plate is a mini Thomas bagel, heated for about 15 seconds in the microwave with a little butter, 4% milk fat cottage cheese and blackberries. Again, we are serving blueberries (she ate the blackberries well that morning but didn't touch the blueberries at lunch).
I would love to know what you all feed your little ones – leave us a comment with your favorite easy meal idea. The easy toddler meal ideas I posted a couple months ago seemed to go over quite well so here we are with installment #2 of easy toddler meal ideas. I mentioned lunch is usually Eloise's worst meal and this lunch is one she really loved.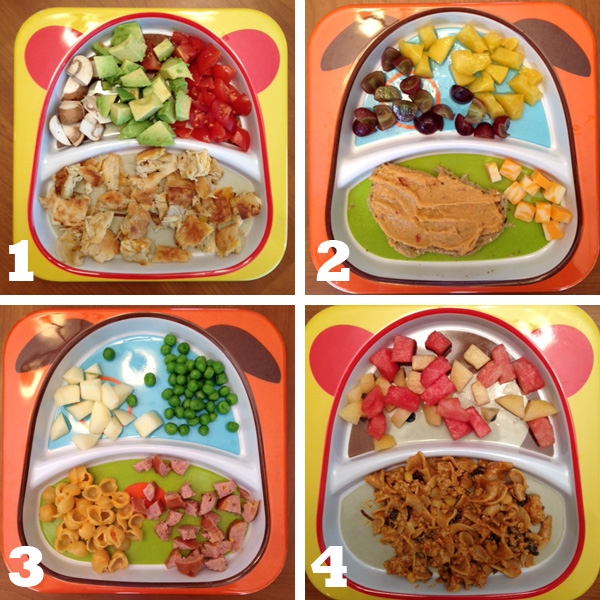 We're actually in a stage now when we try to limit the snacks to scheduled snacks and she is NOT a fan. My 10-month-old gets a handful of Cheerios every morning, too, while Mommy or Daddy makes coffee. Gotta love Cheerios And, yes, I've been meaning to post the recipe for the enchilada casserole. That is the only kind of cup that Sophie has ever used, and she drinks from them like a champ. After my 17 month old and I battled our second round of Norovirus, he's become a VERY picky eater. We now use a toddler cup with a flexible straw (they make no spill ones) and he drinks tons of water and kefir at each meal! I put just a little but of chocolate almond milk or coconut milk in with his whole milk and he LOVES it!
My little guy drinks about half a gallon of milk every three ou or four days but rarely eats much. My son just turned 1 and doesn't like sitting very long in his chair and usually throws the good to the dog lol. First, display your Bookmarks bar by clicking the "Wrench > Bookmarks > Show Bookmarks Bar" or by typing CTRL-SHIFT-B2.
I struggle what to pack for my toddler's lunch when she goes to her grandparents house. We do lots of grilled chicken, pork tenderloin, chicken nuggets, hot dogs but Eloise loves fish and it isn't always the easiest to cook. He prefers to use utensils and lets us know when he wants more by reaching and whining and sometimes signing. My Sam's meals are very similar, down to the exact same handful of multi-grain Cheerios while I make coffee.
My son is 11 months now and his meals look pretty similar to what you feed Sam, but it's always nice to get some new ideas. Every time I try a plate with Lucas he throws it on the floor before it can make it in his mouth. Our snack cabinet is up high so she can't exactly get into it, but she certainly points to it when she is hungry! She loves to drink water or formula from them, and we just started mixing whole milk into her formula and she guzzles it down. I've found that, especially in the morning, it allows both of us to wake up before I attempt to even touch the stove!
Has to have some cherrios in the morning in those same bowls on the kitchen floor while I cook breakfast. I have to sit with him since it could get messy if I don't help hold the straw, but he is always willing to drink more. I am also a bit paranoid of the choking factor so I have been cautious about what I give him. She'll have an okay breakfast, terrible lunch and then eat her entire meal for dinner. We've tried introducing 2oz of whole milk into her 4oz of formula and she totally knows and wont drink it.
He loves the almond milk but still has days where he just doesn't want to drink much. I have tried so many different things and they throw most of it in the floor or only end up eating the fruit and nothing else. Now that we are done with formula I know he needs to eat well…any suggestions would be great. Sometimes, on days when she eats little to no lunch, we'll get a smoothie after a long day at the playground and before nap time.
I did find out last week that upon being giving a chocolate chip cookie, Sammy will down the entire cup in one sitting. I've offered it in the cup several times and he hardly touches it (although he always drinks his water from the cup). He may not want the milk because he is more interested in eating the food during his meals…which is definitely how Sophie is, too!
He simply adores dipping his food, so he gets this veggie ranch at lunch at least, every day.
I figure, if he doesn't eat any other veggies that day, at least he's getting something! For awhile, I thought my son was drinking too much milk and offered some watered down juice once a day.