October 7, 2014 By SarahDo you want to see a free screening of THE BOOK OF LIFE before it hits theaters?
THE BOOK OF LIFE, a vibrant fantasy-adventure, tells the legend of Manolo, a conflicted hero and dreamer who sets off on an epic quest through magical, mythical and wondrous worlds in order to rescue his one true love and defend his village.
The official website for The Book of Life showcases some wonderful concept art and illustrations art directed by Paul Sullivan. To see more concept art be sure to get your copy of the art book, The Art of the Book of Life.
The Book Of Life revolves around three childhood friends—Manolo (Diego Luna), Maria (Zoe Saldana), and Joaquin (Channing Tatum)—who find themselves in a love triangle as the gods wager on who will win Maria's heart. Del Toro and Gutierrez spoke at length about how they wanted the film to feel like a giant meal, a dish where you truly get a sampling of Mexican culture.  While I'm not qualified to speak to the authenticity of the results in an objective sense, the world onscreen was vibrant and colorful and animated the culture's popular tropes (and some lesser known elements) in a way that seemed to avoid cliche.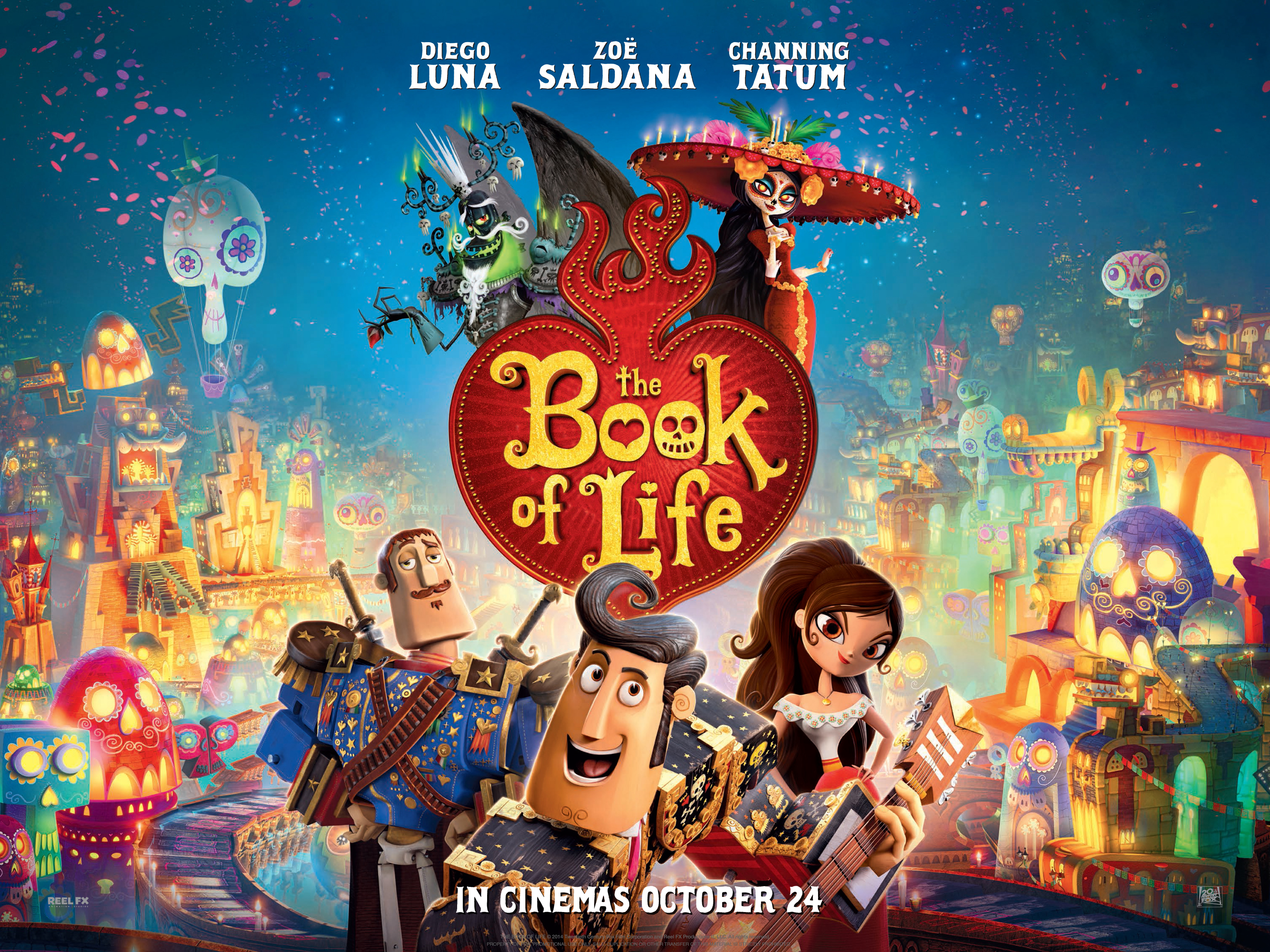 Back in March, I visited 20th Century Fox's art exhibit for their new upcoming animated film, THE BOOK OF LIFE, I even met director Jorge Gutierrez, some of the voice cast members including Cheech Marin, even the great Oscar-winning musician Gustavo Santaollala serenaded us a couple of his new songs that will be featured in this film. And now, USA TODAY scored these new images from THE BOOK OF LIFE which will hit theaters, October 17, 2014.
Voice starring Channing Tatum, Zoe Saldana, Diego Luna and Christina Applegate have joined Ice Cube, Kate del Castillo, Ron Perlman, Cheech Marin, Hector Elizondo and Placido Domingo, Ana de la Reguera, Eugenio Derbez, Gabriel Iglesias, Ricardo Sanchez and Danny Trejo in 20th Century Fox – Reel FX animation's animated film, BOOK OF LIFE, produced by Guillermo del Toro. The Guillermo del Toro-produced animated film, BOOK OF LIFE, a love story with Mexican's Day of the Dead setting, directed by Jorge R.
After the screening come down to Park Meadows Mall for THE BOOK OF LIFE Halloween Carnival! The website is narrated by Director Jorge Gutierrez, who explains some of the story and lore behind the film.
It stars the voices of Channing Tatum, Zoe Saldana, Diego Luna, Ron Perlman, Ice Cube and Christina Applegate. Before choosing which path to follow, he embarks on an incredible adventure that spans three fantastical worlds, where he must face his greatest fears. There will be complimentary face painting, caricature artists, cookie decorating and lots more!