The DA Form 7566 CRM has been rescinded and now all DOD units use the DD Form 2977 Deliberate Risk Assessment Worksheet Dated SEP 2014. Composite Risk Management (CRM) is a decision-making process used to mitigate risks associated with all hazards that have the potential to injure or kill personnel, damage or destroy equipment, or otherwise impact mission effectiveness. CRM is a decision-making tool to assist the commander, leader, or individual in identifying, assessing, and controlling risks to make informed decisions that balance risk costs (losses) against mission benefits (potential gains). When the CRM is overlaid with the troop-leading procedures, the result is as shown in Figure N-1. To maintain continuity with mission tasks and requirements, it is necessary to track the CRM process in a standardized manner. Danger: Exposure or vulnerability to harm or risk, the balance between the chance or probability of a hazardous incident, and the result of the hazardous incident. Risk management: The process of identifying, assessing, and controlling risks arising from operational factors and making decisions that balance risk cost with mission benefits.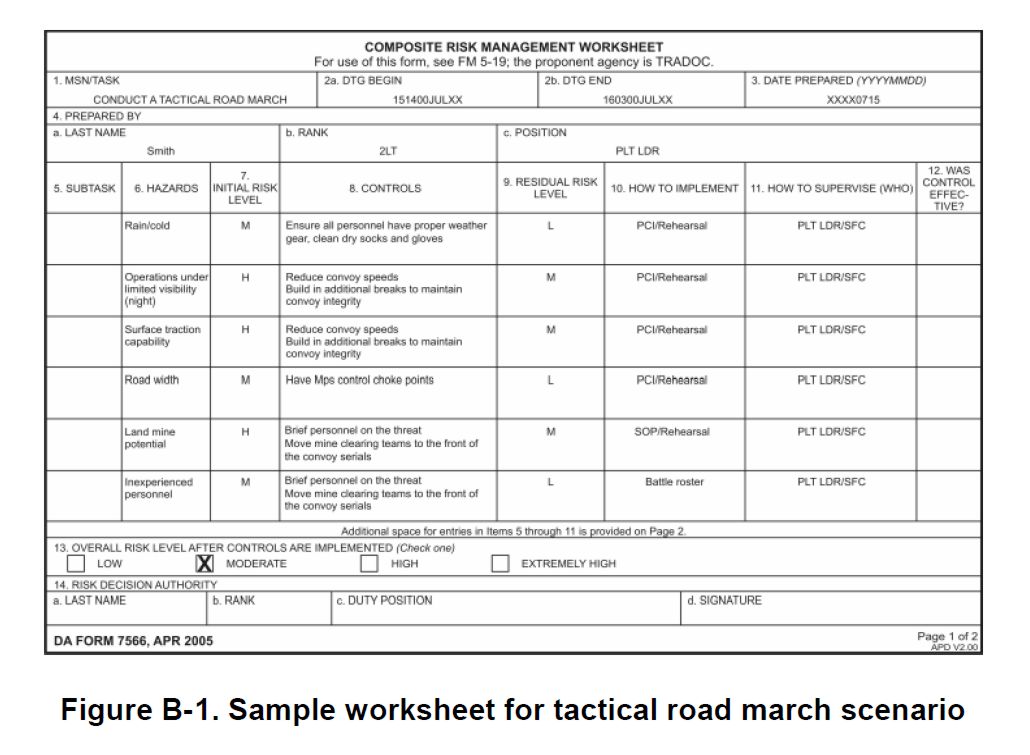 The primary premise of CRM is that it does not matter where or how loss occurs because the result is the same - decreased mission effectiveness.
Effective CRM requires the process be integrated into all phases of mission or operational planning, preparation, execution, and recovery.
As a decision-making tool, CRM is only effective when the information is passed to the appropriate level of command for decision. CRM is a continuous process applied across the full spectrum of Army training and operations, individual and collective day-to-day activities and events, and base operations functions. Many tools are available that can be tailored to portray CRM information to suit a particular mission, situation, operation, or event.
A hazard may also be a situation or event that can result in degradation of capabilities or mission failure.
It is a cyclic process that is used to continuously identify and assess hazards, develop and implement controls, and evaluate outcomes.
When time and situation allow, the Army standard CRM worksheet (Department of the Army Form 7566, Composite Risk Management Worksheet) or an electronic version will be used to document the CRM process.
Hazards exist in all environments - combat operations, stability operations, base support operations, training, garrison activities, and off-duty activities.
This may be a separate policy, specifically addressed in regulatory guidance, or addressed in the commander's training guidance.
Approval authority for risk decision making is usually based on guidance from higher headquarters.