No matter how you feel about it you can't deny the fact that this book strikes a genuine chord with people, one way or another. Add a comment about this ecard & share your comments with other users who browse this ecard. Bob Munsch wrote this book after his first two infants were stillborn and he realized that he would never see them grow up. The beauty of stories is that they can be interpreted by the reader any way they want and aren't necessarily literally.
It reminds me of how creepy The Runaway Bunny is – when I read that book as a kid, I just felt suffocated.
When I would try to read it to my now 8 yr old when he was two well he would just hit at it and such. How else could you explain the fact that its worldwide sales hover somewhere around the 15 MILLION mark, according to Robert Munsch's website?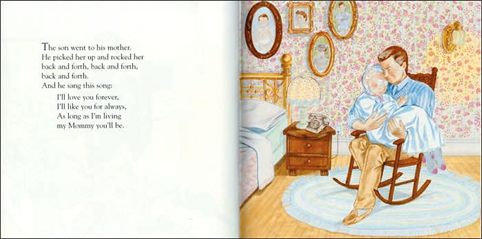 The idea of being able to watch his children grow, the longing to have the ability to be with them at all times was seductive for someone who put two infants in the ground.
Whether it speaks to adults or children, stop trying to find hidden meanings and enjoy spending time with your kids just reading.
Sad music also makes me cry…perhaps I am a pathetic, cloyingly,sentimentalwoman, but so what? I always cry when I read this book out loud to my kids, and they used to ask for it time and time again. But y'all knew that because Oprah and titles in the self-help genre reign supreme year after year after year. I don't personally love the book, but I read it as a poignant sense of loss and desire to see, touch, know the children who are now unknowable. Now I love Good Night Moon – such lovely use of language to soothe and calm and get ready for sleep.
My son laughed at the thought of his mother climbing through a window to hug him and he laughed at me for crying while reading him a story.
And then I read more Munsch books and learned the man has a very weird sense of humor – but I like it. You find it creepy 'cause a mother loves her son and breaks into his house at night to hold him? To me the book is obviously satire – but with an underlying message about the cycle of life that is genuinely touching.