Part of the "My Secret Unicorn" series, this book is about Lauren and her special pony, Twilight. With simple, heartfelt stories, My Secret Unicorn is the perfect beginning chapter-book series for girls who love horses and magic. This set includes a Unicorn Pen and the 4 books: "Starlight Surprise", "Flying High", "Dreams Come True", and "The Magic Spell". Enabling JavaScript in your browser will allow you to experience all the features of our site.
Lauren knows that her pony possesses the magic of unicorns, but now she must learn how to use the magic - and how to keep Twilight's powers secret.Lauren's pony Twilight changes into a unicorn when she whispers the magic words, but Lauren must keep this a secret or it could put Twilight in great danger. To most people, Twilight looks like an ordinary gray pony, but when Lauren recites the Turning spell while crumbling a star-shaped flower in her fingers, Twilight turns into a beautiful unicorn.
Lauren and Twilight have been busy using their special magic to help all their friends, but suddenly Twilight gets sick. At first Lauren and her unicorn fly over the treetops at night together, but soon they find a way to use Twilight's unicorn magic to help a good friend.
Then one night, as Lauren and Twilight fly over the woods near the scary tree house, they make a surprising discovery. Shadow is afraid, so Lauren and Twilight visit him secretly and use Twilight's magic to give Shadow the confidence to begin to overcome his fear. Then one night a powerful storm leaves Mel and Shadow trapped in a barn, when lightning strikes. When the girls go to their weekly Pony Club meeting, the other girls make fun of the scared pony.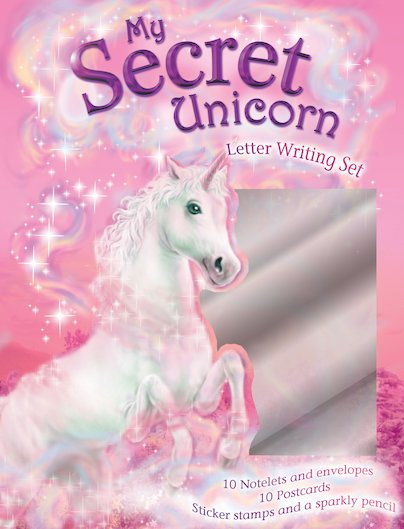 Lauren and her unicorn help the pony face his fears, by visiting his barn secretly at night to practice jumping.
Horse lovers will relate to the special bond Lauren has with her pony, who can speak when in his unicorn form. Even though Lauren and her unicorn use magic to coax her friend's pony to jump, in the end the pony must rely on his own bravery.