You have landed yourself in a clear spot here as you are wondering how you can rapidly decide to transform yourself and the way your business works. In this engaging 4-day workshop, where you will discover how to develop your emotional intelligence to increase your personal and interpersonal effectiveness in your personal lives and at work.
If you're ready to finally say goodbye to your emotional challenges like insecurity, fear, and anxiety that are holding you back from true success, this will be the most important program you will ever attend. Learn to increase your skills in dealing with people and transform yourself into the powerful, confident, attractive person that every man, woman and company is desperately looking for. Use powerful questioning skills to uncover fears, differences, passion, values and beliefs. Achieve emotional stability by breaking unconscious negative thought patterns through cognitive restructuring and visual re-patterning strategies. Collapse negative emotions from unpleasant experiences and events and learn how to tap into your genius faculty for inner peace and serenity.
Each delegate will be sent a pre-course preparation kit prior to the course to have a firm foundation of the course prior to attend this state- of- art psychology and linguistics studies of how excellecen people produce results that wanted all the time. You who aim to keep updated with the latest cutting-edge developments in human science, Emotional Intelligence, improved collaboration and conflict management skills.
Group Practice (to make sure you internalise the learnings and get maximum value out of the program). This Part 1: 4 day NLP Practitioner Certification program, it is HRDF claimable course and credits you with a NLP Practitioner Certifications upon passing of a written and a practical exam. To complete your NLP practitioner level, you will need to attend the following and pass the Practical Test on the last day of the program. By the end of the NLP Practitioner certification program, you will be certified and receive your certification in the 4 in area below, which you can add to your professional qualifications. Currently residing in Australia, Kiki bring 25 years of substantial experience in performance-oriented to the training and consultancy for corporate companies and individuals. Her wide experience in the corporate world and her knowledge in learning psychology have given her the distinct advantage in designing and facilitating corporate training programmes, as she relates well to challenges faced by all levels in the organisation. Professionally trained in HRM and psychology, Kiki further deepen her understanding of human behaviour and communication in the State- of Are Excellence Modelling Technology- called Neuro Linguistics Programming (NLP).
In her trainings, she speaks both to the conscious and unconscious mind, promoting concept in the memory director, improving retention and recall of information and emotions whenever needed. Bank in and then scan the Bank-in slip and email to us before the course commence to confirm your seat.
In a recent case in Australia a foot ball player was charged with grievous bodily harm when he hit an opponent in the face with his knee fracturing and disfiguring his face. The deeper unconscious layers of our minds are very powerful and for the most part runs our lives for us. Do you sometimes have challenging relationships with your spouse, friends, children or any other people on your life? Romantic partners are just mirrors of your internal world and will carry the conscious manifestation energy of all your shadows. I use a combination of Jungian and Imago therapy to help you discover the unconscious shadows which are projected in the Other and heal which needs to be healed. I am also available for workshops and public speaking in this topic and have done quite a number of workshops on relationships and shadow projection. There are the big ones which we can often still remember in the now, like bullying at school, sexual molestation, emotional and physical abuse in alcoholic families etc and then are often the unremembered or difficult to remember events which also can have a profound impact in adult life.
During my career as a trauma therapist I have seen how relatively small and sometimes insignificant events in childhood can have disastrous effects in a person's life as an adult. If you have any problematic behavior in your life which you don't have conscious control over, give me call and together we can clear and integrate any outstanding debts from the past so that you can live fully in the present as the person you want to be. I can help you with a powerful NLP process that can help you to elicit your career values and align these values.
By aligning the individual staff's values with the corporate values there will be better Staff performance and conflict resolution. This is a two day course which changes unaligned values and struck deep in the personal and corporate psyche.
After the two day course everyone on the course also gets the opportunity to have a 2 hour breakthrough session with me in a personal coaching session to align any values which still needs alignment. We tailor made basic NLP programmes and seminars for team building, communication, and sales. Is there a need for creating, eliciting and matching job profiles with individual character profiles? We can offer special and sophisticated job profiling with all the necessary mind tools and assessments. If you feel stuck, lost, or completely without hope and purpose in your life, there is only one thing you need to do: change your mind. This video follows the change and healing process in a few clients and demonstrate the before and after states.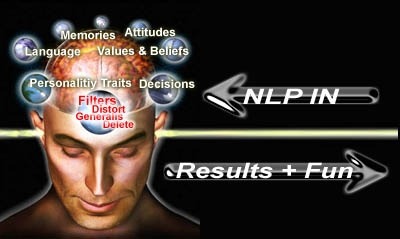 How we view reality is not actually viewing reality, it is just a projection of our own values, beliefs and psyche. Although this process can be used for pretty much anything, it is most commonly used for behaviours and compulsions a€" e.g.
Slideshare uses cookies to improve functionality and performance, and to provide you with relevant advertising.
Es gibt in jedem Leben Situationen und Phasen, in denen es nicht so lauft, wie wir uns das wunschen. Die Ausbildung zum NLP-Practitioner zeigt neue Moglichkeiten in der Kommunikation mit sich selbst und Anderen auf, um alte Muster zu durchbrechen.
Wie bei einer Zwiebel gilt es Schicht fur Schicht zu durchblicken, um uns selbst zu erkennen. Modul I, Modul II, Modul III, Modul IV, und Modul VI finden im SEMINARHOF SCHLAGELBERG, OO, statt.
Se spune ca vapoarele se afla in siguranta in porturi, dar nu pentru asta sunt ele construite (John Shedd). Maria Cotoi, Master Trainer in Programare Neuro-Lingvistica, acreditat si recunoscut de asociatia internationala de NLP si asociatia romana de NLP.
Obiective: familiarizarea participantilor cu formarea in NLP (istorie, fundamente de baza, principii), descoperirea a noi modalitati de comunicare intre facilitatorul NLP si client, construirea increderii si relatiei terapeutice intre cei doi. Obiective: insusirea tehnicilor de baza in construirea empatiei, dezvoltarea abilitatilor de comunicare senzoriala la mai multe nivele (verbal, non-verbal, paraverbal), exersarea abilitatii de explorare a hartii mentale a clientului (metamodelul), explorarea solutiilor potrivite pentru problemele clientului cu ajutorul comunicarii si sistemelor de reprezentare senzoriala.
Concepte: calibrare, raport, pacing, leading, metamodel, sisteme de reprezentare senzoriala. Concepte: psihoterapie sistemica, submodalitati, fast fobia cure, pozitiile perceptuale, swish visual, actiuni, perceptii, reprezentari.
Nivelurile neurologice: mediu, comportament, capacitati (abilitati), convingeri, valori, identitate, misiune.
Herken je dat, dat het soms lijkt dat je tegen de stroom in zwemt, dat je in een vicieuze cirkel rond loopt, dat het lijkt dat er meer problemen dan uitdagingen zijn, dat je continu op zoek bent naar succes en dat je het nog steeds niet gevonden lijkt te hebben, dat je soms zelfvertrouwen tekort komt, dat het niet altijd even gemakkelijk is om echt in contact te komen met een ander etc. De basis van waaruit wordt gewerkt in deze training is de methodiek NLP (Neuro Linguïstisch Programmeren) en lichaamscommunicatie. Na ontvangst van je inschrijving ontvang je van ons de bevestiging van je inschrijving en de factuur. Bij afmelding tot 1 maand voor aanvang van de training vindt 75 % restitutie van het trainingsgeld plaats. Learn how to sail through your deepest challenges and grab back the controls of your life to make you even more magnetically attractive to people around you.
We will show you how to practice small daily steps that will build new patterns in your life and help you break away from destructive patterns. Learn methods that help you connect so easily with others, communicate effectively and establish powerful relationships at work. The NLP Practitioner certification accredited by the American Board of NLP (ABNLP is the world's largest NLP accreditation body). Prior to her full time dedication as a Master NLP trainer, Ng held top management positions; having her last position as the Director of Organisational Development in some medium to large organisations in Asia Pacific region. A lot of her past students describe her as a very creative, fun and lively trainer who sets high standards.
NLP is becoming increasing known for its many change techniques, and features in many other types of leadership, coaching and communications, attitude, behaviour change trainings. Telegraphic Transfer- You can also opt to use GIRO or telegraphic transfer of payment via international banks.
Whatever is not processed and fully integrated in childhood will replay itself out in adult life.
Often there are conflicting values and the net result on the surface is unhappiness in a job or career.
The culture of an organization is the principal source of its competitive advantage and brand differentiation. The familiar voice saying these words: a€?mind the gapa€? is a well known sound in the London underground. Gemeinsam entdecken wir neue Wege, definieren ihre ureigenen  Ziele und erarbeiten Strategien, um diese auch zu erreichen.
Gundl Kutschera moglich, neue Sicht- und Denkweisen zu erlangen und diese ins Leben zu integrieren.
Cat despre continutul cursului, puteti folosi ceea ce invatati in domeniul profesional, daca sunteti deja in domeniul psihologiei, trainingului, coaching, consiliere, terapie. Als je blijft doen wat je altijd gedaan hebt, zul je altijd datgene krijgen wat je gekregen hebt. Het leert ons dat emoties bepaalde lichaamshoudingen tot gevolg hebben en dat bepaalde lichaamshoudingen emoties c.q. It is especially the unconscious mind which is very powerful and can create challenges in your life if it is not alligned and integrated with your conscious mind.
Some of these values are formed in early childhood and if there is any unprocessed emotions attached to a value this can have a profound influence on your career. His experience spreadsand head of accreditation for the premier and only accreditation from setting up training function to Service Delivery and Quality.organization for NLP in India, the ANLP, India. Iar pentru aceasta venim in intampinarea dumneavoastra cu cel mai complet si complex program de dezvoltare personala si formare profesionala NLP din Romania – program in care practica si teoria sunt echilibrate si adaptate la experienta personala a fiecarui cursant in parte.
Lucreaza de peste 7 ani in acest domeniu si a organizat si sustinut 23 grupuri de formare NLP in 8 din marile orase ale tarii.
Poate organiza workshop-uri sau e doar pentru dezvoltare personala, fara a putea fi aplicat si in domeniul profesional. Daca nu aveti insa nicio pregatire in acest sens, atunci cursul NLP Practitioner este doar primul pas in formarea dumneavoastra. Deze training is met name voor diegene die de NLP Practitioner nog een te grote investering vinden en toch willen leren om effectiever te communiceren.
When we work in an organization whose culture aligns with our personal values, we feel liberated, free and happy.
The happy employee has it; you can see it in the smile, body language, humour, confidence and even the half-hidden whistle under the breath… They love who they are and what they do - no wonder they so excel at it. Al doilea pas, cel dupa care puteti sustine trainiguri si lucra cu persoane in consiliere NLP, este cursul Master NLP pe care il organizez in continuarea celui de mai sus.
Firminternational business coach and advisor to individuals, believer of the phrase "Nothing is impossible"; Sushil is nowcompanies and governments.
Ca profesionist se descrie ca si creator de contexte in care cei pe care ii intalneste au ocazia sa treaca prin experiente puternice si prin intermediul carora ajung sa se descopere si sa se dezvolte personal si profesional.
Jij weet dat je alle middelen bezit om vandaag te doen wat je wilt doen en te zijn wie je wilt zijn. Eén van de aspecten van het communicatiemodel is je gedrag, wat (non-)verbaal tot uiting komt in je (lichaams-)communicatie. Not only will we bring our energy, our creativity, and our enthusiasm; we will also bring our commitment to the well-being of our associates and the success of the organization. David has offices in London (UK), working incessantly in the field of personal excellence.Kaunas (Lithuania), Marbella (Spain) and Goa (India). Are studii de psihologie si sociologie si a absolvit Scoala de Terapie – Psihodrama Clasica. Lichaam en geest zijn onlosmakelijk met elkaar verbonden en beïnvloeden elkaar continu. With over Recognizing his efforts in Training domain, Institute of Training &40 years of experience in the domain of NLP and hypnosis, he Occupational Learning (London) has accorded Fellowhas experience in all aspects of HR and the people business from membership to him, and he is also trustee of the Association ofindividuals to large groups to 5000 plus people.
David can also Neuro Linguistic Programming, India.deal with extremely difficult problems and ones that others havegiven up on.
INTERNATIONAL TRAINER AND COACH PERSONAL COUNSELLOR AND THERAPISTRALPH WATSON In behavioural and soft skills, along with expertise in classroomINTERNATIONAL MASTER TRAINER OF NLP training, Umesh is highly effective in the experiential format ofWRITER AND INSPIRATIONAL SPEAKER training.
Welk doel heb jij voor ogen in jouw leven, jouw relatie, jouw werk, ten aanzien van jouw gezondheid, in jouw sport en hoe ben jij van plan dat te gaan realiseren. He has extensive experience with psychometric tools,Ralph is an Inspirational Speaker and Motivational Trainer with and has successfully handled all areas of organisationalan impressive track record for success. Personal counselling andbusiness consultant, he has worked with organisations and therapy are also areas where Umesh has been highly soughtindividuals from over 30 countries including the UK, Western and after. Within the arena of behavioural changes, strategic planning and leadership, he is a highly successful facilitator and coach.Northern Europe, China, India, Russia, Turkey, the Middle Eastand the USA.
Ralph is a respected and acclaimed Master Trainer Umesh is an internationally Certified Professional Behaviouralof NLP and Master Coach and has taught NLP and NLP-based Analyst, Certified Professional Values Analyst, Trimetrix Indexbusiness programmes across a number of cultures.
Ralph's Certified and an International Master Trainer for all of thesebook, "Countermove – a guide to the art of negotiating" is already certifications. He is also an internationally certified Practitioner,a must-read with many multi-national organisations and was Master Practitioner and Trainer of Neuro Linguisticrecently presented to all Middle and Senior Managers by a major Programming, Hypnotherapy and Time Based Techniques, andcorporate client in the Middle East. Is Director, NLP Training RICHARD WALKERInstitute Conscious Solutions, USA, and certifies in NLP A SENIOR TRAINER OF NLPTrainings since 22 years. Her background in naturopathic medicine and businessman and a specialist in human behavioural change. Hetherapy and her love for people cause her to continuously is a Master Practitioner and certified Trainer in NLP and Timedevelop new trainings and invent and boost patterns for training LineTherapy; lecturer and trainer in Clinical Hypnotherapy bothsuccess.
Her highest commitment is to behavioral and through his own training company and for other colleges andmeasurable results.
Her presentations offer practical interactive institutes (including the London College of Clinical Hypnosis),tools in a fun and experiential way.