Prioritizing Academic Programs and ServicesRevised and UpdatedIncreasing economic concerns make the new edition of this best-selling classic an invaluable resource for those who want and need to implement a proven step-by-step approach to reallocating resources in tough times. How An Art Class Became A Little Community Molly Lithgo taught "Drawing In Color" at Forsyth Tech for twenty years, from 1996 until she retired last May, and Mary Lib McCachern and Shirley McElwee were in virtually every class. Growing up in a small New Hampshire town, Chantal Mullen had one goal – to become an artist.
In August, Newsweek named Early College of Forsyth one of the top high schools in the country in its 2015 High School Rankings. If you were to create an illustration showing Forsyth Tech's links with the community, you'd probably end up with something like an airline map, with lines going every which way. The post Forsyth Tech and WheelTime Work Together to Develop 'Real-World' Program in Diesel Maintenance appeared first on Forsyth Tech.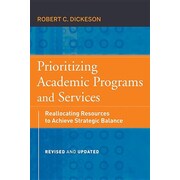 A Summer Enrichment Program for Youth Ages 8–13 New Classes Added, Scholarships Available Summers are meant to be fun. The post "Destination Forsyth Tech" Focuses on Creativity through Technology and Art appeared first on Forsyth Tech. Enabling JavaScript in your browser will allow you to experience all the features of our site.
Thoroughly revised and updated, Prioritizing Academic Programs and Services includes new recommendations from the field, communication strategies for more successful campus implementation, a new section on the sources of hidden costs, and a Prioritization Process and Implementation workbook designed to help administrators avoid costly mistakes. To produce the highly skilled employees the market demands, however, requires financial support above and beyond the support we receive through the state and county.
This book includes access to additional content online, including models for prioritization from a variety of campuses.
Based on the author's extensive consulting experience, this necessary and timely resource offers the best advice for addressing the current economic concerns affecting most colleges and universities.Praise for Prioritizing Academic Programs and ServicesFor more than a decade, higher education leaders have turned to Dickeson's practical guide to academic program assessment.
Carter, provost and senior vice chancellor, Western Carolina UniversityDickeson's approach ensures that critical decisions regarding academic programs and resource allocation are aligned with strategic goals and institutional mission. Dickeson is a higher education consultant, president emeritus of the University of Northern Colorado, and former senior vice president of Lumina Foundation for Education.