Rhonda Vincent, and check out Rhonda Vincent on Wikipedia, Youtube, Google News, Google Books, and Twitter on Digplanet. Vincent's musical career began when she was a child in her family's band The Sally Mountain Show, and has spanned more than four decades. Vincent was born in Kirksville, Missouri, on July 13, 1962 and raised in nearby Greentop, Missouri. Even while Vincent was still performing regularly with The Sally Mountain Show, she released her first solo album New Dreams and Sunshine in 1988. With the release of her album Back Home Again in 2000, Vincent returned to bluegrass with the goal of expanding both the musical reach and the accessibility of the genre. On February 19, 2010, Vincent parted from Rounder Records, after ten years with the label.[9] Vincent released "Taken", her debut album on her own label "Upper Management Music" on September 21, 2010. On June 7, 2011, Vincent and country legend Gene Watson released a duet album on Upper Management entitled Your Money and My Good Looks. Sunday Mornin' Singin', an album of old-time gospel standards, was released on July 10, 2012.
In a 2011 interview with television station KTVO Vincent announced that she and her band had recently filmed a live, all-Gospel, DVD at a church in her hometown of Greentop, Missouri.[11] The DVD was expected to be released sometime in 2012. Since 1987 Rhonda and the entire Vincent family have hosted a large yearly Bluegrass festival on land just west of Queen City, Missouri.
A highway sign in Queen City, Missouri directing attendees to the annual Sally Mountain Bluegrass Festival. In 1985, Vincent had competed in the TV series "You Can Be A Star" on the original version of The Nashville Network. The International Bluegrass Music Association (IBMA) accorded her its Female Vocalist of the Year award for the years 2000 - 2006, plus IBMA Entertainer of the Year in 2001. The Sally Mountain Bluegrass Festival is traditionally held around the 4th of July and attracts music fans from across the U.S. Her brother Darrin is a member of the Grammy-nominated bluegrass group Dailey & Vincent. After winning the competition, she was signed to a recording contract; her first professional performance was with country singer and Grand Ole Opry star Jim Ed Brown.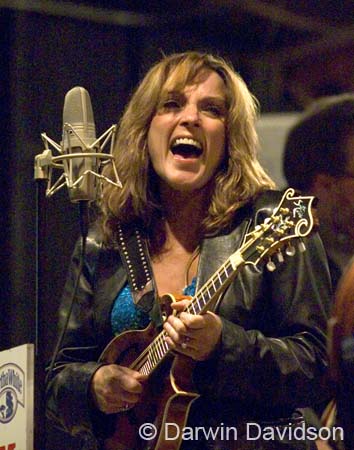 In the 1990s Vincent branched out into mainstream country music, releasing a pair of albums on the Giant Records label, but did not have success there. So I made the decision to commute."[6] For a period of time in the late 1990s and early 2000s Vincent and Sandker owned and Sandker managed a popular restaurant in Kirksville, Missouri called "Bogies". In an interview with Ingrams magazine she said, "Dad used to pick me up after school, and Grandpa would come over and we played until after dinner almost every night. There wasna€™t a lot going on in Greentop, but it was always hopping at the Vincent house."[6] Vincent recorded her first single, a version of Mule Skinner Blues in 1970. The family, including the younger brothers when they were old enough to play instruments, traveled and performed extensively across the Midwest in the 1970s and early 1980s.