Hearing Views discusses important issues that impact both audiology professionals and the people with hearing loss that they serve. I spend quite a lot of time searching the web for information and ideas for my blogs, Hearing News Watch and Hearing Views. The non-profit group, known until last year as the Royal National Institute for Deaf People, has a budget and other resources that dwarf all the non-governmental organizations in the United States with similar goals, including the Better Hearing Institute, the Hearing Loss Association of America, the Hearing Health Foundation, and the A.G. These are all fine organizations that accomplish a remarkable amount with combined budgets totaling less than $10 million–and a small number of paid staff members. Among its specific activities are working for laws and government policies that benefit those with hearing loss, informing the public about hearing loss and tinnitus, providing sign language interpreters, improving education for deaf children, developing equipment and products for deaf and hard-of-hearing people, and supporting social, medical, and technical research related to hearing. Although the full scope of Action on Hearing Loss's work is beyond the reach of the less well-endowed associations and foundations in the U.S.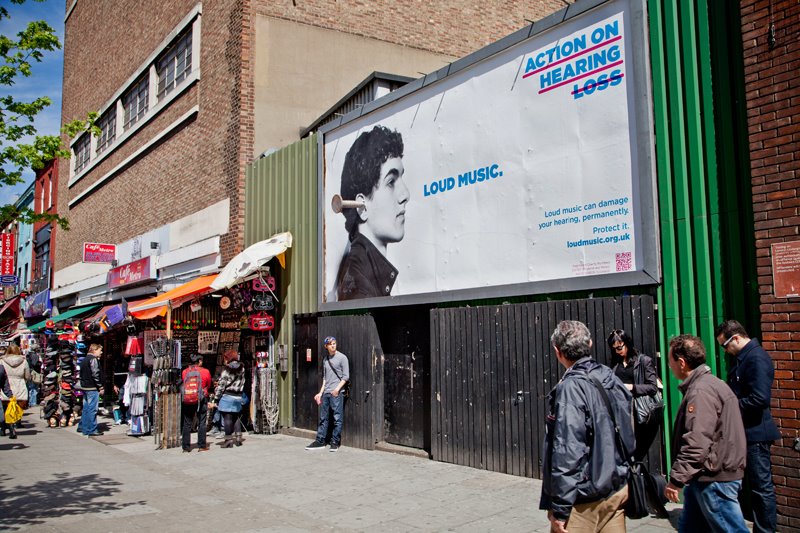 I'm referring to a public information campaign that warns young people that they risk permanent harm to their ears if they listen to loud music for too long without ear protection.
What I like about the Action on Hearing Loss campaign is how effectively it communicates what it has to say, through a series of posters (created by hat trick design) that are prominently displayed in public places.
Wouldn't it be great if someone—maybe a company that makes hearing protection or is in the music business—would adopt this campaign for use in communities around the U.S. But, regardless of who paid for it, wouldn't you like to see as hard-hitting a campaign in this country to persuade kids to protect their hearing from loud music as the one that Action on Hearing Loss is sponsoring in the UK?
Topics range from education and advocacy to industry, technology and the client-professional relationship, and more. In doing so, I have become familiar with a 101-year-old British organization, Action on Hearing Loss.
There have been countless media reports in this country about the alarming increase in the rate of hearing loss among young people and the role that loud music has probably played.
Surely such a campaign would enhance the sponsor's image as well as providing a valuable public service. I can't help thinking that, in comparison with our friends across the Atlantic, America is short-changing its commitment to people with hearing problems.
Leur idee, montrer concretement l'effet que peut avoir l'ecoute d'une musique trop forte en enfoncant un enorme clou dans l'oreille du jeune homme present sur le billboard.