Change last name legally
Problem Sleuth, Book 3: Suitor to the Sodajerk's Confidante contains chapters 10 through 13 of Problem Sleuth, along with notes from Andrew Hussie. I felt as though someone was watching over me as I left San Francisco – I just made my flight despite terrible traffic, the skies somehow cleared as I descended into Houston, and even the little regional jet that seemed to be spitting out hail from its air vents landed without the lightening storms that were promised. In the eye of that thunderstorm was another fiery red phenomenon, that ubiquitous liquid in a bottle that you can find in any restaurant, if not on the table, then in the kitchen.
The first morning surprised us with clear skies, and for the few of us who arrived early, a glimpse of our first alligator on Avery Island. The pepper mash is barreled in white oak with nothing more than salt that is mined right from Avery Island, and given three years to age. From barrel to bottle, the transformation is all done on Avery Island, and we were treated to a tasting of the Tabasco Family of Flavors, guided by Tony Simmons, Tabasco's CEO and the great-great-grandson of founder Edmund McIlhenny. One of the standouts included the Tabasco Family Reserve Pepper Sauce, which is made from peppers only grown on Avery Island, sherry vinegar and aged for 8 years. All this tasting leaves you thirsty, and we were treated to a cocktail demo with James Beard award winning mixologist Nick Detrich of Cane & Table in New Orleans.
Simple and fresh ingredients were the heroes in this dish, and we were also pleased to find Chef Aaron as sincere as he is entertaining. Disclosure: I was invited on this trip as a guest of Tabasco in conjunction with the TABASCOA® Tastemakers program. This cocktail featuring Tabasco is easy to sip and will liven up any large gathering, and comes courtesy James Beard award winning mixologist Nick Detrich of Cane & Table. I enjoyed the food even more than I expected, and I already went in with pretty high expectations.
There is one time I don't mind eating standing up, and that is when there is a delicious food and wine event.
I adore this time of the year, when there is still a wonderful array of fruits and vegetables, and while I know that there is a large variety of heirloom tomatoes, you don't really appreciate it until you enter the Tomato Tasting Tent at the festival, where over 175 varieties of tomatoes are ready for the sampling. Under the Tomato Tasting Tent, you also find displays of gorgeous produce, but the highlight were the award winning tomatoes. Sampling the tomatoes in its truest form is a treat in itself, but of course, an assembly of local Sonoma restaurants were there to showcase the fruit's versatility.
I was drawn by in the ink, but I do believe this was the decorated arm of none other than Top Chef Kevin Gillespie, who participated in the Chef's Challenge. One of my favorite tastes of the day was a Tomato Jam Crostini with Lardo from the folks at Backyard. This Fire Roasted Tomato Jam Crostini is one you can make in 30 minutes, and with none other than canned tomatoes. In a medium saucepan, combine the tomatoes with the juices, jalapeno, sugar, vinegar and salt.
Fire Roasted Tomato Jam adapted from Heirloom Tomato Jam, Backyard Restaurant at the Kendall-Jackson Heirloom Tomato Festival.
Liren, although I did not attend the event, your photographs allowed me to experience just how beautiful and tasty it must have been. I was so disappointed not to be able to make this event so thanks for making me feel like I was there with these beautiful snapshots. Thunderstorms and heavy rain were not only probable, but guaranteed, and red shades of high alert would taunt me each time I checked my phone as I packed.
As the rest of our group made it to Avery Island, we had a beautiful day to visit the greenhouses where all the magic begins. Much like a fine wine, making Tabasco Red Pepper sauce takes time, and it also requires tasting. As we sat at the dining room table, we were able to experience unique flight of Tabasco flavors — some were very familiar, and some quite unique. He created two distinct cocktails featuring Tabasco – a Shaken Skull Punch which drank with the ease of a sangria, and A Scotch and Salt cocktail, that I am excited to share here with you.
This ceviche was also the first of four courses in a very memorable dinner he cooked for us and the Tabasco family of executives on our last evening on Avery Island. I packed my bags to the sound of rain and thunder, and in my little room in the Marsh House, I realized that for the first time, I was ending a trip not feeling as fatigued as I normally do.
This post is the first in a series I will be publishing over the next several months featuring the Tabasco Family of Flavors.
The down home cooking was definitely my favorite – proof that simple food, when done right, is just as good as the most fancy food in the country.
When the family is all home again, I look forward to resting my feet and sitting down with everyone.
I'll even do it in heels, though last weekend, I was relieved to don a comfy pair of sandals and head to Sonoma for the 2013 Kendall-Jackson Heirloom Tomato Festival. As you walk under the shade of the tent, the hay crunching beneath your feet, the length of tables with warm slices of charmingly-named varieties for you to try, you can stroll and taste to your heart's content.
The jam was more savory than sweet, the flavor drawn out by sherry vinegar, and with the thin sliver of lardo on top, it melted in your mouth with wonderful balance. Since I covered the event for Muir Glen, I thought it would be fun to recreate one of the recipes with their canned tomatoes, which you know by now, I love.
I was assigned the happy task of photographing the event on behalf of Muir Glen Organic, a sponsor of the 2013 Kendall-Jackson Heirloom Tomato Festival.
Bring to a boil over medium-high heat, then lower to a simmer and cook, stirring periodically, for about 30 minutes, or until most of the moisture is gone. Within 24 hours of landing in Louisiana, my tastebuds were introduced to true Cajun cooking.
These Tabasco pepper plant seedlings are grown for seeds, which are then grown all over the world, eventually making their way back to Avery Island to be transformed into the red sauce we know so well. As we sipped our drinks, Nick guided us in a hands on demonstration along with his dazzling knowledge of history.
Each dish was remarkable, balancing flavors and technique that highlighted the Tabasco flavors so well.
I had the feeling that comes after you visit family, when you stay at their home, and cook in their kitchens.
I hope you do get to go back and visit the Tabasco factory – there is so much to learn! You might think I have no excuse, with no one else to feed but myself with the children safe at school and the husband at the office, but even then, I ate standing at the counter again, squeezing in bites of my veggie wrap between a stir of the pot, a snap of the camera, and loading the dishwasher.
I was asked by my friends at Muir Glen Organic to return to the event this year, this time to photograph the daytime festival at the Kendall-Jackson Wine Estate & Gardens, featuring the beautiful diversity of heirloom tomatoes, prepared by a bevy of local Sonoma restaurants, and accompanied by glasses of wine. I am sharing this recipe using Muir Glen Organic tomatoes because I do love their product and use it weekly in my kitchen. I use it nearly every day, and now that Tabasco has expanded its line of flavors, you can bet that I have both a bottle of Tabasco Red Sauce and Tabasco Habenero Sauce (my personal favorite) in my pantry at all times. There were gumbos and po' boys, jambalaya and ribs, jalapeno chips and swamp pop, and I was pleased to meet my very first boudin sausage.
If you have any sinus issues, I highly recommend tasting a mere drop of pepper mash – it is extremely potent! I am still thinking about the Crispy Louisiana Shrimp with Tabasco Habanero Sauce Aioli and Covey Rise Pickled Vegetables. I realized that I would miss breakfast in the large dining room, and the freshly baked hand pies, since I would be catching the first flight out.
I spiced up the jam to add a little heat to the savory profile, using not only fire-roasted tomatoes, but a helping of jalapeA±o, as well. A dash or two goes into so many things I eat, so I am truly excited to share that this year I join Tabasco Tastemakers as an ambassador.
As I hugged everyone goodbye, I felt the gratitude of a guest, for Avery Island had welcomed me in the most surprising way.
Knowing that I would be potentially flying into inclement weather left me unsettled as I prepared to fly to Avery Island. This introduction to the McIlhenny Company and the visit to Avery Island was an incredible way to kick it off – and I can not wait to share the recipes I have brewing and will share with you over the next several months. From getting to know the people and the families behind Tabasco, and staying at the historic Marsh House, we were guests at their table in the truest sense.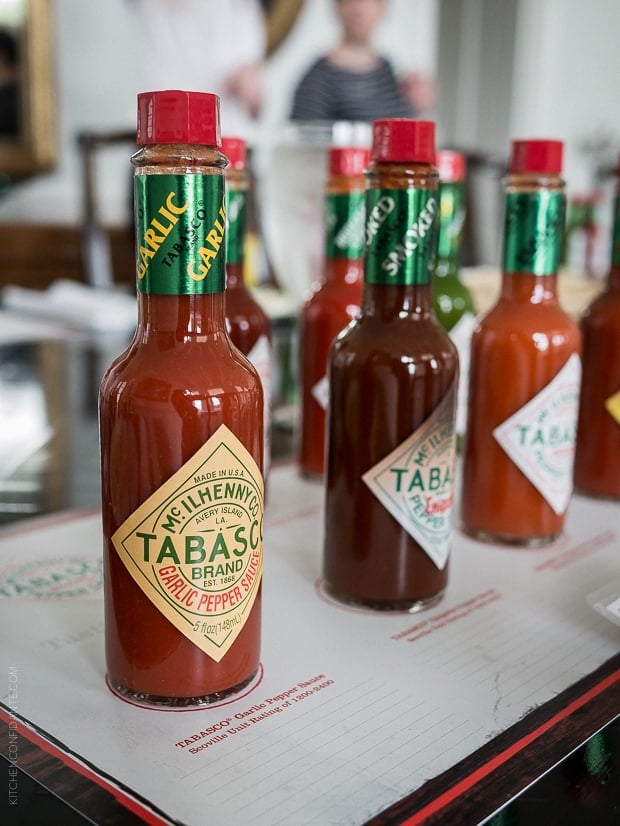 Comments to «Confidante home test»