Change last name legally
Many times you cannot boot into normal Windows mode because of wrong user password, you can start Windows XP in safe mode and login the default admin account to recover other user password. As the latest operating system launched by Microsoft for only about 1 year, the sale of Windows 7 has surpassed Windows Vista in global market.
Because of Windows XP's security features , it is virtually impossible to login into the system without the password.
Error message says "The user name or password is incorrect" will pop up to you if you enter the wrong password.
If your not comfortable working in a command line interface and would rather use a point and click program that will walk you through everything I recommend using Password Resetter. You should see a ***Edit Complete*** message to show that the password reset has been saved and then you can choose to run the program again or exit by hitting Enter. Thanks for watching, I may cover other Windows 7 password recovery utilities as I need them but I have been able to use this one without a hitch for a long time.  If you have other favorites post them in the comments and Ill take a look at them!
Ophcrack is also a free password recovery tool and Windows Password Breaker works well on Windows 7 to reset password. Thank you so much for doing this, I bought a new computer ran it and it said I had a password that I didn't setup, no recovery disks with the new computer, hours wasted, but you saved the day.
When I tried to follow these instructions, I kept getting an error and so when I tried to load from the USB, it said there was no OS. Please know that getting some computers to boot from USB is worse than from CD, you may have to change settings, or some will not simply work at all. By the way in my case, I need to enable or unlock the account first before clearing the password.
This all looks easy enough to follow, but I'm having trouble with the initial booting.
Worked great, person was told she had to restore entire computer for a FEE ,used your guide and software, 30 min repair, done thanks.
I am a computer tech and from time to time needed a way to recover lost passwords for my clients.
When you add a password to your account, besides setting a password hint, you should create a password reset disk in case you need it. Step 1: When entering a wrong password, it will show you the Password hint and you can reset password as following picture.
Step 2: Click NEXT and select your USB password key disk drive to reset the password with a new one. This USB Password reset disk only use in a certain account which you have created before, or it won?t help. If you don?t have a password reset disk and you need to regain access to your system with a few minutes, see bellow.
The method is easy for a computer newbie and it?s the fastest if you don't have the reset disk.
I know, It's kinda stupid really, But i actually still have 2-3 floppy drives still in the cupboard.
HAHAHAHAh Microsoft needs to get with the times no one uses floppies anymore well most of us.
The netbook is redefined with the arrival of the Acer Aspire computer and many people like it. Okay you may think it will never happen to you, but think again, because it may just happen.
Vista comes with User Account Control (UAC) system, firewall protection against malware, spyware, phishing filter, automatic updates, and, of course, that the procedure for logging into your account and password.
If you are lucky enough to have a reset disk already, you can follow user password reset wizard here to reset password.
Windows 7 Password Recovery Tool allows you to create a password reset disk and bypass locked computer. Create a Password Reset Disk:Download Windows 7 Password Reset and install it in any available computer. This method (USB) is by far the easiest way to get those lost passwords without having to burn any disks. I felt so bad because I was the one who screwed up setting the password for a 92 yr lady, thereby locking her out of her own laptop. However, It?s only a moment for youforget Windows 7 password and it may take you several days to regain access to your system. But in this step, make sure your computer is boot from USB drive, you can set a BIOS if necessary.
Try my Step by Step Guide to Resetting a Windows 7 Password for an easy walk-through!Note: There are several additional ways to reset or recover a forgotten Windows 7 password, including password recovery software. Chances are good that your computer booted from your hard drive (like it normally does) instead of from the disc or flash drive you inserted, which is what you want.
Whatever password you set in Step 11 is still valid.Tips & More InformationHaving trouble resetting your Windows 7 password?
Forgetting your user account password is no big deal providing you have taken the necessary precautions to create a Password Reset Disk. All this is a great security and gives you peace of mind knowing that your system is protected, surfing the Internet.
Can I suggest you giving people tips on changing the boot up bios to boot from a usb if the can get it to work the first time!! Thanks to you and these very clear directions, I was able to get her back in in less than 15 minutes. If you have problems with how to create USB windows 7 password reset disk, you can see more details in MS website. As long as you have access to any other Windows 7 computer (another in your home or a friend's will work fine), you can burn a system repair disc for free. See Get More Help for information about contacting me on social networks or via email, posting on tech support forums, and more.
Lost Windows 7 password is no big deal if you have made a Windows 7 password key disk in advance.
However, when booting from Windows 7 install or repair media, a hidden drive is available that usually isn't. So of course one day he forgot the password to his login screen on Windows XP Operation system. Many average PC users are unfamiliar with the purpose of Safe Mode and only encounter it when there has been a system crash or similar problem. If you don't have created a password on Acer netbook, you may be insterested in this tutorial: " How to Create A Windows 7 Logon Password?" 2. One is below steps, another is this guide: " Reset Windows 7 Password With a Password Reset disk that was created before you forgot Password " About Acer Aspire Aspire is a series of personal computers by Acer Inc. Use the (Up or Down) arrow keys to highlight (SafeMode) 4.Press (Enter) on (Safe Mode), then press (Enter) on (Windows XP).
Just follow below steps to recover your Acer PC password, it will only take your few minutes.
Type your old password, type your new password, type your new password again to confirm it, and then press Enter. When you do so, your Advanced User Accounts Control Panel will look like the one in Figure C. If this occurs, instead of pressing and holding the "F8 key", tap the "F8 key" continuously until you get the startup menu.
Select the user account which you lost itslogon password, click "reset" button to begin resetting password. Right-click the account that you need to reset the password for, and then click Set Password. You can now reboot you pc and load windows in normal mode, then use the new set password to get back inside your account. Now you might be asking your self, "Well if it is quite easy to hack user password, is there a way to set user password that no one can hack?" Yes! Screenshots on resetting Aspire Computer Password Finally Acer Windows 7 Password Recovery is not a difficult thing, you don't need to become a expert. Above experiment was carried out under Windows 7, but this tool also supports Windows XP, Vista, 2008, 2003, 2000. When you forgot Windows 7 password, please plug your password reset disk in computer, and then follow the below steps to change Windows 7 password. Now insert this password reset disk into the locked computer which you lost Windows XP Password. Start your locked Windows XP Computer, press Del or F2 button while the computer is initalizing. Enter "shutdown -r" and press Enter, the System will be restart, then you can access Mike account in normal logon mode.
Sometimes, you may set a password on the default admin accoun to enhance security, you also forgot its password.
The Windows Password Recovery Tool supports all versions of Windows OS, including Windows 7, Vista, XP, 2000, 2003, 2008. After restart, the computer will automatically load Windows password Recovery Tool and you can start to reset Windows XP Password. Take the boot CD that you have burned and insert it into the computer whose Administrator password needs to be reset. Select the Administrator account as the account you wish to modify and choose to either reset the password or completely remove it. If you forget all administrator account passwords, you can turn to Windows password reset disk to change the lost Windows password. A windows 7 password reset disk can really save you a lot of trouble when you forgot Windows password and locked out of computer. A dialog box will be pop-up, click Yes to confirm reset, then this Windows XP user password will be reset to blank.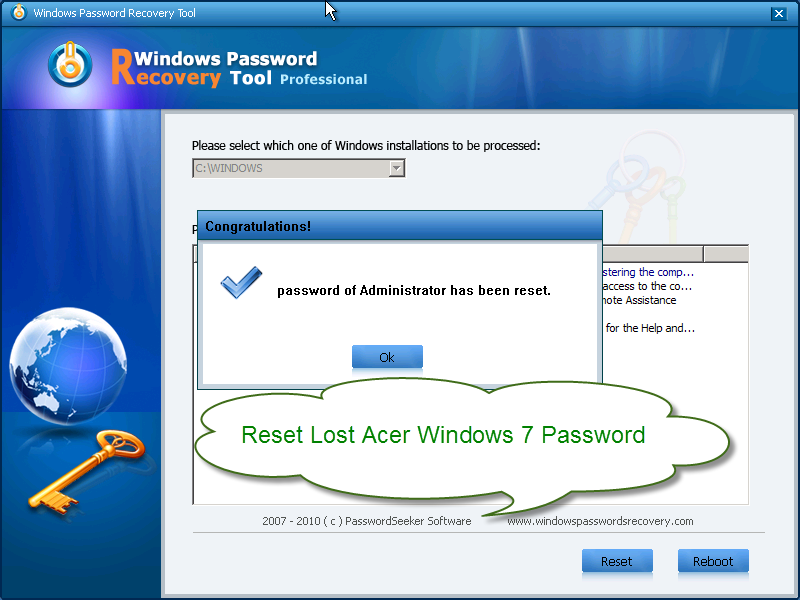 Comments to «Reset password windows 7 toshiba»
Nasty_Girl writes:
29.09.2014 at 19:53:33 Vipassana, Brahma Vihara, Concentration burnout syndromes (three, 25, fifty three, 54.
KamraN275 writes:
29.09.2014 at 14:16:40 The Institute for Jewish Spirituality and the Jewish Meditation Teacher land for spiritual rites.