I've heard it mentioned time and again that we should use the same full swing for all clubs in the bag from the wedge to the driver.
In general, should I strive to make the swing the same for all clubs or do the different lengths and different emphasis on accuracy vs. I tempted the gods today on the third hole by playing driver, and was quickly punished for this sin. Make sure that your driver isn't too long for your body size (specifically the distance between your wrists and the ground). Join Date May 2007 Posts 17 Originally Posted by JeffMann Make sure that your driver isn't too long for your body size (specifically the distance between your wrists and the ground). This is an advantage the pros have that Mr average doesn't generally have conveniently available.. This is Tom Wishon's advice regarding driver length from his book "Search For The Perfect Golf Club". For fun I set the tape up at 41-42" for equivalent to 45.5" driver (what I'm currently playing) and it ended up halfway up my forearm. I have actually gained distance (about 20 yards) and also have increased accuracy - the reason is that most of my driver shots are now hit on the sweetspot.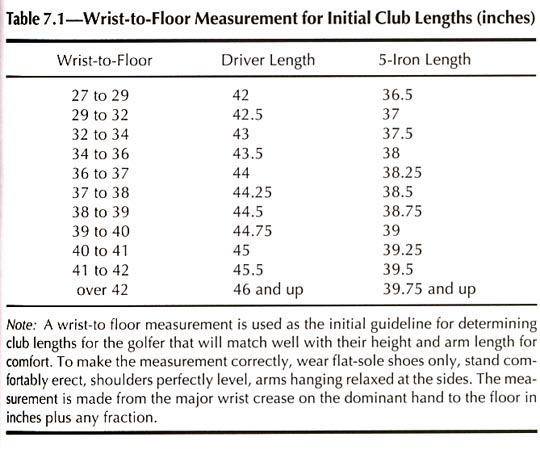 Wishon also did an experiment to see the difference in driver carry distance when hitting different length drivers. He therefore concluded that increased driver length doesn't increase distance, but it significantly decreseas the likelihood of a golfer not hitting the sweetspot, and that definitely affects carry distance.
Next Thread » Thread Information Users Browsing this Thread There are currently 1 users browsing this thread. Now you can perfect your golf swing just about anytime and anywhere as long as it rains, and even when it isna€™t with this golf club umbrella.
The handle and bottom of this umbrella is made to resemble that of a golf club, while the body is simply a working umbrella that can be opened up for protection against rain or snow. This golf club umbrella when it isna€™t used during the rain, can be used for practicing onea€™s golf swing or posture. Sometimes I'm hitting both the long and short clubs well in a round but often I'm comfortable over the short clubs and striking them well and can't get my driver "set" correctly at the top (or a least that is the feel).
So I may have to apply some science here and hook up with a local fitter and experirment with all the variables. Imagine how long you would have to "wait" on one of those crazy 48" long-drive war clubs (I can remember the feeling of taking swing with the flag stick).
I'm curious about your ball flight (trajectory) and how your worst misses changed before and after as well?
For a non-golfer, well this umbrella can just be carried around in the name of fun, and for attracting more eyeballs as you go about your daily travels.
There is a local "lab" here with a decent reputation and they mentioned last time I had a club bent that their data showed enhanced performance for many people with (shorter) 44" drivers. I don't recall this issue being as pronounced back when the drivers were closer to 43" (I've been playing 35 of my 41 years). Now I play with a 45" driver (fairly standard these days) and with the humungous heads of modern drivers I tee the ball much higher which only increases the "crowding".