As a small refresher, I've come crying to the internet a couple of times for opinions about our kitchen in the last several months. I've also met a couple of times with a couple of different kitchen designers in the last eight months, and I fully expect to finalize my plans on Friday.
We'll visit each of the areas of the kitchen in turn here shortly because believe me when I say, it gets worst than this. Ironically the kitchen in real life is in a much cleaner and more organized state than the kitchen in my head.
There is nothing I would like more than a draining pan, built in colander, and a cutting board right on top of the sink.
I LOVE the fridge door (it has me in gleeful squeals and twitches, I'm telling you!) and my parent's last house had an island-dining table solution like your drawing and it ROCKS! As for the cabinets themselves, I personally would stay away from Lowes and Kraftmaid and the like.
You can have Formica for a few thousand dollars and spend the money saved on better kitchen cabinets. I have a corner sink that I kind of hate, but in looking at your plan, I think you've solved all the issues I have with mine. As far as traditional versus beadboard cabinets, I vote for traditional just because beadboard is very busy visually, and you are going to have a lot going on in a relatively small space. My other choice would have been to put it in the island, but since we decided to use the island as more of an eating space, I think the corner will be better. I love your ideas and envious of the blank slate you have to build the kitchen of your dreams. To your point, the squared cabinets can always be painted and never really go out of style. Stove area – I think you should do the whole wall of tile or stone with open shelves. For a slightly terrifying look at what that entails, this is the kitchen plan I've been working off of, plus a little red wine soaked into it for good measure. Just looking at this picture brings back the smell of 15 pounds of mouse poop we found under those babies when we ripped them out.
I loved having the open shelves and with black cabinets in the new kitchen I want to make sure it doesn't look like a cave. In the old house I was all about hanging everything out in the open, but I find that requires more cleaning in the end. I considered for a while Jenn-Air's line of bronze appliances, but when I saw this wood door fridge I knew I needed to go another direction. I know I want distressed black, but I'm waffling between a traditional door style and a bead-board door style.
Having owned numerous homes with various cabinets, stay away from store bought and Kraftmaid. You cannot believe the difference in cost or quality as they are custom built using the hardwood you request. Could probably get you name of cabinet maker from our Amish friends here, they all have relatives in IN.
I'll tell you I had some misgivings about the corner sink and one of the kitchen designers actually put the dishwasher right next to it and I was like… uh? It does limit the size of sink you can have though, and none of those fancy farmhouse deals. And then choose things that aren't necessarily classic or neutral, but will always ground the look to the feel of the house.
I have counter chairs where the back comes up only half way, and find them to be EXTREMELY uncomfortable. I'd opt for closed cabinets (either glass or solid wood) near the stove, because even with a hood, I find that cooking grease from the air tends to settle right around that area. But I couldn't find one with a big enough sink, so I decided to use the Kohler Vault SS sink with a Drainmate next to it.
But want to remark on few general things, The website style is perfect, the articles is really great : D. Neither the service provider nor the domain owner maintain any relationship with the advertisers. There was also an example in a (currently MIA) magazine of a couple who made their fridge look like a swinging barn door, and that is exactly what I'd like in the new kitchen.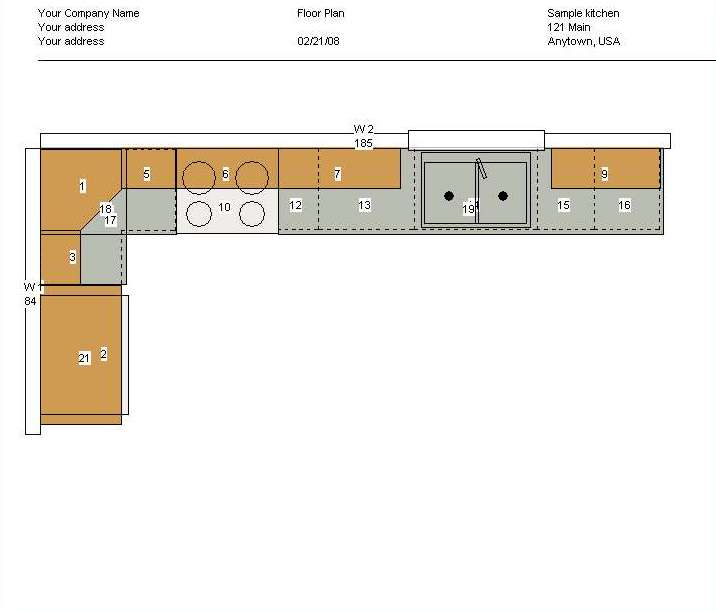 After researching the butcher-block further, I'm hesitant to put it around the sink and over the dishwasher. You also live close enough to me (NW PA) the drive to order and pick up your cabinets from Amish is worth the savings of thousands of dollars. In my opinion the bead board look will go out of style in time and you don't want to look at your kitchen in 10 years and think it feels dated.
I felt like I had room to put in dirty dishes as I was cooking AND wash produce, hands, etc, without feeling cramped. In case of trademark issues please contact the domain owner directly (contact information can be found in whois). The Anthropologie Redsmith chairs are appealing, but they also are not counter-height and I really think the high backs would clutter up the kitchen.
A local company made a really nice formica counter top using Wilsonart in a black that looks like and feels like granite.
Also, your a Gemini like me (I think we share a BD)and I get tired of trends and change my mind constantly on what I like (husband hates that about me). I love tile and butcherblock, but have never lived with either personally and am interested to see how you can incorporate them.
I've spent the last decade tearing houses apart, putting them back together again, and writing about it on this website. This is like one of those math problems where you can carry the remainder on for infinity, so I'm just going to stop myself now. Having the option of changing up the counter top in a decade without feeling like we blew a gozillion dollars on granite was our main reason.