Available with a regular flat mounting base or a perpendicular base that lets you mount the clamp on the edge of a clamping surface.
You must have JavaScript enabled in your browser to utilize the functionality of this website. Once attached to a bench or fixture, this clamp is simple to use and ideal for light-duty applications.
A convenient hold down designed to be atached to a bench or fixture, producing 450 pounds of clamping force. Once attached to a bench or fixture, this clamp becomes a convenient hold down with 450 pounds of clamping power. DeStaCo Toggle Clamps These excellent shop aids are made by the original manufacturer of toggle clamps.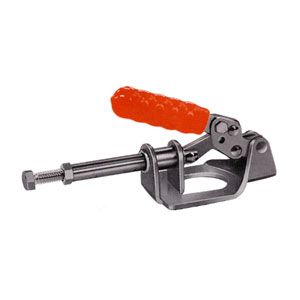 Six models of top hold-down clamps are available, varying in size, reach (throat depth), and clamping force.
Toggle Clamp Plate This mounting plate attaches to the bottom of a Bessey® auto-adjust toggle clamp, allowing you to quickly position the clamp anywhere you can drill a hole instead of permanently attaching it to a surface.
We offer the toggle clamp plate as a set with a high-profile horizontal, low-profile horizontal or in-line clamp. The toggle clamp yoke assembly replaces the standard pressure spindle on your toggle clamp and provides a larger clamping surface to increase stability.
With up to 150 pounds of clamping pressure, it works great as a quick-action hold-down clamp for jigs or for keeping workpieces in place. My truck box has a fiberglass lid, so when I am hauling anything longer than the pickup box that requires the tailgate to be lowered, I wedge the portable tailgate between the box using two of these clamps.
They are ideal for many shop purposes, but particularly shine in all types of jigs, especially when holding wood in place to be routed, drilled or sawed.
The horizontal and vertical models are classic styles that have established the line over the years. Convenient and versatile, these clamps are a great aid to production and jig and fixture work. This tailgate keeps anything else in the truck from rolling out and lets me also chain the lid to the tailgate if I'm hauling something taller than the truck box, but don't necessarily want it fully extended to obstruct my view while driving.