ArtifactsAboriginal burn artwork, clapsticks and other unique, traditional artifacts from local and selected artists. For 2 decades, from 1970 to 1990, Professor Cawte annually visited the Yolngu clan of northeast Arnhem Land. The Ngangkari are the traditional healers of their lands, encompassing 350,000 square kilometres of the remote western desert. During this time he recorded, with the tribes leaders' permission, traditional medicinal knowledge, and healing scenes were specially enacted and photographed.
As Esme and Marilyn Russel Timbery (artists from La Perouse, NSW) say their work is a continuation of Bijigal artistic practice and a very important healing practice.
In Traditional Healers of Central Australia: Ngangkari much of the prose has been authored by Aboriginal people, Tjanpi desert weavers. For thousands of years the Ngangkari have nurtured the physical, emotional and social well-being of their people. Tjanpi Desert Weavers is a not-for-profit Aboriginal social enterprise established in 1995 by the Ngaanyatjarra Pitjantjatjara Yankunytjatjara Women's Council to provide an income source for women living in remote Central Australian communities. To increase understanding and encourage collaboration with mainstream health services and the wider community, the Ngangkari have forged a rare partnership with health professionals and practitioners of Western medicine.
Several artists are also traditional healers, such as the talented artist Jan Billycan from Ilyarra country in the Great Sandy Desert (North Western Australia).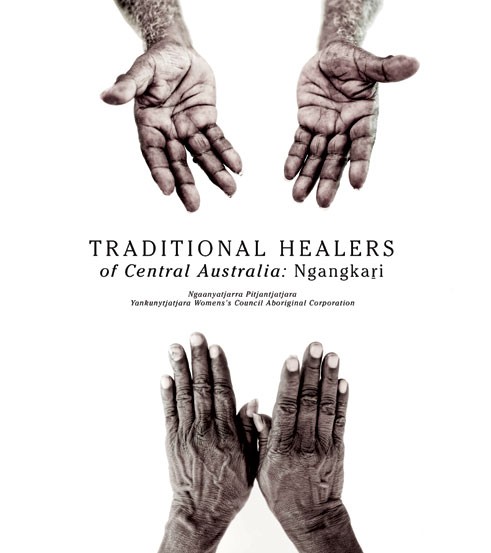 Experience the world of the Ngangkari as they share their wisdom, natural healing techniques and cultural history through life stories, spectacular photography and artwork. The traditional healer and artist paint life, her x-ray vision penetrates the forms that represent both land and human body, an extension of the land (To view Jan Billycan's artwork, visit the link on the right side of this article).