Transmission rate of primary maternal infection to exposed neo­nate is estimated at 30% to 50%. The risk of asymptomatic lower genital tract HSV infection on day of delivery is 1.4% in women with a confirmed history of recurrent herpes. Nosocomial infection may also cause neonatal infection, most often HSV-1, at a rate of approximately 10%.
Seventy percent of neonates with severe HSV infection are delivered from asymptomatic mothers.
The risk of neonatal herpes from an asymptomatic mother with a history of recurrent genital herpes infection is estimated at less than 1 in 1000.
Active HSV infection leads to a 50% chance of complications in primary episode HSV infection.
Cultures should be done when a women has active HSV lesions during pregnancy to confirm the diagnosis. Weekly surveillance cultures of pregnant women with a history of HSV infection, but no visible lesions, are not necessary and vaginal delivery is acceptable. Amniocentesis in an attempt to rule out intrauterine infection is not recommended for mothers with HSV at any stage of gestation.
Cesarean section in women with active infection will signifi­cantly decrease but not eliminate the risk and incidence of neonatal HSV infection.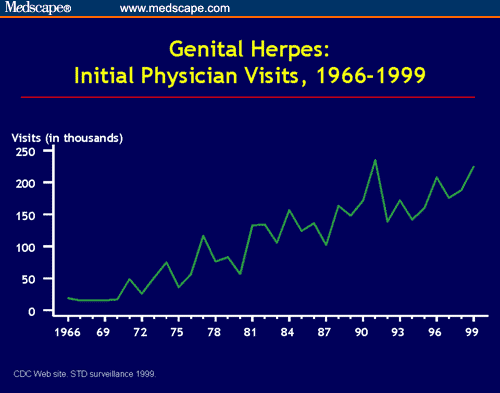 The American College of Obstetricians and Gynecologists recommends that term patients who have visible lesions and are in labor, or who have ruptured membranes, should undergo cesarean delivery. Cultures for HSV obtained at delivery in women with a history of HSV may aid in identifying potentially exposed neonates.