Pacific Island countries (PICs) should now be able to better gauge the energy efficiency of refrigerators and freezers with new energy smart calculators that were developed by SPC's Pacific Appliance Labelling and Standards (PALS) programme. The energy smart calculator can be used to calculate the estimated running costs of refrigerators and freezers over one month, one year and ten years. Energy Efficiency Adviser at SPC and project manager for the PALS programme, Makereta Sauturaga, said that often the main consideration when purchasing an appliance is the upfront price, and the running costs are ignored.
Currently, the calculator is developed for refrigerating appliances only, as the majority of electrified households in the Pacific region have refrigerators. So far, SPC has developed calculators for Fiji, Samoa and Kiribati; work on the Tongan version is in progress. Ms Sauturaga stressed that developing legislation is a critical first step to underpinning a standards and labelling programme in PICs. The PALS programme is designed to assist PICs implement labelling and standards for energy-using equipment such as refrigerators, freezers, air conditioners and lighting. Cette adresse email est protegee contre les robots des spammeurs, vous devez activer Javascript pour la voir. We hear so much about average energy consumption in the media but what is average if homes are built in different centuries and with different numbers of bedrooms? The National Energy Efficiency Database (NEED) has some good data on average energy consumption for different types of properties.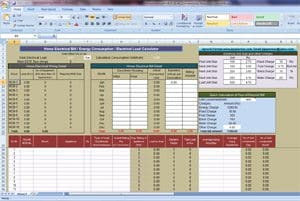 There are a few sources of data which can be used as a more general guide to the average energy bill.
This 2013 survey breaks down different house ages and sizes and gives overall figures for each. Note the 2016 energy usage excludes electricity used that is generated from solar pv panels. If you have an alternative energy source, or unusual building, please use the contact form. Note: Your details are treated as confidential, and will not be passed-on to any other company or organisation. For example, recent studies conducted by SPC indicate that about 95 per cent of electrified households in Fiji, 73% in Tonga and 61% in Samoa have refrigerators. All twelve PICs that are participating in the PALS programme will have their own versions of the calculator.
Australia has committed AUD 3 million over two years (2011–2012 and 2012–2013) and this will align with existing programmes and focus on building capacity in the region. In 2011 Ofgem reckon that the average home uses 19,800 kWh of energy per year which at September 2014 prices is around ?1,200. We will send these results to you for your records using the email address you provide below.
Results are based on industry guidelines for energy consumption per building type and do not take all factors into consideration. The NHBC Foundation in 2013 didn't come up with one average price but compared Victorian properties with a new property built to 2013 standards. This showed that a Victorian 3 bedroom semi may use around ?1,700 of energy per year compared to a bill of less than half that for its 2013 equivalent. If you can buy a zero carbon home built to a high standard then this figure can fall to around ?450 per year. May 23, 2016 Shielding and Grounding Practices for Control Cables in EHV Substations May 20, 2016 SubscriptionLove to read our articles? We publish, we share and we spread the knowledge.You're welcome to read, write and contribute to EEP in any way!