The B2B Marketing BlogWebbiquity: 1) The unified management of SEO, search marketing, social media, brand management, content marketing and social PR supported by web presence optimization (WPO) metrics. As marketing becomes more data-driven, it's vital to use data to keep up with trends, competitor strategies, and developments in your market.
Okay, that statistic was made up (though probably not far off the mark),A  but the social media and digital marketing facts and statistics below are real (or at least from generally reliable sources). Find the answers to these questions and many,A  many more here in 101 vital social and digital marketing stats for (the rest of) 2013.
Facebook, Twitter and Google+ are the most popular social networks with search engine marketers. Social media users are more social than non-social-media-using-internet-users in real life too: social networkers are 18% more likely to work out at a gym or health club, 19% more likely to attend a sporting event, and 26% more likely to give their opinion about politics and current events. Half of all social media users under age 35 follow their online friends' product and service recommendations. Three-fourths of marketers planned to increase strategic efforts on social media and social networking sites this year, with 68% also focusing more on SEO and 63% on blogs. As universal as business use of social media can seem to be, 26% of companies still block access to social media sites in their workplaces.
70% of brand marketers (and 60% of agency professionals) view social media advertising as more valuable for building brand awareness than for driving direct response.
Email is still the most effective way to reach top executives; 90% say they check their inboxes regularly.
While 31% of businesses overall have no social media policy in place (see above), that is true for only 22% of Inc.
A whopping 95% of small businesses view blogging as an effective marketingA technologyA tool–second only to email marketing. 47% of Americans say that Facebook has a greater impact on their purchasing behavior than any other social network. 48% of consumers who follow brands on Facebook do so in order to take advantage of sweepstakes and promotions. While 75% of internet users over age 45 prefer to share information using email, 60% of those under 30 say the same for Facebook.
This doesn't count as an official statistic, but in the process of collecting 100+ social media stats and facts, only the two above related specifically to Google+.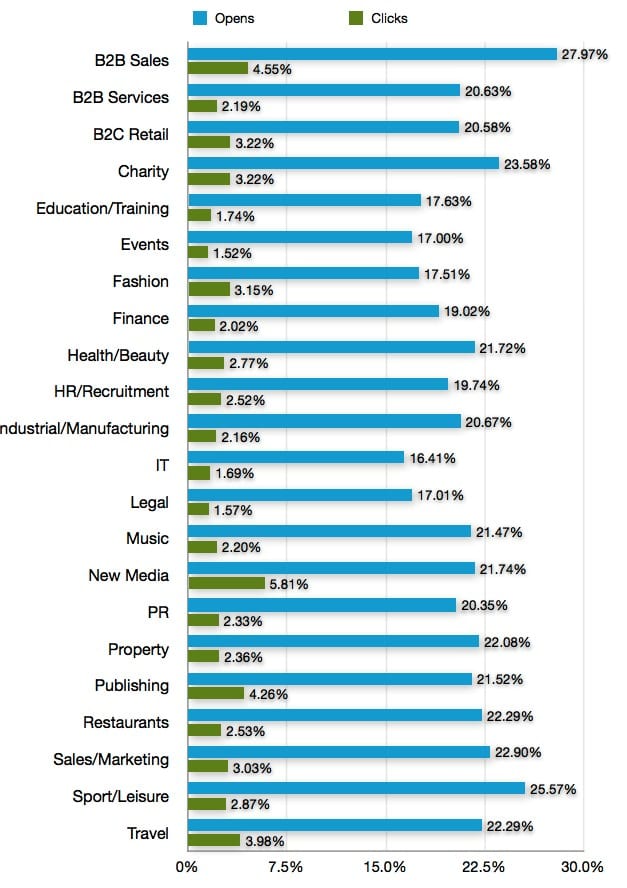 57% of marketers have acquired customers via their blogs, and 52% of consumers say blogs have impacted their purchasing decisions. Blogs are rated by consumers as the third-most influential category of sites influencing purchasing behavior (after retail sites and brand sites) – yet they garner just 10% of social media budgets (comnpared to 57% for Facebook).
Blogs are the fifth-most trustworthy source overall for online information (ahead of Google+, forums, online magazines, brand sites, Twitter and Pinterest). 92% of SEO practitioners say content creation is an effective SEO tactic, and 76% regularly invest in content creation. Marketers spend most of their time producing blog posts, article and guides, social media updates, e-newletters, and news releases; they spend the least on podcasts, polls and surveys. Images are (important!) content too: 94% more total views on average are attracted by content containing compelling images than content without images. Breaking that social traffic down one level, Facebook accounts for 54% of b2b website social media visits, but just 9% of leads; Twitter, on the other hand, provides less than a third of social visits but a whopping 82% of social leads. Another study found an even more dramatic advantage for search, with organic search supplying 40% of all traffic (and Google alone accounting for 36% of visits) to b2b websites, while social media accounted for just 5% of traffic. Remeber when Google first started "hiding" the exact keywords used in organic search, and promised this would only affect a small percentage of search traffic? 71% of marketers say that content marketing has helped inprove their site's ranking in organic search, and 77% say it has increased website traffic. More than three-quarters (77%) of mobile users use their smartphones and tablets for searching and social networking. While mobile marketing is by no means unimportant, it may not justify quite the attention it gets. Asked how their marketing strategies would change in 2013, the largest percentage of marketers (82%) planned to increase their focus on mobile media. The biggest takeaways are in what content marketers can do to be more successful with their content marketing strategy.
As of January 2013, the five largest social networks based on active monthly users were: Facebook (1 billion), YouTube (800 million) and Google+ (343 million) followed by Twitter and LinkedIn with 200 million active monthly users each. Female small business CEOs are 78% more likely to say social media is highly valuable to their firma€™s growth (20.8% vs. 24% say marketing's influence on sales and 16% cite conversion rate as the key metrics.
They are evenly split on the effectiveness of social media for attracting new customers vs. More than half of all Facebook members have used the social network via a smartphone, and 33% use a phone as their primary means of Facebook access. Asked which social media tool had the greatest potential to help their firms, 41% of small business owners chose LinkedIn. That compares to 21 minutes monthly on average spent on Twitter, 17 minutes on LinkedIn, and just three minutes on Google+.
Non-mobile users spend an average of just three minutes per month on the site, and 30% of users who make a public post never make another one. Using photos provides a 37% increase in Facebook engagement and 14% increase in news release pageviews. Organic search accounts for, on average, 41% of traffic to SMB b2b websites, but just 27% of leads. Marketers have a disorted view of the market because while 90% of marketing professionals own smartphones, but half of consumers do. More CEOs chose LinkedIn than chose Facebook, Twitter, YouTube, Google+ and Pinterest combined.
The least popular channels (all with single-digit percentage use) are Foursquare, Instagram, Tumblr and Quora.
And the gap is even more dramatic on Twitter, where 61% of marketers but just 12% of consumers follow at least one brand.
On the other hand, 23% of marketing pros believe that custom apps are most effective at loyalty building; just 7% of consumers agree. In general, marketers become more effective as they gain experience, the findings showB2B marketers allocate 28% of their total marketing budget, on average, to content marketing—the same percentage as last year.
What's the average click-through rate of a link shared on Twitter?A  What tactic do 92% of SEO professionals view as effective? Of these 8% meet daily and 36% meet weekly.11% say they meet biweekly to discuss the progress or results of their content marketing program16% say they meet monthly to discuss the progress or results of their content marketing program8% say they meet quarterly to discuss the progress or results of their content marketing program6% say they meet infrequently to discuss the progress or results of their content marketing program14% say they meet only when necessary to discuss the progress or results of their content marketing programPerceived value of internal content marketing meetings54% say meetings are valuable.