German multimedia specialist MAGIX has revealed the next generation of its flagship audio editor, MAGIX Music Maker 2014. If you like Music Maker's loops, for example, you'll love the extra choice you get this time around: there are 2,000 new loops and sounds with the regular edition, 5,000 if you opt for the Premium.
Both editions benefit from some capable virtual instruments in the DN-e1 analogue synthesizer, Electric Piano and Power Guitar (although you have to download the latter after installation, for some reason). Whatever your source material, some very useful new tools will keep your work sounding its very best. Both Music Maker editions gain the ability to import and edit songs from the Windows 8 Music Maker Jam app, so you can now start work on a tablet, and finish it off on your PC. One problem with all this power is that the already busy interface is now more complex than ever. If you're already a fan, though, MAGIX Music Maker 2014 looks like a useful upgrade, with welcome improvements across the board. MAGIX Music Maker 2014 is a powerful tool for creating professional recordings, without the need to learn any complicated musical theory.
And once you've finished, your project can be burned to CD, saved as an audio file, or published directly to Facebook, YouTube, SoundCloud and more. A new Vocal Tune tool can help you correct off-key notes in vocal or solo instrument recordings, while the Pitch Wizard keeps all your harmonies in tune. Enhanced Windows 8 support sees the program now able to import and edit songs from the Music Maker Jam app. As before, it comes in both standard and Premium editions, each of which sees some worthwhile gains with the new release. The Premium version also gains the very retro Vintage Organ, while its new Pop Brass caters for all trombone, trumpet and saxophone needs. The ProAudio-based Vocal Tune can correct off-key notes in vocal or solo instrument recordings with a click; the Pitch Wizard helps you choose the best pitch for your project, and Music Maker's Auto Mastering uses some well-chosen presets to deliver the right sound in seconds. And Music Maker 2014 further prepares for the future with a newly touch-optimised interface, which includes resized and repositioned controls, as well as gestures for scrolling, zooming and more.
Choose a style (Dance, Metal, Chillout, Rock Pop and more) and instrument, click a few loops, and drag and drop whatever you like onto the Arranger.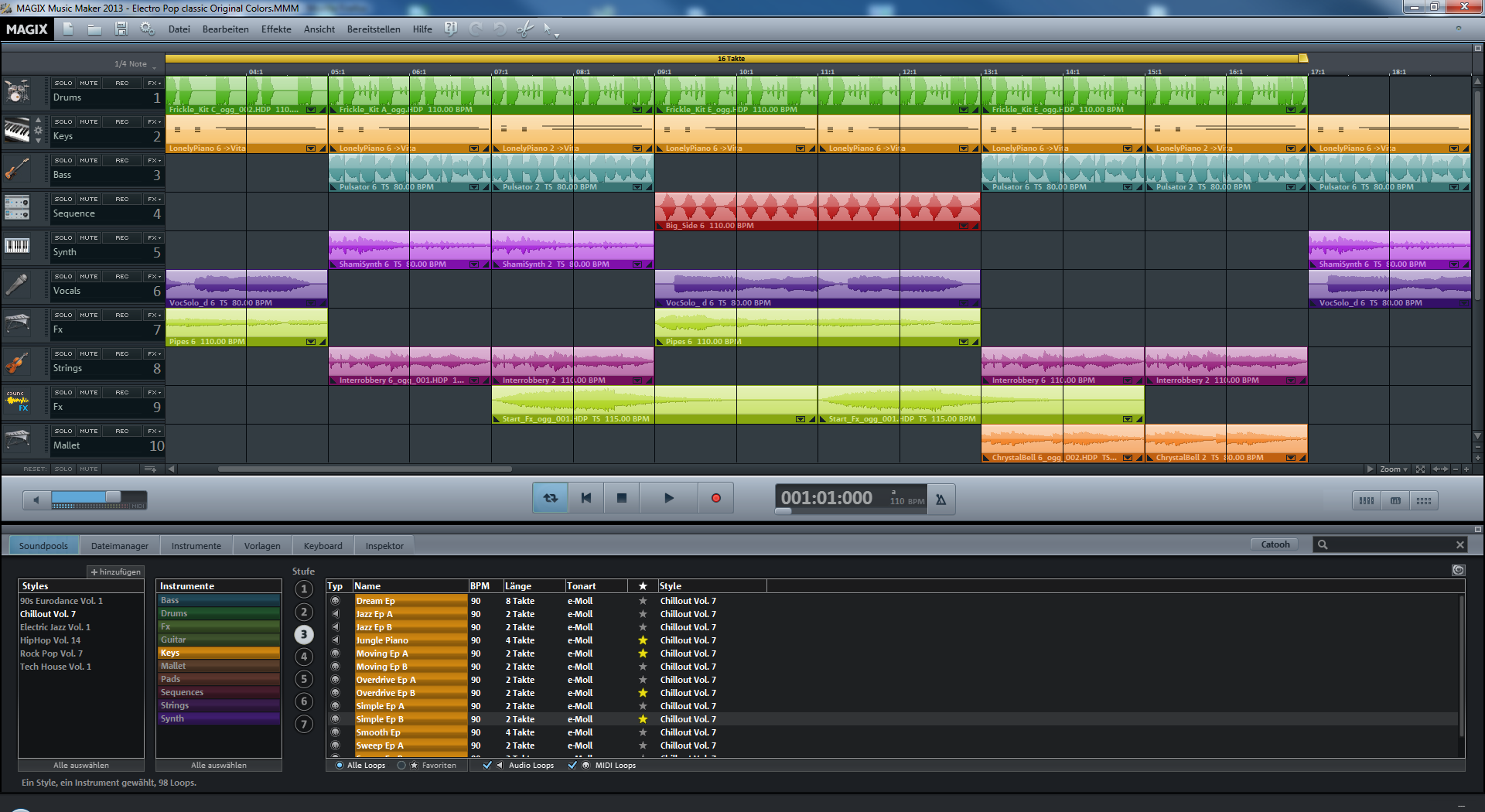 VST supports helps you add new instruments, there's quality sound recording, an integrated MIDI editor some excellent studio effects, versatile remix tools and a whole lot more. And the program can now be controlled from a touch screen, complete with new gestures for scrolling, zooming and more. Whatever you use, MAGIX Music Maker 2014 automatically adjusts the tempo to ensure everything fits properly. Again, the program will analyse the tempo of your songs, and you'll then be able to create your own custom remix. But if they aren't enough, then you can get creative with some great new virtual instruments - Power Guitar, and Electric Piano - as well as the extremely versatile DN-e1 Synthesizer.
A huge selection of professional studio tools and simultaneous multitrack recording of instruments and vocals make everything possible and leave nothing to be desired.