17.01.2016
Discover how to create an Andy Warhol-style multi-image pop art picture to inject some colour into your dull portraits.
Sign up below to get the latest from Creative Bloq, plus exclusive special offers, direct to your inbox! Creative Bloq is part of Future plc, an international media group and leading digital publisher. You can unsubscribe at any time and we'll never share your details without your permission. First you'll use the Threshold option to strip down your original shot to a black-and-white comic book-style image, with no middle grey tones. Threshold can also strip away facial features - great for a pop art picture - but you'll also use a Stamp filter on a duplicate layer to bring back more detail to the eyes and mouth, and then use Layer Masks and the Brush tool to reveal these individual elements. This is an added bonus of pop art images: you can use images that would otherwise have been discarded.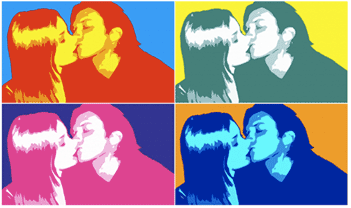 Now use the Lasso tool to draw around the eyes and mouth, holding down Shift to add to your selection each time.
Click the half-moon icon on the Layers palette, and select a Solid Colour Adjustment Layer. To tidy the edges, use the Brush tool (press B) to paint over your Layer Mask to reveal detail beneath. Keep drawing until you reach your start point, and click when two small circles appear to complete the selection.
Blend and brush Use the drop-down menu in the Layers palette to set the Blending Mode to Multiply, revealing the hair outlines underneath. Don't worry if your selection isn't neat - pop art should look a little uneven!
Repeat as before; create a Solid Colour Adjustment Layer, choose a pink, press OK, set Blending Mode to Multiply, adjust Opacity if necessary.
Ol' blue eyes To turn the eyes blue, zoom right in (Ctrl and +) and use the Lasso tool to draw around the iris of each eye. Then repeat the steps above to turn them blue, dropping Opacity down for more realistic look, and again use Brush tool on a Layer Mask to tidy up any spilt ink!
Then use the Move tool to drag-and-drop your new pop art picture on to the blank canvas space on popart3.psd.
Move the images around on the canvas (highlighting the correct layer) so the images are in the best order and with no similar colours next to each other.
This tutorial first appeared in Portrait Photography Made Easy - a bookazine from the makers of PhotoPlus.