Introduction Microsoft SharePoint is a platform for building and deploying collaborative solutions.
It is a centralized Web portal that tracks content and documents as well as users, audiences, and teams.
Enterprise) and options (Excel Services, Content Management, etc.), and runs on top of SharePoint Foundation 2010. It also has different and more extensive User Profile management features than SharePoint Foundation 2010. SharePoint Foundation 2010 is a logical three-tiered architecture that contains a Front-end Web Server, the Search and Index server, and the Database Server. SharePoint then presents the information to the user in the standard HTML format compatible with most Web browsers. When SharePoint Foundation 2010 is installed, it creates a configuration database that stores the metadata, physical configurations, and information about every Web application that has been extended, as well as all the servers and their roles in the farm.
SharePoint Foundation 2010 also creates an Admin database that stores the content of the Central Administrator toll.
And for every extended virtual server, SharePoint Foundation 2010 creates a Content Database that stores the actual content of the sites. In a large or medium farm provision, you can assign multiple cluster databases on the back-end and install a load balancing architecture for the front-end Web server as shown in Figure 3 above. Note that there is only one Configuration database for the entirety of the SharePoint servers in the farm.
This is a collection of application services that can be configured on one or more servers and shared across many different SharePoint Server 2010 and SharePoint Foundation 2010 sites.
The services on these servers include enterprise level applications such as Search, Index, User Profile, My Sites, Business Connectivity Services, Form Services, Excel Services, Job Scheduling, and Usage Reporting. Unlike SharePoint 2007, these services now manage information using their own databases which can be scaled independently. Web applications map to one IIS website, which can consume multiple SharePoint Service Applications. This section will focus on the Authentication process, which determines how a user's identity is verified before allowing access to SharePoint sites.
This mode allows SharePoint to work with a variety of identity management systems, including externally defined groups or roles such as Lightweight Directory Access Protocol (LDAP) and lightweight database (SQL) identity management systems. Classic mode authentication only supports the Windows authentication, in which all user accounts are treated as Active Directory accounts. It is a feature, based on Windows Identify Foundation, that establishes the authentication foundation which allows SharePoint to move into cloud platforms such as Azure. As you can see from the table above, there is no practical reason to use classic mode authentication in SharePoint 2010, unless you are migrating from SharePoint 2007 and need some backward compatibility. When using claims-based authentication in SharePoint, you should be aware of the following considerations: You can convert a Web application that uses classic-mode into claims-based authentication mode using PowerShell, but you cannot convert it back the other way.
It is the system that keeps the user information and also provides access permission to a SharePoint site.
SharePoint Zones represent different logical paths to gaining access to the same physical application. After extending the Web application, you can configure a separate authentication method for the new zone.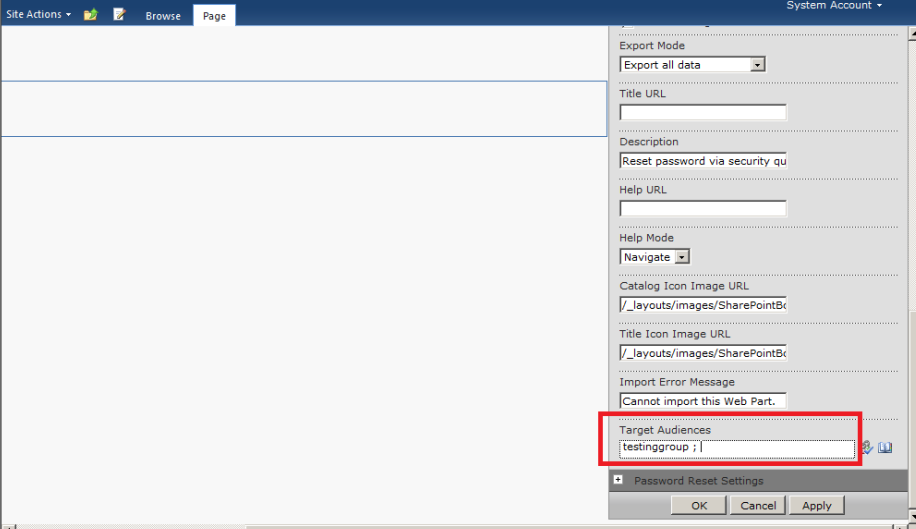 The avalable zones are: Default zone, Intranet zone, Internet zone, Custom zone, and Extranet zone. For example, if a user is a member of the authentication provider that is configured for the default zone, SharePoint Foundation first checks the associated membership provider. The following table highlights several common user account tasks that differ depending on the authentication method that is implemented: Note also that SharePoint Server 2010 does NOT provide any user management functionality.
SharePoint Server 2010 provides a User Profile database and has many people confused between User Management vs. SharePoint Foundation 2010 has a People and Groups feature that keeps track of user information.
This is a one-time sync between the User Directory Provide to the SharePoint Foundation 2010 database. SharePoint Foundation 2010 will try to map as much information as is in the UserInfo table from the User Directory Services when this happens. SharePoint Server 2010 has a Profile Database that is stored in the User Profile Service Application database. You can define properties and set various policies on how data are imported from various user directory services. Remember that this service application is independent of any front-end Web App, thus it can manage the users within a farm that has multiple Web Applications. But when you view information in a My Site, that information comes directly from the User Profile Services Application database. If you update a user profile in SharePoint Server 2010, there might be some delay in propagating this information from the User Profile database into the UserInfor table (sometimes the timer job also stops working altogether) and thus creates lots of confusion. If you edit MySettings at a SharePoint site collection, it will actually edit the user profile information in the User Profile Services Application database. Again, note that this info will get overridden every hour by what sits in the User Profile Services Application. In SharePoint Server 2010, My Sites are special SharePoint site collections that surface the user profile information and are personalized for each user. You will need to set up a My Site site collection under the User Profile Service Application in order to configure its various options. The reason that site personalization is stored in the service application is so that larger organizations that have multiple Web Applications and Portal sites can reference ONE personalization site. This way, if the user is re-imported back in at a later date, some information, such as Document Libraries and the new My Site can be reinstated. Meaning that another primary user authentication provider such as Active Directory or LDAP has to be setup as the primary source before you can use BCS. This has implications in cases such as when you use a SQL Form as your primary authentication provider, in which case you will not be able to set up the automatic import from that source. With the latest release of SharePoint Server 2010, permissions are handled strictly at the SharePoint Foundation 2010 platform level. SharePoint Foundation 2010 provides 33 pre-defined permissions that you can use to allow users to perform specific actions that are grouped into 3 main categories: List, Site, or Personal. Permission levels allow you to group permissions and apply them to users and SharePoint groups on the various sites in your SharePoint installation. It is used when you assign the users or groups to a child object without having access to the parent object.
Each site contains additional securable objects which have a particular position in the site hierarchy, as shown in the following figure. However, you can break this inheritance for any securable object at a lower level in the hierarchy by creating a unique permission on that securable object. For example, you can create a sub-site (Web) and break the permission inheritance from the parent if you want to limit (or expand) the group of users who can have access permission to the site for security reasons. When you break the inheritance from the parent, the securable object from which you broke the inheritance receives a copy of the parent's permissions. You can then edit those permissions to be unique — meaning that any changes you make to the permissions on that securable object do not affect the parent. This means that changes made to SharePoint groups and permission levels on the top-level site also affect all of those sub-sites.
When you make any change in sub-sites A, B or C, you are actually making changes at the parent site, since SharePoint does not allow you to manage permissions on a sub-site that is inheriting permissions from its parent site.
When a user is added to the system, you can assign direction permissions to a securable object (Web, list or library, etc.) or indirectly through a SharePoint group. Use a SharePoint Group, which is the recommended practice when managing security since it's easier to manage changes, and apply the same group to different objects across your sites.
Audience targeting refers to the ability to create an audience based on a specific set of rules and then target content to that specific audience.
You can target specific contents such as a SharePoint list, library items, navigation links, and Web Parts to a specific group of people. This is a feature that does not affect the internal operation of SharePoint Server 2010, and is disabled by the default installation program. SSS is a database created in SharePoint Server 2010 to keep and manage a set of user names and passwords that can be used to access specific external systems that require access authentication.
Additional information can be found in various books and online articles, some of which are listed in the reference section below.
Given the complexity of managing users in SharePoint, Bamboo Solutions has provided several Web Parts that are very useful in helping you keep the situation under control and create a happy and productive work force. Check out these products on Bamboo Solutions' website, each of which is available for a 30-day free trial: User Account Setup Web Part. Quickly and easily create new users in both Active Directory (or NT) and SharePoint from one location, saving IT Administrators time and effort. Allow SharePoint users to reset their Active Directory or NT password without administrator intervention. Alleviate the workload of SharePoint Administrators by allowing users to change their own passwords while automatically adhering to your security policy.
Synchronize user profile information between your SharePoint Directory and Active Directory databases.