The pleasure of My Secret Hotel stems from the characters and situations both capturing my fancy so that I care what happens to them. Sang Hyo gets up to use the bathroom and lets out a blood curdling scream upon seeing the dead Young Mi in the bathroom. The next thing she knows, Sang Hyo wakes up in the hotel infirmary with Eun Joo sitting beside her. Sang Hyo changes and Eun Joo drags her to a press conference assembled in the marketing department. Up in the honeymoon suite, the room is cordoned off as a crime scene and Detective Kim is leading a CSI team to gather evidence as Young Mi lays dead in the tub still. Sang Hyo is being called a Cinderella by the reporters since she was adopted overseas and ended up married to the third son of a chaebol family. Eun Joo fairly tosses Sang Hyo in Hae Young's car and warns her to go through with the honeymoon since the reporters are expecting them to take it. Sung Gyum is still at the resort runs into the lady who mistook him for her husband Gong Min oppa. Sang Hyo is grumbling during the car ride about how she got turned into a Cinderella while Hae Young gets to be the Prince.
Sang Hyo asks how she fainted yesterday and Hae Young's flashback shows us that he ran to the bathroom after hearing Sang Hyo scream. Detective Kim wraps up the crime scene investigation and has Young Mi's body carried out. Gi Chul is sobbing in the event planning office about Young Mi dying so soon after Manager Hwang. The hotel employees are all gossiping about Young Mi's death and some claim to know who the murderer is but play coy for now. Sung Gyum plays with the heart shaped rock and almost loses it when two kids bump into him.
Sang Hyo is complaining all the way into the hotel about how her luggage is so heavy and big. The newlyweds arrive at their suite and Sang Hyo asks Hae Young to follow the rules of their pretend marriage. Sang Hyo grabs her luggage to unpack and unzips the suitcase to find it full of sexy lingerie. Sang Hyo gets curious about his reaction and pushes him off the suitcase to open it and find the inside full of male virility enhancers. Sang Hyo discovers a bottle that looks like medicine as Shi Chan tells the rest of the coworkers that he put a bottle of viagra in the suitcase.
The two of them end up on the bed with Hae Young on top and they just stare at each other like that. The resort manager reports to Sung Gyum about how their resort has higher occupancy then the nearby hotels. Turns out Soo Ah has her credit cards cut off so she remembered this resort was booked for the honeymoon so she came not expecting Hae Young to bring a substitute bride here.
Sung Gyum arrives outside Hae Young's hotel room just as Sang Hyo is sick of being called a substitute and is ready to leave. Sung Gyum can hear Hae Young and Soo Ah fighting inside the hotel room with him trying to make Soo Ah leave but her refusing to go. Sang Hyo takes a walk through the resort and snaps a selca to remind herself not to forget the embarrassment of today.
Eun Joo hears the sound of a woman crying which naturally freaks her out as she runs through the hotel in the darkness.
Hae Young and Sang Hyo are camping in the resort since he can't get rid of Soo Ah from the hotel room. Hae Young asks if Sang Hyo is fine sleeping alone since there are bears and rats around out here? Soo Ah is crying in the hotel room upset that her boyfriend left just like she told him to. Soo Ah engages Sang Hyo in girl's talk and asks whether Sang Hyo thinks her Hae Young oppa is as perfect as Soo Ah sees him? Soo Ah admits she's envious of Sang Hyo, if Sang Hyo liked Ki Ho then no one would think it weird. The cops go watch the CCTV footage from outside the honeymoon suite and discover that 51 minutes of footage was deleted from the time Young Mi entered the honeymoon suite and when she died.
Sang Hyo gets dressed quickly in the morning which earns Soo Ah's admiration for her not needing to worry about what to wear every day.
The bellboy hands Sang Hyo the congratulatory card from Sung Gyum meant for Hae Young and Soo Ah which alerts her to Sung Gyum's presence at the resort. Detective Kim goes out to the hotel courtyard to talk with shift leader Kim about who he believes is the murderer. Eun Joo takes the reporters on a tour of the honeymoon suite which has been all cleaned up.
Sang Hyo hides behind a beam in the resort driveway watching Sung Gyum's car drive off. Sang Hyo is done with this farce and is about to storm off when Sung Gyum walks up and asks what she's doing here? I love this drama so damn much even if it makes as much sense as Santa Claus hosting a luncheon for the Tooth Fairy. I was surprised to see Soo Ah pop up at the resort but clearly her character isn't getting written out of the drama just because she eloped. Btw is the resort also where they filmed Secret Garden for the part when the martial arts Sch did their retreat or something?
One is too passive and the other too aggressive, maybe that's one of the reasons the whole thing blew apart in the first place. I am getting second lead syndrome so bad right now, especially after that tie scene in the last episode. Sang Hyo and Hae Young are explosive around each other, couples like that either have a love story of the century or crash and burn. Sung Gyum asks Sang Hyo to date officially which leaves her surprised and unable to answer him right away. A car comes barreling past and Sung Gyum pulls Sang Hyo into his arms and out of harms way. The three minutes is up and Sung Gyum tells Sang Hyo to go inside and he'll take it as he heard her answer, whatever it will be. Flashback to Sang Hyo meeting Hae Young as she was a waitress and dumped a plate of pasta all over him. The three are dragged to the police station and proceed to bicker about why the one guy insisted on going to the hotel to look for Manager Hwang which is why they are suspects now.
Sang Hyo is congratulated at work for getting Gu Hae Young's wedding back on at the hotel. Hae Young keeps remembering scenes of Sang Hyo with Sung Gyum and his morose attitude during work confirms for his staff that he's depressed about his male impotence. Sang Hyo chats with GM Lee and takes the chance to ask if he's ever loved a woman before? Sang Hyo runs to catch the elevator that Eun Joo purposes doesn't hold for her but the door opens with Sung Gyum standing inside as well. In hiding from Eun Joo, Sang Hyo runs into the sleazy Vice GM harassing another young pretty employee.
Detective Kim arrives looking for Guard Cha and finds himself caught between the running away Sang Hyo and the chasing Eun Joo.
Detective Kim drags the Vice GM to the precinct for questioning while Gyung Hee and Sang Hyo look on wondering if he could have killed Manager Hwang. Gyung Hee and Young Mi are going wedding dress shopping with Soo Ah who doesn't want to wear the wedding dress from the last ruined wedding. Gi Chul is gossipy with his event planning colleagues about the Vice GM being dragged off to the police station for Manager Hwang's murder investigation.
Guard Cha reports to GM Lee that the police are directing their investigation towards the Vice GM so he doesn't need to worry about anything. Sang Hyo and Gyung Hee are presenting new wedding ideas to a completely uninterested Hae Young who tells her to do whatever she wants. Hae Young stares at Sang Hyo who starts tearing up and she tells him that wedding failed so that's why it needs to be done right this time.
Hae Young looks so devastated seeing Sang Hyo leave while she's sobbing as she walks through the hotel.
Sang Hyo admits to Sung Gyum that she was married 7 years ago but got divorced 87 days later. Hae Young sees Sang Hyo walking through the parking garage and is about to call out to her when he sees Sung Gyum walk up behind her and open the car door so she can get into his car. Sung Gyum drops Sang Hyo off at home and asks her to not treat him like an idiot again and keep things to herself.
Shi Chan finds Hae Young drinking alone and asks for his wallet so he can pay the bill first before drinking with Hae Young. Soo Ah is sitting in the car with the driver and insisting on spending the night with him before she gets married and can't see him anymore.
Sang Hyo leaves for work in the morning and senses something and looks around before telling herself to snap out of it.
The wedding begins with a reluctant Hae Young standing at the front of the altar and then Soo Ah enters the ballroom and walks towards him.
Turns out it's just a dream and Shi Chan wakes Hae Young up from the conference room table. The hotel staff sets up the ballroom for the second go-around of the wedding while Sang Hyo quietly supervises from the sidelines.
Hae Young arrives at the hotel and encounters Sang Hyo in the lobby as he walks to his room.
They turn their backs and both say a mental final farewell to the other person before walking away from each other. I'm so happy that Hae Young and Sang Hyo calmly moved on, or at least tried to and seemed to succeed at the end of this episode.
This episode remained slower on any reveals about Manager Hwang's murder, which actually could be a different person who stabbed him with the ice pick and another who the next day tossed him down the hotel ballroom glass ceiling. HY and SH burned my screen by just being together, i have no idea what will happen when they have their smexy scenes (squeel).
I admit that Nam Goong Min looks really good in this drama and his character does have some pretty nice moves. In any case, I just don't feel any passion or sincerity in the nice things he says to Sang Hyo. I find the pace of the story moving too slowly and it remains me too much of Emergency Couple without the excitement.
Having said that I do love SY's wardrobe and I have been paying attention to all her outfits. It's rather unheard of to suddenly have a new favorite character(s) in a drama arrive late in the game such as in episode 12 of My Secret Hotel, and in the form of formerly barely there side roles. Hae Young pleads with Sang Hyo to once again pretend to be a happily married couple with him in front of his parents. Sang Hyo calls work to take a few days off, citing personal matters she needs to take care of. As Sang Hyo busies herself packing, Hae Young sits down on the bed and casually asks if Jo Sung Gyum ever spent the night here? Hae Young's parents are grumbling about why he insisted they come to his place tonight.
Hae Young thinks to himself that he has one week and he will use that time to bring Sang Hyo back to him. Sung Gyum walks into the event planning department looking for Sang Hyo and hears that she took the day off for family matters. Hae Young has movers helping him do slight redecorating around the house including hanging his wedding picture with Sang Hyo up. Sang Hyo checks out Hae Young's bedroom and announces that during the week his parents are staying over, she will sleep on the bed but he has to sleep on the floor.
Sang Hyo makes Hae Young call in a mobile truck to disinfect the mattress which leads the guy ask if the couple has kids who are allergic. Detective Kim arrives to meet with Sung Gyum and hears from Simon that Sung Gyum isn't in presently.
Guard Cha reports to GM Lee that Detective Kim is presently meeting with Sung Gyum to ask him about Young Mi. Shi Chan gets a call from Hae Young asking him and the rest of the team to hold down the fort as he won't be coming to work today.
Shi Chan is about to dig into work when Jung Eun arrives looking for Hae Young and is upset to hear that he's with Sang Hyo now. Sang Hyo burns her hand on the food in the microwave and Hae Young immediately tends to her wound. Hae Young's parents arrive and are about to ring the doorbell when they near the newlyweds inside. Eun Joo suddenly arrives and acts like she previously had a dinner date already with Sung Gyum.
Hae Young and Sang Hyo sit down to dinner with the parents who are good natured and chuckle over the spread which is not very well made. Soo Ah acts all tipsy after dinner and wants to ask Sung Gyum to drive her home but Eun Joo preempts her by having already called a car for her. Sung Gyum thanks Eun Joo for saving him from an awkward dinner and for helping it end so quickly.
After dinner Sang Hyo is peeling apples in the kitchen while Hae Young stares at her all besotted.
Hae Young gets serious and tells Sang Hyo that he likes this very much, he likes being able to hold her in his arms, he likes being able to restart with her again. Flashback to the married couple sleeping in the same bed with Sang Hyo being all aegyo for the sleeping Hae Young to turn over and face her. Flashback shows a wide awake Sang Hyo tossing and turning in bed until she burrows into Hae Young's arms as he sings her a lullaby. In the present Hae Young offers again to sing her to sleep but Sang Hyo declines and turns around claiming she's sleepy already. The detectives grab a meal together and Detective Kim goes through his earlier interview with Sung Gyum when he asked directly if Sung Gyum killed Young Mi.
Detective Lee suggests they just get out an arrest warrant for Jo Sung Gyum but Detective Kim chides him for jumping the gun. Hae Young and Sang Hyo stand outside in front of the new car which doesn't make Hae Young happy because he wanted to drive Sang Hyo to and from work. Sang Hyo tentatively drives off while the parents smile as they discuss how Hae Young is dead serious this time about Sang Hyo. Sang Hyo grumbles about why Hae Young is hitching a ride with her and he is worried about her driving skills. Sang Hyo pulls into Secret Hotel and a freaked out Hae Young gets out feeling like he almost died back there. Sang Hyo lowers her head like an errant child which upsets Hae Young that Sang Hyo looks so guilty.
I have a hefty reserve of patience for characters I like in dramas, and with Hae Young and Sang Hyo the initial goodwill made it so I was okay with their protracted back-and-forth which sometimes was entertaining while other times pointless. I thought the OTP scenes in this episode were sweet only in the context that we see they are clearly still into each other. I too wish by next episodes she makes up her mind.its not fair she is playing 2 man feelings whether she realize or not.
Effectively kidnappping a woman and trying to control her physically and emotionally is not romantic, it's criminal, very literally criminal. These last two episodes were a trial to watch and merely served to compound my frustrations with this show.
I had hoped initially that the writer would spend more time developing the murder mystery ala Agatha Christie (which would have been a refreshing change to see in a k-comedy) and less time on the romance part of the plot, but now the writing seems to go the typical plot of most kdramas which is quite tired and tiring. I love the leads and will still stick around to watch them, but I can't help hoping for more dynamic writing than the usual face off between the male leads. Since the obvious murder suspects are Sung Gyum and GM Lee, I guess it's probably not them.
I also think that the murderer is not SG or GM Lee since they make them as obvious suspects. I want to start off this episode 4 recap of My Secret Hotel by saying a thank you and a fare thee well to screenwriter Kim Ye Ri.
Second male lead Sung Gyum has rocketed up the competition chart and now sits nearly neck in neck with Hae Young in being a viable love interest for our cute intrepid heroine Sang Hyo.
Detective Kim pays Hae Young a visit to inform him that his missing wallet was found at the crime scene on the body of the deceased Manager Hwang.
Sang Hyo is working in the office when her colleagues notice that she placed a white memorial flower on Manager Hwang's desk.
Detective Kim suggests that Hae Young either dated Sang Hyo in the past in the US or here in Korea, either way Manager Hwang knew about it and was blackmailing Hae Young.
Hae Young explains he met Sang Hyo 7 years ago in Las Vegas and they got married on a whim but never registered the marriage which didn't last three months. The broken ceiling window in the ballroom has been repaired and Sang Hyo is overseeing a team setting it up for another event.
Soo Ah immediately apologizes to Sang Hyo for hitting her that day and explains it was really out of character likely because a dead body fell through the ceiling. Sang Hyo sits in the courtyard and looks at the cancellation contract and thinks to herself that she doesn't have a reason to see him again.
Detective Kim hears that none of the CCTV footage caught anything that would help them crack the case.
Detective Kim sits with each of the employees to ask their alibi for the time of death of Manager Hwang. Young Mi is all tears when Detective Kim questions her and he asks if she's close with Manager Hwang.
Gi Chul is a nervous wreck during his questioning with his legs twitching and even spilling a drink.
The event planning staff discuss back in the office about how Detective Kim asked each of them for an alibi like he suspected one of them. Sang Hyo sits down across from Detective Kim and tells him to ask anything and she'll answer.
Sang Hyo wonders why he's not asking for her alibi and Detective Kim declares that she was with Director Jo that night during the time of the crime. Detective Kim stops Guard Cha in the lobby to ask him where he was during 10 pm and midnight.
Sung Gyum sends assistant Simon back to finding old employees who worked in 1984 but have left to ask what they know about the past.
Sung Gyum bumps into Sang Hyo in the elevator and his poker face immediately breaks into a small smile.
Eun Joo runs into Guard Cha and asks him to bring the entire security team to take part in the marathon to raise money for runaway teens.
Sung Gyum toasts Sang Hyo while Eun Joo compliments Sung Gyum on his necktie and declares that she gave it to him when he started the job at the hotel.
Eun Joo tries to encourage Guard Cha to like Sang Hyo and suggests her bumbling ways would be his style.
Eun Joo asks Sung Gyum for a ride home and he pauses to look at Sang Hyo who wants to take a bus home.
Turns out Sang Hyo wants to have ramyun with him at the convenience store and Sung Gyum mutters that he feels like it was a bait and switch moment. Sang Hyo walks into her apartment and immediately gets a call from Sung Gyum wanting to make sure she's alright and not scared. Hae Young is supervising a construction project and reminds his foreman to pay close attention to the details and then calls a delivery of food for the workers. Sang Hyo is delivering all of Manager Hwang's personal effects to the detectives and hesitates before suggesting that Manager Hwang may have killed himself. Sang Hyo is shocked to hear that Hae Young is a suspect and walks out of the precinct to wait outside.
After he walks out, Detective Kim orders the phone records pulled to see who Manager Hwang called the night he died. Hae Young gets in his car and Sang Hyo freaks him out when she climbs inside his car wrapped in a headscarf. Sang Hyo sits on the park bench and uses the backscratcher to keep Hae Young from sitting down beside her. Sang Hyo is about to bring Manager Hwang's personal effects up to GM Lee when both Gyung Hee and Young Mi offer to do it. Jung Eun sits in a cafe and declares that she will show Sang Hyo what her rage tastes like if Sang Hyo insists on staying near Hae Young. Eun Joo is freaks out when she hears such bad PR being spread about their hotel via the the Wedding magazine where Jung Eun works as a reporter. Hae Young's agency is also having all its phone ringing off the hook to ask about the body falling during his wedding. Sang Hyo offers to hand in her resignation which upsets Sung Gyum and he asks if this is the way to take responsibility for this bad news. Hae Young is working late at the office when he finds Sang Hyo purposely crooking all pictures on his office lobby wall, which we all know is to rile him up since he has OCD and fixes crooked pictures as he did when Jung Eun came by the office last time to talk with him. Detective Kim is so hilarious in his dead pan investigation and wins kudos for being quite an good detective despite acting like a weirdo most of the time. SH is a citizen of the US because she was adopted; so in the US she is legally married to HY abandoned or not.
HY says to police they got married and split within 3momths, there is no marriage because they didn't register. So my question is, shouldn't SH consider herself legally married, but separated having been raised as an American woman? Even in Las Vegas the couple still needs to get a marriage license for the vows to be legal. Can't wait to see how the OTP gets back together but like you said, a little kissing between SG and SH will serve as a delightful distraction while they take the time iron out unresolved issues. I have just started on this drama since before, my free time only allowed me to follow FTLY and MND. His biggest role to date was Tal Tal in Empress Ki, supposedly guy3 but seriously stole the entire drama.
I like the mood and pacing of this show, so it's a pity that the main writer will be changed.
The story line is all sorts of haphazard and preposterous but works nicely as a murky backdrop filled with secrets and danger. This is a man who was about to walk down the aisle with another woman and then turned around and asked her to marry him. She immediately asks about Young Mi and Eun Joo claims Young Mi is working right now and whatever Sang Hyo saw must've been just a dream. Eun Joo deposits Sang Hyo besides a waiting Hae Young and asks the reporters to be gentle with the bride in asking questions since she's not feeling well.
He helps her look around the yard for a rock shaped like a heart that supposedly will make love come true.
He notices the name tag in the room congratulating Nam Sang Hyo and Gu Hae Young on getting married.

Gyung Hee worries how Gi Chul will react if she dies as well and Gi Chul tells her not to say stuff like that. The Vice GM is especially certain he knows who the murderer is and plans to clear his name. He's relieved to still have it and decides to believe in the love fate with the rock.
She got married for the sake of the hotel and him to not be publicly embarrassed so during this honeymoon he can't cross the line with her. Hae Young is about to ask to start over again when the someone knocks on the door and ruins the moment. She's all ready to throw hugs at Hae Young who avoids her embrace and asks why she's here? Sung Gyum is informed that Gu Hae Young and his new wife have checked in and he goes to greet them. Hae Young tells Soo Ah to leave but she refuses and wants Hae Young to take his substitute bride and leave. Hae Young goes to grab her back and Sang Hyo just misses seeing Sung Gyum walking up to the room. He tells her to stop getting all physical and just talk to him but she gets all handsy again claiming that he never listens. She flashes back to running into the honeymoon suite to see Hae Young carrying an unconscious Sang Hyo out and telling her to call the police because there is a dead person in the bathroom. She bravely follows the sound of the crying voice and finds Jung Eun sitting in the event planning department crying. Hae Young is clearly enjoying the time alone with Sang Hyo and asks if she doesn't think the mood is really nice right now.
That gets Sang Hyo's attention and she quickly runs out of the tent screaming for Hae Young. He's smart and handsome and rich, and since Soo Ah was small she always wanted to marry Hae Young oppa. He asks Guard Cha what happened and hears that the murderer must have entered the records room to delete the footage. He puts it down to write a congratulatory card for Hae Young and Soo Ah on their marriage and asks the bellboy to deliver it to their room.
Shift leader Kim claims the killer is PR Manager Eun Joo because he saw them arguing and Eun Joo threatening Young Mi. She's a tad nervous to show them the bathroom where Young Mi dies but steels herself to go inside with the reporters. She feels so apologetic to him knowing that he'll find out she married Hae Young once he gets back to the hotel.
As Sung Gyum drives off he keeps thinking about the legend of the heart shaped rock and how it brings love to the person who finds it.
She brings up how Hae Young's first marriage was with a horrible woman, she was not of the same class as Hae Young and worse yet was a big flirt. Hae Young doesn't know what's gotten into her as Sang Hyo demands to know how he dares to call her a shameless flirt who got together with other men! Sang Hyo stares between Sung Gyum and Hae Young as the two men give each other a very territorial stare.
It's hilarious that Sang Hyo spent the entire episode not knowing that Young Mi was dead. A terrible marital break up leads to her crossing paths with him 7 long years later when he's marrying another woman. Can't wait for them to solve the murder mystery and for cute shenanigans between the newlyweds! I think SH was prob feeling lousy abt the whole marriage cos everyone was talking down to her like she was second class and all. I'm almost tempted to say I want them to create a twist where she gets closure from the first marriage and moves on with the second lead. He jokes about giving her three minutes to answer and then notices that her phone is ringing.
Hae Young is in the car and freaking out about his decision to drive by Sang Hyo's place leading to the excuse for skinship back there.
As Sang Hyo walks up to her apartment, Sung Gyum offers to give her three days to respond and he looks forward to what she will say. It was really love at first sight and they way they stared at each other is sooooo heartstopping.
The tattooed one tries to make a run for it but is no match for Detective Kim who stops him and reads him his rights following by a smile and wink.
Jung Eun arrives to show off her sexy long legs to Hae Young in an attempt to confirm whether he really has problem getting it up.
She's looking for advice on how to forget someone and move on but leaves before discussing it any further with GM Lee. He finds Guard Cha and heads to the security surveillance room to hear that the recorded footage is moved to the records room where Director Jo, GM Lee, Vice GM, and Guard Cha has access to the room.
Young Mi snarks about how much money she must have to toss the an expensive wedding dress like that and Soo Ah sneers that she can afford it.
He insists that the hotel is ruined if the reason comes out and then makes up bullshit about how a pretty female employee tried to entice him with her pert derriere and Sang Hyo saw it and told him it was recorded on the surveillance cameras. GM Lee looks at his phone and sighs, he thought getting rid of one Hwang Dong Bae would solve everything but more problems have turned out.
She gets up to pour him a cup of coffee and tries to compose herself by the reminder that this man is marrying another woman. He takes back what he said about waiting for her response and he will also act like he didn't hear her asking if he wants to date her.
Sang Hyo sees Hae Young looking at her from inside his car and lowers her head as Sung Gyum drives off. He's about to ditch Hae Young but sits down for one drink which he immediately spits out when Hae Young asks him to spend tonight with him. When she turns off her lights, he says good night to her the same way Sung Gyum did earlier. We see Hae Young hiding behind the wall staring as she walks off, clearly having stood out there all night.
Shi Chan has to remind him that it's his wedding day which Hae Young calls the day his nightmare becomes a reality.
Gyung Hee notices Sang Hyo seems off and assures her that the wedding will go off without a hitch and not to worry. They needed to do this so that they can get to the next step, all those near tears and comfortable bickering around each other does them no good unless they actually discuss what went wrong and what they want from each other. The three gambling thugs are probably innocent though they serve to show us how unsavory Manager Hwang is. And SH would tell him that whatever her feelings are have no bearing on the fact that he has apparently moved on cos he's getting married! He seems so cold and mechanical in his conversations that I can't help but think that he has ulterior motives. But most of the time he gives off a strange vibe like he's not being completely honest with her.
It manages to have an intelligent, classy and fun female lead and equally fantastic male leads plus interesting side characters with their own stories.
But he follows it up by continuing to be immature when it counts in trying to win Sang Hyo's trust through everything except telling her the truth about why he left 7 years ago abruptly.
His dad needs to see him happily married before he'll agree to have life-saving surgery for his illness.
She grumbles to Hae Young why she needs to take time off work when she can just meet his parent tonight after work?
Sang Hyo initially wants to say no but decides to milk it and act all sultry before saying both of them are adults.
Sang Hyo remembers how his suitcase was filled with male virility pills when they went on their honeymoon. Turns out the call in the morning was his parents telling him that they are headed to the US so Hae Young begs them to delay their trip for a week and come to his place.
Eun Joo runs into Sung Gyum in the corridor and her first instinct is once again to hide behind the beam and avoid him. He confesses having good feelings for her initially but it didn't develop into more but she is very attractive and charismatic.
Sang Hyo tries to shake it off but Hae Young princess carries her to the sofa to put on medicine on. He invites Eun Joo to have drinks and she happily accepts….before asking if he really thought she would say yes! His parents notice and Mom tells him to go over to Sang Hyo if he wants to be with her so badly.
Sang Hyo walks in all ready for bed and orders Hae Young to go to his place for the night and the taps the ground. She asks why he's not facing her when sleeping and hears that he has an important meeting tomorrow.
Sung Gyum takes out the first letter Young Mi mailed to him and passes it over to Detective Kim. Hae Young finishes dismissing Sung Gyum and then grabs his own phone to take a selca with the sleeping Sang Hyo. She's comfortable until she realizes her position and freaks out before screaming and pushing Hae Young off the bed. Flashback to the day of the wedding where Hae Young got on his knees before his parents and begged them to let him marry Sang Hyo. Sang Hyo immediately proves him right when she makes sharp turns and drives between lanes and can't even find the turn signal. Sang Hyo hands the car keys to Hae Young and orders him to drive the car away so people at the hotel don't misunderstand. Sung Gyum pulls Sang Hyo off to talk but Hae Young refuses to let go and grabs Sang Hyo's other arm.
Sang Hyo tries desperately to keep the two fighting men apart and finally she holds onto Sung Gyum and begs him not to fight. But now the drama has wrapped episode 12 with only 4 more episodes to go, and I need Sang Hyo to make up her mind in the immediate future. Otherwise all of Hae Young's crossing the line and pushiness with Sang Hyo is a major no-no in relationships, especially when she ordered him to sleep on the bed and he climbed in later to cuddle her.
His behaviour has gone way past the bounds of what's acceptable to me, even in the context of K Dramas.
I was in love with MSH when it first started, but now it seems the writer is spinning his wheels and going round in circles with this meaningless love triangle that is going nowhere and could be resolved by a simple honest and heartfelt conversation, and with little resolution to the murder mystery. I feel that he's so immature and he needs to grow up before he can get back to Sang Hyo. I guess the second writer couldn't keep up the same passion and intrigue style of the first writer. She passed away in her fight with cancer during the production of MSH and ended up only penning the first four episodes of this drama, though she did map out the entire story and her successor screenwriter Kim Do Hyun finished writing it based on Kim Ye Ri's vision. Let me put it this way, I totally want (need) Sung Gyum and Sang Hyo to have some kissing and making out before she goes back to Hae Young. Gyung Hee feels bad for not remembering to do it but Sang Hyo points out everyone was rattled by what happened.
He then considers it might not be the case otherwise why would Hae Young keep Sang Hyo's picture in his wallet? Detective Kim asks why and Hae Young explains that he doesn't want Sang Hyo affected by this. He admits Manager Hwang knew about his past with Sang Hyo and he tussled with him in the office the night before the wedding. Hae Young reported his wallet missing at 8 pm that night when Manager Hwang was dining in the employee cafeteria so he couldn't have placed the wallet on the dead body later. Her oppa told her not to feel bad and no need to apologize but Soo Ah feels bad and wants to apologize anyways.
She flashes back to Las Vegas 7 years ago where Hae Young asked her to marry him after only a week together. By the time Hae Young returns from wherever he went the apartment is empty and packed up save for some books. Gyung Hee claims she wasn't feeling well and went home but we know Hae Young saw her crying in the office in the dark.
Young Mi claims to be close to Manager Hwang but a flashback shows us that he confronted Young Mi who eavesdropped on his conversation with GM Lee. He claims to have been with head security guard Cha the entire night, drinking out by the Han river.
Sang Hyo is shocked when she finds out that Hae Young alibi'd her to Detective Kim and wonders why he was at the hotel that night. Guard Cha can see Gi Chul in the mirror reflection nodding at him so he sticks with the same story Gi Chul said, that they were together drinking during that time talking about hotel matters. Eun Joo explains that giving a tie means wanting the person and Sung Gyum wonders whether Sang Hyo plans to give him a gift as well. The two men call it an evening and walk out while Eun Joo tells Sang Hyo that Director Jo is a man so Sang Hyo is no match for her.
Sang Hyo happily digs in after the three minutes are up while Sung Gyum takes off his tie to fully enjoy the experience. Sang Hyo assures him that she's not scared but he still makes her check all the areas in the apartment to make sure its safe. His foreman compliments him on being a great guy and a good boss and is sorry to hear about the wedding incident. He wonders whether to tell the cops when he gets a call from Jung Eun who is at the police station where Sang Hyo is currently inside sitting with Detective Kim. Detective Lee sees Sang Hyo sneaking around in the parking lot and laughs that she's actually quite adorable. Young Mi delivers the box and tells GM Lee to take this chance now that Manager Hwang is dead.
Already we've got three separate instances of Sang Hyo meeting up surreptitiously with Hae Young and both of them realize how absurd it all is.
SH and HY get married in the US, in Vegas, so I'm assuming they got the all inclusive package that comes with witnesses. I'm falling heads over heels for this drama and I count the blessings after each episode that it is so good (sign of being burnt by too many dramas).
That only makes the inevitable and long awaited OTP reunion all the more sizzling if Hae Young knew exactly how strong his competition was. I just realized the drama is basically the game of Clue transplanted as a K-drama setting with intrepid Detective Kim as the player trying to solve the murder. On top of it all remains their break up 7 years ago and all the unresolved baggage that still haunt them both. Sang Hyo wonders when her dreaming began and asks if she also dreamed that she married Gu Hae Young?
The reporters have been sold on the couple's love story and are swooning over the couple. The lead CSI finds the murder weapon which is a brass candlestick which struck Young Mi behind the head.
He finds it quickly and offers to give it to her but she doesn't want it since the rock needs to be found by the person.
He hears from Guard Cha that Sang Hyo married Hae Young and mutters to himself that he will never know her answer now to his question.
He plays with it all the way back up to his hotel room and just misses the arrival of Hae Young and Sang Hyo at the same resort. Sang Hyo is dismayed to hear the resort is sold out and she can't get a separate room from Hae Young. Hae Young asks if she really got married for the sake of the hotel and Sang Hyo claims that's the only reason and she has no lingering feelings for him.
She claims to be at work and pretends to order Gi Chul and Young Mi around again which Sung Gyun calls her on. Sung Gyum notices Hae Young tussling with a girl in the distance and thinks the girl is Soo Ah.
Eun Joo wants to call the police when suddenly Young Mi gets up and whacks Eun Joo with the candlestick.
Sang Hyo goes inside the tent and tosses him a sleeping bag before zipping him out of the tent. She hears the door opening and thinks her boyfriend is coming back and is surprised to see Sang Hyo standing there. But strangely she never fell in love with Hae Young and ended up falling for her driver Ki Ho oppa.
He draws a triangle between Sung Gyum, Manager Hwang, and Young Mi as he wonders what the connection between the three is? Guard Cha claims the hotel was in a tizzy that day with Manager Nam unexpectedly getting married and all his guards were at the ballroom keeping order.
Detective Kim then gets a call from his partner saying that a fingerprint was lifted off the brass candle stick and it belongs to Eun Joo. After Eun Joo sends all the reporters off, she's heading back to her office when a man steps off the elevator and asks directions to the event planning department. Or that Eun Joo and Hae Young managed to convince her that she had a nightmare and then whisk her out of the hotel despite a murder investigation going on. Her poor beleaguered driver clearly has his hands full with her but who says he can't be trained to help her run the family business one day and be accepted by her rich parents. So that comment from SA that she was a flirt when in truth she gave her whole heart to HY was the last straw. He is still letting Soo Ah call all of the shots – he lets her in, her gives her his credit card, he even runs off to get her flipping cell phone for her. There are worse places to be and probably few better places around, especially since this episode 6 of My Secret Hotel has both leading men stepping up majorly. He heads off since he's been embarrassed enough tonight but reminds her to remember to lock her door. They are dragged to a holding cell while Detective Kim is called off when new evidence arises – turns out the CCTV footage they were handed for August 23 was fake and duplicated from the CCTV footage from Jukly 23rd. Hae Young is completely unfazed by her sexual display which makes her sad that she can't heal him. She warns him again to stop this behavior before running off again as Eun Joo has found her.
Another security guard speaks up that he saw the Vice GM entering the records room that day and then he exchanges a shady look with Guard Cha.
Gyung Hee leaves and Young Mi takes the chance to pull out her phone and show the HK pictures of Soo Ah with her driver.
She mutters that people need to behave otherwise one wrong stop and one can become a liar, thief, or murderer. Gyung Hee admits she's not feeling well and Sang Hyo tells her to leave work early now.
She claims to be fine and Guard Cha walks past her behind GM Lee and gives her a concerned look as well. Hae Young leans forward and describes the wedding he had with Sang Hyo – the bride wearing a simple dress, carrying flowers she just picked, no guests or music, just two people who drove to a church. Hae Young notices she's upset and walks up behind her which is when she turns around and dumps her cup of coffee on him.
Sang Hyo turns to walk in tiredly but Sung Gyum asks if she will be ready to smile again tomorrow because then she will give him energy.
His dad refuses to go in for heart surgery until Hae Young got married so he decided to marry any woman. Soo Ah insists on spending time with him now before she gets married since after marriage she plans to be loyal to Hae Young and a good wife. He tells himself that this is the last time he can see her off like this and he'll see her at the wedding. But nothing happens and Hae Young remains silent for the longest time when he's asked to say his vows. Shi Chan urges Hae Young to wake up and clean himself up at the hotel at the orders of Soo Ah.
Hae Young turns around first after walking past Sang Hyo and thanks her for the hard work recently. I know Hae Young tried to do that in this episode while Sang Hyo shut him down, but I don't think she needed to hear him out when his actions indicated that he still wanted to marry Soo Ah.
The Vice GM is equally a red herring, and tossed under the bus by Guard Cha to protect whatever it is the GM Lee is hiding. So many things are going on and usually it can get messy and distracting but so far, the story has been really good. That already enough for the shoo-ins for parent of the year, but they pile on the awesome by treating Sang Hyo with affection and understanding leeway, accepting her limitations and extending their welcoming hand even if she's not ready to take it at this time. This episode was cute enough being chock full of OTP scenes together, but sadly the ending confrontation brought it all back to square whatever once again. Hae Young explains she needs to help him clean the house and also use the time to get familiar with his place and see it as her own.
Hae Young is about to get upset and call Sung Gyum so Sang Hyo quickly assures him that Sung Gyum is a gentleman. Hae Young stands up to show Sang Hyo exactly what he can do and she holds up her pink hairdryer as a weapon to keep him at bay. Sang Hyo then remembers the night that Soo Ah came over to see Hae Young which makes her yell that he needs to change the entire bed for her! Detective Kim waits outside while checking out Simon and remembering the Vice GM describing Simon as looking like a creepy killer. The team wonder if they can leave work early now and Shi Chan tries to be a slave driver before letting everyone leave early except himself. Sang Hyo watches as Hae Young patches up her burn but her smile disappears when she remembers Sung Gyum asking if she never thought about how he would feel? He wonders where Chairman Jung is and Soo Ah gives an unconvincing excuse that her dad was suddenly called away. Sung Gyum asks the ladies what they want and the two ladies pick different steak cuts and insist Sung Gyum go with their pick.
The parents dig in and it's clear from their expression that the dinner is a disaster but they still compliment Sang Hyo on doing so well her first time cooking a full meal. Hae Young reluctantly sits down on the ground but continues to stare at Sang Hyo with a happy smile.
Sang Hyo claims nothing so Hae Young asks if she wants him to sing her a lullaby to lull her to sleep?
He adorably cackles in glee over his treasured new couple selcas before making himself comfortable to stare some more at Sang Hyo. Hae Young tells her to make it real and then reminds her the parents are watching them so she needs to get in the car. Hae Young angrily yells her name and pulls her off Sung Gyum before the two men continue to glare at each other. Preferably at the beginning of episode 13 so I can be spared another Sung Gyum-Hae Young manly man staredown. Only Hae Young has remained consistent since he decided he wanted Sang Hyo back, and joining him are Eun Joo in not letting pesky obstacles get in her long term goal to marry Sung Gyum.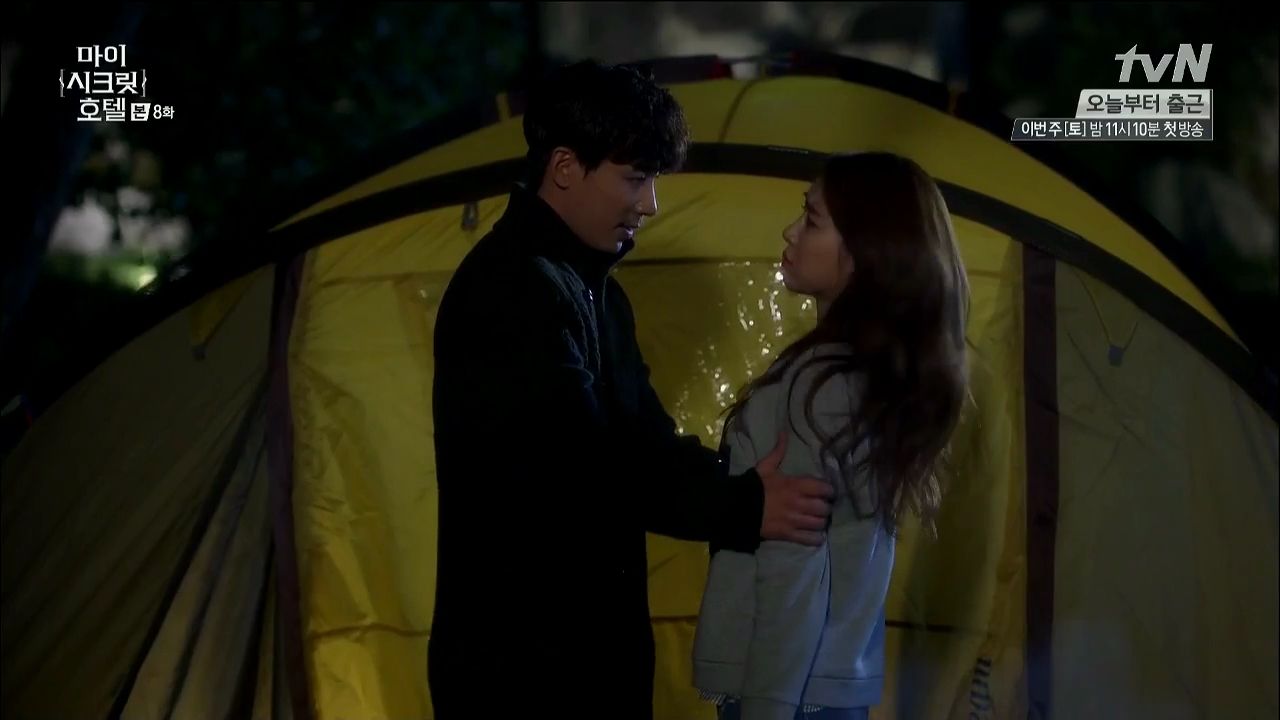 Just sayin' it not cool other than in the fantasy context of a crazy only-in-dramas relationship. It seriously needs to get a move on especially since this situation has the recipe for more victims if there is indeed some major secret someone is killing to protect. He's a stalker and a bully with no sense at all of how to have a healthy relationship.
Maybe if Hae Young stopped trying his wife might realize what she lost and come back to him, but that is a tall order. Now that the first four episodes have aired, I can safely say that Kim Ye Ri delivered a smashing start to a genre busting murder mystery romance.
Since this is airing on cable network tvN and there is less prudishness that the female lead can only kiss her one true love, I want Sang Hyo to enjoy kissing her hot smexy hotel director before all roads take her back to Hae Young. Detective Kim switches tactics and takes out a torn in half picture and slides it over, asking how Hae Young can explain this. Shi Chan is outside the office while the other employees are trying to eavesdrop but can't hear anything.
Detective Kim laughs that Hae Young is a murder suspect so why he is worried about someone else.
But Hae Young didn't harm Manager Hwang and instead pleaded with him not to do anything to hurt Sang Hyo.
Sang Hyo doesn't want to go personally but is told Soo Ah wants to see her in person.
She's about to slap when Sang Hyo screams and ducks because Eun Joo is slapping too fast. She thinks the hotel must feel bad for having her wedding ruined this way as well so with the slap then they're even.
The autopsy report gives the time of death as between 10 pm and midnight the night before the wedding which gives Detective Kim a new avenue to investigate. On her way to the questioning she remembers Manager Hwang offering to disrupt the wedding for her and wonders if she should come clean about it.
Detective Kim asks again when Sang Hyo hesitates in answering and finally she pleads the fifth on this question. Detective Kim steps out of the hotel and tells his colleague that the employees in this hotel are just like the hotel name in having a lot of secrets. Sang Hyo jokes back that he needs to stop teasing her about it so he brings up how she fell asleep on the phone talking to him the other night. Sung Gyum and Sang Hyo arrive in the lobby and Eun Joo drags Guard Cha along to make the drinking party a foursome. Eun Joo offers to buy him more ties and he smoothly declines while explaining that this tie isn't really his taste. He finally tells her to check out the window and she opens the curtails to see Sung Gyum standing there on the phone staring up at her. The foreman gets a call which upsets him and he threatens to go to the caller's boss since the guy hung up on him. Detective Kim laughs at the absurdity that Manager Hwang could have killed himself for Sang Hyo and tells Sang Hyo not to think about it. Detective Kim knows that since Sang Hyo was alibi'd when she was with Sung Gyum and it was all caught on CCTV. She orders him to drive off so they can talk and when he balks she takes out a backscratcher and points it at him to drive.
He takes a step forward and she kicks him back and asks why he came to the hotel the day before his wedding if it wasn't related to Manager Hwang.
Her driver opens the door for her and she angrily asks him if she's happy about this before slapping him. He calls her name and wonders if she's here to apologize and tells her there is no need. I think the whole not registering it is Hae Young saying that they got married but didn't get the license before or afterwards. So far we have Manager Hwang with an ice pick in the ballroom followed by Young Mi with a brass candle stick in the bathroom. Sung Gyum has returned to being inscrutable for me despite displaying all signs of being a lovesick swain when he thinks about Sang Hyo. Detective Kim remembers Young Mi bitterly wanting to be Cinderella but in the end she ends up dead in the hotel. Sang Hyo tries to avoid the trip by claiming Hae Young is too busy at work but he quickly interjects that he made time for a three day two night jaunt. She tells him not to lose the rock, since she lost her rock which is why there are problems in her marriage to her Gong Min oppa. Sang Hyo retorts that she didn't sleep since she was in the same room as Hae Young the ravenous beast. Sang Hyo leaves and Soo Ah asks Hae Young when he and Sang Hyo stopped speaking formally with each other? Eun Joo wakes up at her desk from the nightmare and then freaks out when she sees a shadow walk past the hallway.
Eun Joo recognizes Jung Eun as the crazy lady from the wedding and demands to know why she's here.
She opens it a slit to adorably stick her tongue out at him for good measure before zipping up the tent again.
The boyfriend doesn't know since Soo Ah needs to live the good life even if she is swept up in the elopement now. That gets Sang Hyo fed up with Soo Ah and snores loudly to pretend to be asleep so Soo Ah would stop blathering. His partner decides the connection is a love triangle, Sung Gyum likes Young Mi but she liked Manager Hwang. As Detective Kim leaves the meeting, a hotel employee waylays him to whisper that he knows who the murderer is. He moves to slap her but instead hands her the credit card in his hand and tells her to use his card to go find her boyfriend.
She asks Sang Hyo to grab her cell phone left in the hotel room and Hae Young goes to get it seeing that Sang Hyo looks annoyed.
I hope they work out since Soo Ah's presence in this drama continues to serve as the catalyst to push Hae Young and Sang Hyo back together. Later on she tries to make amends and just do her job and in those interactions she's been nothing but trying to keep it professional between them.
I love a good csi murder mystery plus divorced couples possibly reconciling and getting back together. I actually empathize with her more than HY cos this was the kind of thing she had to endure mentally for their marriage and it seriously was very damaging to anyone's self worth. He let his parents force him into the marriage, he seems to have promptly given up when Sang Hyo left him 7 years ago, and he can't seem to set anyone straight about what he really feels or wants.
Sung Gyum wins this round mostly because Sang Hyo is still sooooo scared of being burned by Hae Young again she shuts him down without even giving him a chance to explain. I have to stop thinking he has any ulterior motives towards Sang Hyo other than his dating style appears rather calculating and his demeanor always gives off the hint of subterfuge.
He asks if she wants to reject him then she should take the remaining time to think about what to say.
He stutters to ask when she's off work since he wants to talk to her, an hour or even half an hour is enough. She announces again that she'll forget him now and reminds him to visit the hospital. Detective Kim plans to hold him until he can confirm an alibi for the Vice GM on the day of the murder.
Shi Chan is shocked Hae Young saw the woman again especially since he's about to get married. Soo Ah nudges him and he finally says his vows with Soo Ah and are pronounced husband and wife.
Hae Young needs to figure out what he wants first before unloading his emotional burdens on Sang Hyo. Other than Sang Hyo, everyone on her team is super shady from gossipy Gi Chul to blackmailer Young Mi to Gyung Hee with her supposed terminal illness. He puckers up and Sang Hyo warns him to not dare, but then both chuckle at their bantering. Sung Gyum returns to his office and goes inside to talk with Detective Kim who once again asks what his relationship is with Heo Young Mi? Soo Ah orders Sung Gyum not to misunderstand, she didn't bug her dad to schedule this dinner nor is she trying force Sung Gyum to spend time with her.
She stomps on his foot to get him to let go and waves her paring knife around to warn him away from her.
Hae Young turns over to sleep so Sang Hyo takes to propping herself up and staring at his back. Hae Young ends up turning around and kisses Sang Hyo before the action moves under the blankets. Sang Hyo rushes out to the kitchen to apologize for oversleeping and not preparing breakfast. Sung Gyum is basically a walking contradiction and if Eun Joo likes him that much to keep holding on for him then she's welcome to his hot-and-cold detached mien.
All in all episode 12 was much better than 11 but nowhere near recapturing the fun heady sensation of the first episodes that painted a world of intrigue and romance with equal potential for satisfying development.
Her work will be missed because even if Kim Do Hyun doesn't screw up the rest of the journey by hitting all the plot points as laid out by Kim Ye Ri, each writer has their own flair and flourish and the same exact story as written by two different pens will be presented differently. I love that impetuous dork that is Hae Young but he can afford to stew in his jealousy for a bit since he let his wifey Sang Hyo go and never made any further attempt to win her back during all this time.
Detective Kim asks if Hae Young saw Sang Hyo later that night and hears that he saw her with someone else in the courtyard so he left. Sang Hyo tells Eun Joo to slap slowly and then Sang Hyo grabs her oncoming hand to stop her. Eun Joo asks whether the tie will work to cover his ties or perhaps tie his hands together, either way it's a different use. Sang Hyo invites Sung Gyum for ramyun and does so in a very flirty way which leaves Sung Gyum looking slightly awkward thinking she's inviting him inside. He thanks her for a great time tonight and Sang Hyo says the same back before they end the call and he walks away. Hae Young arrives and the other Detective Lee announces that their first suspect in the murder is here.
Hae Young lies that he went to get back his wallet and is upset that she would even suspect him. Gyung Hee walks inside and asks if she delivered the belongings and Young Mi confirms she did. Jung Eun declares that she knows all about Sang Hyo and is doing this purposely since Sang Hyo was married before and divorced within three months so how dare she run a wedding department at a hotel and also try to seduce Hae Young again. The sleazy manager says Manager Nam was slated to be the next GM but now all she does is bring in bad news for the hotel. Then each time she pokes him with something and instead of getting upset he just lets her prod him and then does as she orders and drives off. Clearly the murder spree is nowhere near over but hopefully none of the endearing or bratty characters like Soo Ah or Eun Joo bite it. There is an underlying authority to him that skews towards menacing at times, and whatever the connection is between his mom and Manager Hwang, it does not bode well for writing him off as the murdering mastermind at this point. Hae Young thinks Sang Hyo can't forget their married life together and is looking forward to the honeymoon and promises to drive faster to get there. So Sung Gyum killed Manager Hwang and when Young Mi still didn't like him back, he then killed Young Mi. Eun Joo was too composed early on and made me wonder if people in that hotel deal with employee deaths just that nonchalantly.
Poor Sung Gyum spends yet another episode wandering around the resort alone while his new girlfriend got married and is on her honeymoon all without him knowing. Then when the shit hits the fan and Hae Young uses the opportunity to marry her again and thereby secure time to spend with her, Sang Hyo may be incredulous but ends up going through with it. I thought we would know by now the reason for the divorce but the story is being suitably coy about it so I wonder if Sang Hyo is blaming Hae Young unfairly or he's finally gotten up the backbone and guts to do the thing he should have done 7 years ago.
After Jung Eun storms off, even Shi Chan thinks its weird that Hae Young doesn't get aroused when seeing a sexy woman draped over him. He plans to wait for Sang Hyo down in the parking garage and tells her to come but Sang Hyo pushes past him and walks off. Sung Gyum doesn't care about her past since he also has a past of his own and a first love.
Sang Hyo sits down on her sofa while Sung Gyum stands outside looking up at her window until the lights turn off and then he wishes her a good night.
Shi Chan yells at Hae Young to wake up since he's getting married the day after tomorrow.
I applaud her for how she handled Sung Gyum, from his confession and dating offer to coming clean about her reason for hesitating in answering him. I do love Eun Joo more because she's so transparent at the hotel, even Sang Hyo thinks so when Eun Joo chased her down and ordered that Sung Gyum was off limited. How Sang-Hyo can be so jaded as to let something that special slip away without giving it a second try is beyond me. Honestly, I wish I had discovered this drama earlier because two episodes a week is just not enough. Hae Young then drags Sang Hyo back to her apartment to pack her belongings to move to his place.
Hae Young can see Sang Hyo wavering so he reminds her that his dad's heart is really really weak.
Has he ever seen a girl who likes a guy be able to be friends with him after he gets another girlfriend? In his last call with Young Mi, she offered to tell him who killed his dad in exchange for money. But all of that only means something if it significantly pushes Sang Hyo towards Hae Young but the next morning she seems as determined to keep her distance from him. Now it's just fingers-crossed the drama makes it across the finish line in one piece.
I will miss Kim Ye Ri's wistful moodiness and her penchant for hard to read character set ups.
I'm sure my sympathies will be split between the exes once the misunderstanding about why they were split up is revealed, but both need to take responsibility for not fighting for their love. Shi Chan hears that the alibi was shot and hilariously promises to visit Hae Young and bring him food in jail. She's asked about her alibi and says she went shopping that night because she was in a bad mood. Hae Young takes the opportunity to tell Detective Kim that he saw Manager Yang Gyun Hee crying at the hotel and also heard Manager Hwang on the phone before he died saying he would tell something to that man's son. After they drive off, we see that crazypants Jung Eun is sitting in her car and sees this, muttering that those two are still seeing each other. Eun Joo wants to sue the publication and the reporter but Sung Gyum points out doing so will be to admit that Secret Hotel is in fact the establishment in question. These two are like kids inside and that's what makes their shotgun marriage so believable. That crazy stalker Jung Eun is fast becoming the easiest character to hate in this drama since she's just a teeming cesspool of jealousy and sabotage.
A few lesser hotel employees can be sacrificed in this fictional realm to up the stakes for Detective Kim and drop more clues as to the big secret the deaths are all trying to conceal. It was a refreshing change of scenery to get the action out of Secret Hotel and over to the resort setting, and hopefully with it Hae Young and Sang Hyo keep chipping away at their complicated attraction for each other. Eun Joo watches the newlyweds drive off and sincerely wishes Sang Hyo happiness in the future. Sang Hyo is a bit hesitant so Sung Gyum quickly makes the excuse that Simon is calling him and ends the call with her.
Eun Joo tosses her from the hotel and then quickly runs after Jung Eun since it's scary to be alone. Detective Kim derides his partner for being such a terrible detective in his skills of deduction.
But then later her freak out that night made sense either as the incident finally erupted or she may be involved in Young Mi's death. All he gets for his time is a heart shaped stone and yet another call to try and connect with Sang Hyo only to get pretty much hesitation from her side. She even reluctantly goes on the honeymoon and only when the arrival of Soo Ah continues to irritate her does she lose her cool around Hae Young. I think the fight over her job was just the tip of the iceberg, that can't be the main crux of the marriage failure.
Chances are Sang Hyo is also deeply involved in the past but she just doesn't know it yet. Sang Hyo brings up her past being in the present before revealing her ex-husband is Gu Hae Young and she's planning his wedding. Then it becomes too bland so Hae Young tries to pour salt in only to dump the entire container. His whispering in her ears makes her all tingly while his parents sneak back to their room to give the kids alone time. On the day he was on the business trip, he sent Simon back to the hotel to meet Young Mi but she didn't show up at the agreed upon time.
She asks Sang Hyo to come over and sample the morning soup and Sang Hyo gasps in delight over how delicious it is. For that matter why Soo Ah has zero lingering issues over Ki Ho and appears to be relishing the excuse to spend time with Sung Gyum. Too bad his parents can only give him the excuse to spend time with her but can't actually help unravel the emotional knots of distrust in Sang Hyo. She did the same thing in the first four episodes of Lie to Me, creating the same slightly off beat atmosphere and making the male leads quite hard to pin down in both motivation and feelings.
Thankfully this brewing situation in Secret Hotel is dangerous and deadly enough to keep Hae Young worried about Sang Hyo and make it so she can't deny her strong unresolved feelings for him. The bride was the same age as her so she's really bitter that because of good birth that girl was getting married to a great guy at their hotel. After she hangs up the phone, Sang Hyo tells Eun Joo that she will take responsibility for this bad PR. I want to disembowel her so much, but probably should let her live since everything she does seems to backfire in that she's bringing Sang Hyo and Hae Young together again with a reason to hang out. Episode 8 was as wonderfully entertaining as the last episode when Hae Young and Sang Hyo got married again. She also wonders with a smirk how Sung Gyum will react when he finds out Sang Hyo got married.
It would help if the drama didn't keep him mysterious like a prime suspect and the way he acts is also quite inscrutable so I end up worried that Sang Hyo giving him a chance might be more dangerous than simply arousing ex-hubby jealousy. But it's always temporary and playful between them, at least until the end of the episode when she hears from Soo Ah that Hae Young called her a shameless flirt.
This is one couple where the love at first sight trope feels not only believable but the only thing that makes sense from what we see. This episode let us imagine an alterna-life where Sang Hyo moves on with the sexy smart hotel director who doesn't care about her past shotgun marriage and doles out majorly squeeworthy kisses.
Sung Gyum is stunned and remembers all the clues Sang Hyo dropped about not liking weddings. Eun Joo is lovely as well but Snag Hyo just has this warm glow about her, Sung Gyum did win major brownie points when he asked Sang Hyo to smile to give him energy, but also to encourage her to stop being so sad.
Sung Gyum asks if something is still going on otherwise why are they arriving at work together?
It's such a relief that there is no power imbalance with the two leads, either in professional acclaim or background wealth or any of the usual class trappings.
I was pleasantly surprised to see Soo Ah exhibit something more than her dumb bimbo act when she confronted her driver about being happy that her wedding was ruined and slapped him when he failed to give her the answer she was looking for. That is clearly a sore point with her, not just her pride but also calling into doubt her sincerity towards Hae Young when they were married.
She sticks up for what's right at the work place but will demean herself in the performance of her job. Hae Young really has a tough new rival and his only advantage is that he and Sang Hyo have major unfinished business with each other.
Even if Hae Young came from a rich family he's a self-made man and Sang Hyo climbed her own professional ladder by her own hard work.
It's so flirty, so damn flirty, if Hae Young witnessed even 5 seconds of it he would blow a blood vessel and pop Sung Gyum. She clearly doesn't feel as affected by Hae Young so that makes me happy that she has her own fall back option when Hae Young finally ends things with her. Eun Joo is great in pushing Sang Hyo towards Hae Young, helping Hae Young the same time she helps herself out with Sung Gyum.
There must be more than we know about the hows and whys of the final break up between the exes to cause Sang Hyo to be this antagonistic and wary towards Hae Young. She probably flipped her lid too quickly before asking if he really said that to Soo Ah, but this drama has always skewed towards the explosive emotional outbursts and this one worked like a charm to dial up the intensity. Hae Young's impotence running joke might be a great ice breaker for these two, in the future he can always cart Sang Hyo out to prove that he has no performance issues in the marital bed, LOL. I don't mind his mild flirting with Eun Joo and find her funny and forward enough to merit her own shot at winning the male prize at the hotel. There is no way in hell that marriage would ever work but I give Hae Young a thumbs up for even having the patience to put up with Soo Ah. I also think the person who killed Young Mi was very methodical and could be more than just one individual in the way the tracks are being covered with deleted CCTV footage and what not. She's not overreacting or unreasonable even if her penchant to wallop him does skew towards excessive physical explosions.
Which also makes it perfect timing for Sung Gyum to arrive on the spot and stare down Hae Young and wonder what the heck is happening with Sang Hyo.
So I love her personality in every way and that now extends to the vulnerability she exhibited to Sung Gyum which netted her major kissage.
Soo Ah and her driver lover is actually compelling stuff with the illicit class-frowned upon romance and I'm happy the drama gave her more to do other than be unpleasant to Sang Hyo. With all the shady characters around like Young Mi, Gi Chul, Gyung Hee, and Guard Cha, at least Eun Joo appears simply to be a frenemy to Sang Hyo. I need my OTP back together so badly I'm twitching from the mere excitement of how their path back together will unfold. The murder mystery is becoming more fun to suss now that I've gotten the Clue vibes from the set up and execution. Girl needs to have a long conversation with the new boyfriend, and an even longer one with the ex-husband, and then decide which guy she wants to give a chance to going forward.