Today's liturgical feast of Saint Scholastica (480-543) is indeed a special one for all of us who follow and live the Benedictine charism. Our thoughts turn to the various Benedictine monasteries in the USA and abroad, especially St Scholastica Priory (Petersham), for the Saint's intercession. Saint Scholastica is the patron saint for nuns, but she is asked to stop lightening, rain, and storms. As we celebrate anew the Memorial of the Virgin Saint Scholastica, we pray, O Lord, that, following her example, we may serve you with pure love and happily receive what comes from loving you.
Scholastica according to the tradition of the Church, was the twin sister of Saint Benedict having been born in 480 in Nursia.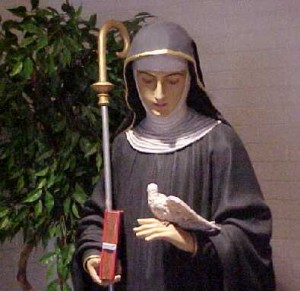 The Saint went to Monte Cassino (just south of Rome) known today as the Arch-Coenobium and died there in 547. Let us pray for the intentions of the Benedictine nuns in the USA, particularly nuns of the monasteries of Regina Laudis (Bethlehem, CT), the Glorious Cross (Branford, CT), St Emma (Pittsburgh, PA), St Walburga (Virginia Dale, CO), Immaculate Heart of Mary (Westfield, VT) and Our Lady of Ephesus (Kansas City, MO). Set me as a seal upon Your heart, as a seal upon Your arm; for love is strong as death, jealousy is cruel as the grave. Lord, as we recall the memory of Saint Scholastica, we ask that by her example we may serve you with love and obtain perfect joy. Scholastica, the twin sister of Benedict was born in Norica (Italy) and some of her bones are entombed with her brother's at the Archabbey of Montecassino.
What we know of Schoalstica comes from a brief entry in a greater work by Pope Saint Gregory the Great, The Dialogues. He is a member of the Fraternity of Communion and Liberation, a Catholic ecclesial movement, and an Oblate of Saint Benedict.