Saw someone else doing this, used a raised wooden deck inside and pitched a tent inside of that for another layer of isolated air. Maybe one layer of the sheeting on the inside of the frame to create another layer of insulation?
William Bronson wrote: Saw someone else doing this, used a raised wooden deck inside and pitched a tent inside of that for another layer of isolated air. Maybe one layer of the sheeting on the inside of the frame to create another layer of insulation?
My vote is always for a building that will be the garage or shop or barn when the house is done.
Jeremy Drolet wrote:The truly indigenous people of the area utilized simple structures like wigwams, benders, and wikiups for shelter in this climate for hundreds if not thousands of years. JD wrote:I would love to build something with the timber that's on the land, but I don't have an abundance of good structural sized hardwoods on the lot. JD wrote:The plan for the eventual home is a more suitable insulated timber frame with metal roof. JD wrote:This is still far less toxic than something like an rv loaded with laminated plastics and high VOC materials.
Hi Jeremy, You are correct, comparing what was in your link (a desert biome) with that of Maine is a huge difference!
I built my own 30' trusses, but I had to get my design approved by an architect after the building department caught me in the act.
I saw an article in Fine Homebuilding years ago that was called something like "Building Boxbeams". Another method is bolting a steel plate to a wooden beam either in the middle of laminated beam or on one or both sides of a beam.
Making these things out of timber is easy but when you get into a space frame I would guess that it is far better to consider a steel tubing approach. If you have a question regarding a Knowledge Base article, your best chance at uncovering an answer is to search the entire Knowledge Base for related articles or to post your question at the appropriate WOODWEB Forum. When you post your question at the Forum, be sure to include references to the Knowledge Base article that inspired your question. My financial situation is such that once I quit my job, I need to be able to inhabit the land and begin developing the property right away. I'll be following a typical hoop house type construction just reducing the rib spacing and adding a load bearing ridge beam for added structural stability. It ended up actually costing less to go with a custom cut length of metal roof than plastic.
Neither the service provider nor the domain owner maintain any relationship with the advertisers. I would recommend finding a truss building company and buying some 30' trusses at about $1.50 per square foot of roof. I built my own saw shed, incorrectly, and when putting on the metal roofing, the beam began to sag ugly, very much so. Bucky Fuller popularized this in the 50's and 60's with the idea that anyone can build a vast span out of small bits of wood.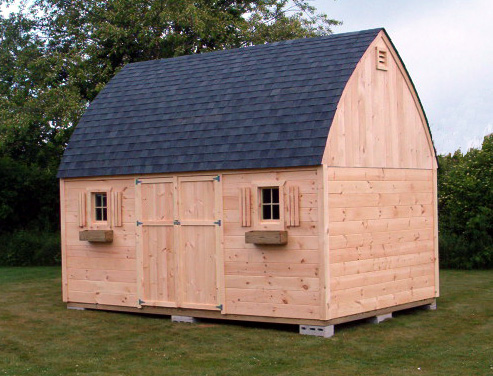 It means that you don't need any heavy lifting equipment and you can mill all of the components and the cladding yourself.
It may be stronger than steel pound for pound, but the costs of LVL should be weighed versus steel. To make this into a tunnel or ?Zome?, you just make some triangles for the middle section with vertical rather than inclined ?V? cut. Buckminster Fuller is the guy who popularized the concept and raised the idea of the space frame (three dimensional truss).
He made a beam across his barn (24') so he could break his tractor in half and fix the clutch.
The more information you provide with your question, the better your chances are of receiving responses.
Keeping the financial end of the business in mind, this means building the final house is a project for year 2 or 3. The 14' wide Arched Cabin is about 12' tall, The 16' wide is about 14'6" Tall, the 20' wide is about 17'4" tall and the 24' is about 19' tall. It would have saved me some trouble in figuring out the details of such a building! I went ahead and built with the wooden bow-trusses.
In case of trademark issues please contact the domain owner directly (contact information can be found in whois).
No sag that I can tell, because I leveled the purlings after the log rafters were in place. It will take any amount of battering from wind and snow without damage, primarily because of the shape. This should work as long as you built your building with a typical trussed roof system and not a "shed" roof. In the interim, I need a livable structure that is lightweight, low-impact, easy to build, easy to heat, and will withstand the winters here in Maine. I'd like to think this would be a step up. The other indigenous structure around here is the mobile home. I'd rather wait before cutting any of these until I have at least a rough outline on paper though. I've thought about just doing a sort of 'outfitter' style tent, but have you priced out tent canvas lately?
I built 32' 2 x 4 trusses 7 years ago and they are like new yet and we get plenty of snow in NE Iowa. None of these ideas should have any problem with snow loading as the stuff will not stay on the continuous curvilinear shape for too long. After three rows he picked it up with the forks and held it there while he added more until it was 14" high (ran out of wood).
Oh, and I'm only allocating a total of $3000 for material outlay. I'm now considering the feasibility of quonset hut type building.
The apparent popularity doesn't necessarily make it a good choice though. I would love to build something with the timber that's on the land, but I don't have an abundance of good structural sized hardwoods on the lot.
For mold resistant fire treated cotton canvas I think I was looking at $1200-1300 for enough to do a 12'x20' wall tent. The plywood was glued and nailed, in a particular pattern, to the 2x6 and the joints were staggered. And at any rate the load is spread throughout the structure rather than concentrated on one member. Most 1x3 lumber is junk, and if you're paying for #1 or #2 clear pine or hemlock, things get expensive fast!
I'm considering building something similar to this but with aluminum fence rail instead of stimson bow trusses I really like the idea of using these tuftex type corrugated polycarbonate roof panels.
This is just something to give me a home while I work the land and get the initial site establishment done.
I'm trying to find the holy grail balance between cost, longevity, and wise use of resources (aren't we all?). I found someone who has attempted something similar with seemingly good results.
If you only plan on building this once, use steel and build it twice as big as you think you will ever need. They are uv rated, shed water and snow well, lightweight, easy to install, flexible, don't cost a fortune, etc. Again, they are in a different climate which makes for some obvious differences, but this shows it could be done. But even used I'm looking upwards of $5000+ for a yurt with decking, more if I want something fully insulated.
Setting the poles 24" on center and using a heavier timber ridge beam should give the structure plenty of rigidity. I would place 2 overlapping layers of 1" polyisocyanurate insulation boards over the purlins, followed by the polycarbonate roofing giving me an r-value around 13 or 14.
The structure wouldn't necessarily be as portable, but could be uprooted when eventually needed. There won't be an abundance of toxic materials. The end walls would be framed with some smaller timbers cut from the property and infilled with slipformed clay-straw or woodchip light clay (r-value of 20+) with a generous overhang to protect them from the weather. What have I not considered going into this? So long as I don't use any concrete footers to anchor my hoops I can get away with it being a "non-permanent foundation" and will be subjected to far less scrutiny (ie. I like to call them toxic chlorox bottles. This is hardly primitive at all by my standards.
I've been sleeping in my truck camper shell lately The ability to break it down, move it, re-use or re-purpose the material is a factor at play for sure.