The recipe is easy to make, as befits a recipe that cooks in an hour and has only four (or four-ish) ingredients. Most other homemade breads have more going on; the flavor has greater depth and the bread itself has more structure in which to sink your teeth. The best thing about this one-hour bread is that, if you ever feel like baking bread, you can just go ahead and bake it. Have you ever served on a board with that one person who never seems to follow through on anything?
Social loafing occurs when a member steps back and gives less than his or her best effort in a group.
In some highly dysfunctional boards, there may be a sense of impotence or lack of commitment the work to be done. Unmotivating task - I don't care if I complete this task; it bores me and doesn't connect to anything that matters to me. Perceived lack of potential for evaluation of one's contribution - I won't be held accountable, so it doesn't matter. Because social loafing may emerge from different scenarios, offering one magic solution is risky to impossible. Offer regular check-ins and opportunities to not only remind members of their responsibilities but catch and address issues before they become full-fledged obstacles. Provide whatever additional support is needed for members to succeed at the tasks they're assigned. Institutionalize goal-driven assessment processes for individual members and the board as a whole. Build, reinforce and celebrate a culture where board members are not only expected to contribute and lead, but where they receive the support and acknowledgment they deserve when they actually do.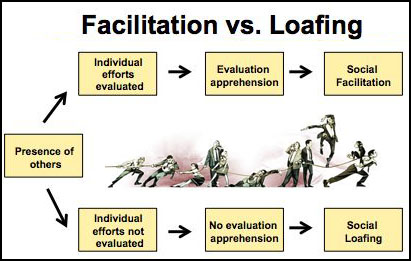 This is one of the main reasons that groups sometimes perform less than the combined performance of their members working as individuals.
Jackson & Wiliams (1988) performed a meta-analysis on 49 social loafing studies & correlated the amount of social loafing with the group size. If you are a social loafer, then by all means find work where nobody can point at you & say you are not pulling your weight. That means very little time for kneading, little time for the first rise, no time at all for the second rise and not much time for baking. Simply mix together yeast, honey and warm water, and allow the yeast to bloom for about 10 minutes.
More than anything, it reminds me of the white bread made by Pepperidge Farm, which is quite good for what it is. One common assumption driving this phenomenon: someone in the group will make sure it gets done, even if I don't. Social loafing frequently comes down to a lack of accountability - official accountability via regular individual and group-level assessment, and informal accountability, via a culture that upholds commitment and engagement as foundational group values.
But in general, I do have a handful of recommendations for reducing the risk that our board members will fall into this trap. Set the bar high and articulate clearly what is expected from the recruitment process forward.
They need the tools, information and resources to have a reasonable chance of accomplishing what they are expected to do. Reinforce the message that the board's ultimate success relies on all members willingly assuming their share of the work. Use those processes as formal opportunities to stop, evaluate, and make any necessary adjustments in a timely manner.
The meta-analysis showed that social loafing increased as group sized increased to 10( 78% of individual effort), with little difference being shown once group size was greater than ten. One is that the name given to it, or at least the name I saw, is "Easy-Peesy French Bread," which offended my senses in many ways, only one of which is that it should be spelled "peasy" if it is going to be spelled at all, which it should not.
Fool proof." This gave me pause, because I counted all of the ingredients (water, yeast, honey, salt, flour) and I'm pretty sure that adds up to five. In other words, it doesn't have enough time for bread to do what it has to do to become bread. There is nothing to startle you in this bread, nothing sour or sharp-flavored, nothing that picky eaters could object to. Just stir it up, put it in the oven and you can have a fresh loaf of home-baked bread by the time dinner is ready for the table. If it won't make a difference amidst the chaos, why should I make this a personal priority? Use them, too, to set and reinforce the high leadership bar that board members really want (vs. It makes a superb conveyance for butter and would be even better with peanut butter and jelly. Maybe we watch our fellow members shirk their own responsibilities and feel less motivated ourselves.
Shape into a loaf and allow the dough to rise for just as long as it takes your oven to reach 425 degrees.